Player of the Week | Auston Matthews
Goalies have had a hard time keeping Auston Matthews off the scoresheet.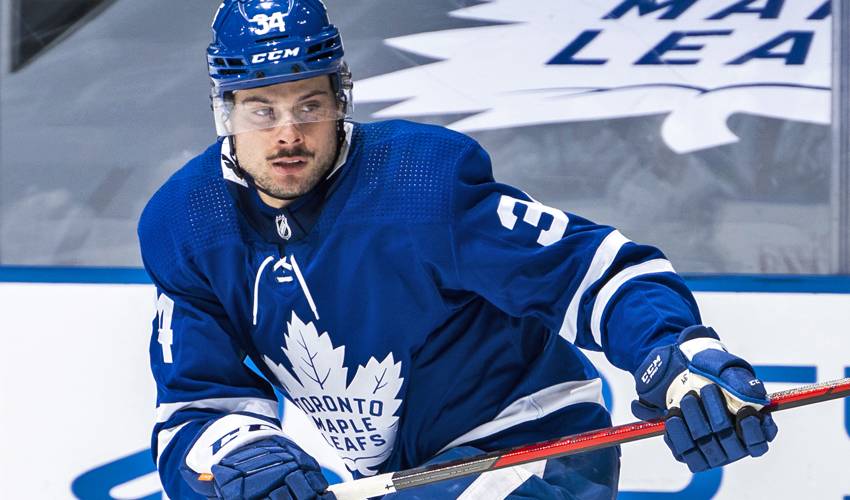 Feature photo: Getty Images
Auston Matthews
FEB. 15–21, 2021
7-5

–

12 OVER 4 GP
LED WEEK IN POINTS AND GOALS
BACK-TO-BACK 4-POINT PERFORMANCES
EXTENDED POINT STREAK TO 16 GAMES
---
Goalies have had a hard time keeping Auston Matthews off the scoresheet. The forward for the Toronto Maple Leafs led the league with seven goals and 12 points in four games this past week as part of a scoring tear.
So far this season, the 23-year-old is leading the NHL with 18 goals in just 18 games played and has at least a point in 16 straight outings. Only Darryl Sittler and Eddie Olczyk have longer point streaks in Maple Leafs' history, where both recorded at least one point in 18 consecutive games.
While Matthews has been dominating offensively, his teammates believe the other parts of his game get overlooked. Teammate Joe Thornton, now in his 23rd NHL season, has found it tough to compare many players to Matthews.
"Oh, boy, there's probably two or three guys that I've played with that does what he does. But he's on a different level," Thornton said about Matthews.
"He just competes so hard, I think he should be up for – 18 games in or whatever – the Selke, Hart, Rocket. He does so many things. He just plays the game the right way, and I really enjoy watching him play and playing alongside him. He's a complete package."

LOOKING BACK

FEB. 15
2-1

–

3, 5 SOG, 22:24 TOI, GAME'S SECOND STAR
---
TOR 5
OTT 6, F/OT
Matthews recorded two goals and an assist to extend his point streak to 13 games in Toronto's 6-5 loss to the Ottawa Senators at Scotiabank Arena Monday night.
In the first period, Matthews and Thornton connected for the first goal of the game as the longtime veteran found his linemate with a great pass off the rush.
Matthews would return the favour in the second period as he earned his second point of the game by making a backhand pass to Thornton in front of the net for the 41-year-old's second goal of the season. Matthews got his second goal of the game when Maple Leaf blueliner Morgan Rielly found him in front of the net in the final minute of the middle frame.

FEB. 17
1-0

–

1, 2 SOG, 23:48 TOI, GAME'S SECOND STAR
---
TOR 2
OTT 1
Matthews extended his point streak to 14 games with a goal to help the Maple Leafs rebound from their prior loss with a 2-1 win over the Senators at Scotiabank Arena Wednesday night.
After a scoreless first period, Justin Holl set up Matthews with a perfect pass to get Toronto on the board with his 14th goal of the season.
While Matthews continued his impressive run of goal-scoring with the 13th marker in his last 12 games, Maple Leafs head coach Sheldon Keefe believes there is more to No. 34's game than that.
"It's just a matter of him growing as a player and as a man, really. He feels a lot more comfortable in the league and among his teammates. He also has a level of confidence that he's taking care of things on the ice, not just on the offensive side but all the other areas," Keefe told reporters about Matthews.
"When you do that, it gives you a lot more confidence to be able to speak and push your teammates and challenge them."

FEB. 18
2-2

–

4, 4 SOG, 16:49 TOI, GAME'S FIRST STAR
---
EDM 7
OTT 3
Matthews continued his impressive stretch by scoring two goals and adding a pair of assists to help the Maple Leafs earn another win over the Senators with a 7-3 victory in Toronto Thursday night.
Midway through the first period, Matthews opened scoring with a power-play goal. The NHL's leading goal-scorer wasted no time in getting his second of the game, catching Senators netminder Matt Murray off guard.
Matthews later added two assists in the second period to help Toronto earn their second-straight win.

FEB. 20
2-2

–

4, 4 SOG, 20:21 TOI, GWG, GAME'S FIRST STAR
---
TOR 5
MTL 3
Matthews capped off his week with another four-point performance, helping the Maple Leafs extend their winning streak to three games with a 5-3 victory over the Montreal Canadiens at the Bell Centre Saturday night.
For the fourth straight game, Matthews gave Toronto a 1-0 lead. Maple Leafs forward Mitch Marner answered the call for the puck from Matthews, who then beat Habs goalie Carey Price to net his 17th goal of the season. This extended Matthews' point streak to 16 games, making him the sixth Maple Leafs player in franchise history to reach the mark.
After recording a couple of assists in the second period, Matthews registered his second goal of the game on the powerplay by beating Price again with a wrist shot.
Keefe explained after the game that Matthews and Marner have been elevating each other's game, which has been a big part of the duo's success this season.
"Auston is setting new standards, it seems like, every day," Keefe said. "But I think it's also important to recognize the play of Mitch Marner here, and how he's really teamed up with Auston. They're pushing each other to new heights, and it's been fun to watch."

LOOKING AHEAD
Matthews will look to continue his scoring push when the Maple Leafs host the Calgary Flames for a pair of games February 22, and 24 and finish the week against the Edmonton Oilers February 27.