Fourth time outdoors set to be unlike any other for Saad
He's played in three outdoor games already, but Brandon Saad knows the NHL Outdoors at Lake Tahoe with the Colorado Avalanche will be unlike any other.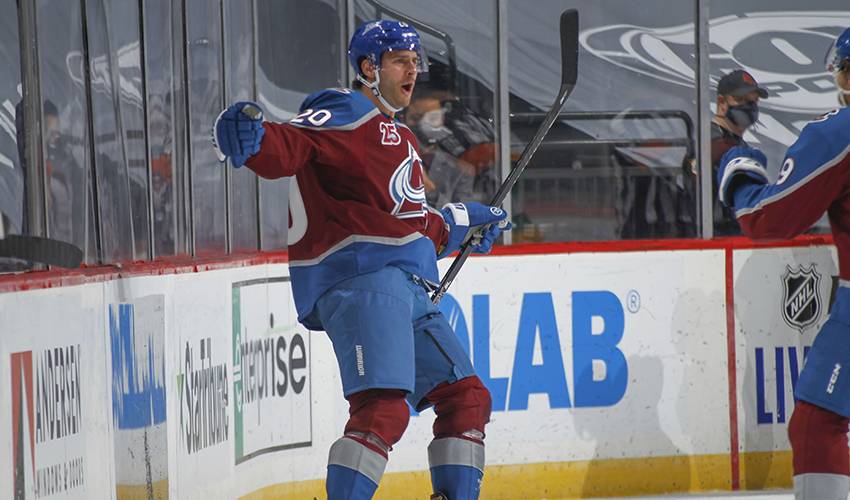 Feature photo: Getty Images
---
It's outdoor number four for Brandon Saad.
You would think, based on the excitement in his voice, that the Colorado Avalanche's upcoming Bridgestone NHL Outdoors Saturday game against the Vegas Golden Knights represents a first for the 28-year-old Pittsburgh native.
But the February 20 contest, to be held at Lake Tahoe (the largest alpine lake in North America), will actually be Saad's fourth time playing NHL hockey in the great outdoors.
This event, which will have no fans in attendance, will be a bit different.
"In Pittsburgh, I didn't skate too often outside, but when I did, it was great. Being able to be a part of a few NHL outdoor games, they've all been exciting. Typically they're in bigger venues and there are lots of fans, but I think just being outside and feeling that cold air, it reminds of you being a little kid and having fun. This one is going to be special."
The rink will be on the 18th fairway of the Edgewood Tahoe Resort golf course, close to the California-Nevada border in Stateline, Nevada.
Saad will be happy to take slap shots rather than tee shots in less than two weeks time.
"It's not great, to be honest," he said of his golf game. "I'd rather be on the beach than golfing. I play a few rounds a year with the buddies, but I'm definitely not a great golfer."
The 43rd overall draft pick of the Chicago Blackhawks in 2011, who came to Colorado via trade in October 2020, is looking forward to taking his best shot against a picture-perfect backdrop.
"I've heard great things about Lake Tahoe. I've never been there before, but from talking to people, you hear how beautiful it is. It's going to be a different set-up, where it's not taking place at a football or baseball stadium. You'll have the mountains and a lot of amazing scenery in the background. It's a whole new experience for me."
Saad will take a quick moment to soak up said scenery on game day, but once the opening face-off takes place he'll be locked in on what's happening on the ice.
"For me, in the past, you just try and embrace it and enjoy everything about it. Once the game starts, it's all about playing hockey and wanting to get that two points. Early on, you're definitely looking around and appreciating the opportunity you have to play in this type of game, but then the switch goes on and it's time to get into game mode. Typically, you have a few days there before the game, to see the set-up and get to skate on the rink, so that helps."
Both the Avalanche and the Golden Knights will wear their respective Reverse Retro Jerseys for the outdoor game.
Colorado's look is based on the uniform the organization wore during its time as the Nordqiues in Quebec City.
You can count Saad as a big fan of the jersey.
"They are beautiful. When they came out and you got to see them for the first time, they are one of the best jerseys in the league. I'm excited to showcase those."
Although fans won't be allowed to attend the game due to COVID-19 restrictions, Saad will have his own personal cheering section rooting him on from home in Denver.
His wife, Alyssa, and their 18-month-old son, Teo, will be tuning to catch the action.
"It's something special that we can all share, despite the fact they won't be able to be there. We have to get him a Colorado jersey. He kind of realizes what's going on with it now, so he really enjoys hockey."
And Saad is enjoying his time in Denver, both on and off he ice.
After years of playing against the Avalanche, he's happy to be on the same bench now. In 11 games this season, he has five goals and eight points.
"It's definitely a great team. I know from playing against them that they are a very talented team. Being able to meet them and be around the guys, it's just a great team, a great locker room, and we're having success on the ice which makes it all the sweeter."
Having another shot at outdoor hockey is an added bonus.
"I can't wait to get out there and play. It's going to be a lot of fun."
Could there possibly be anything else in Saad's life that might top playing in another NHL outdoor game?
Yes, there would.
"My wife and I are expecting a girl in March. So, it's definitely busy these days. But, all of it is good."
One day later, Boston will take on Philadelphia at the same venue. The two matchups will be the 31st and 32nd regular-season outdoor NHL games held since the inaugural Heritage Classic in 2003.