Player of the Week | David Pastrnak
Making up for lost time? David Pastrnak posted a seven-point week after missing the first seven games of the season for the Boston Bruins.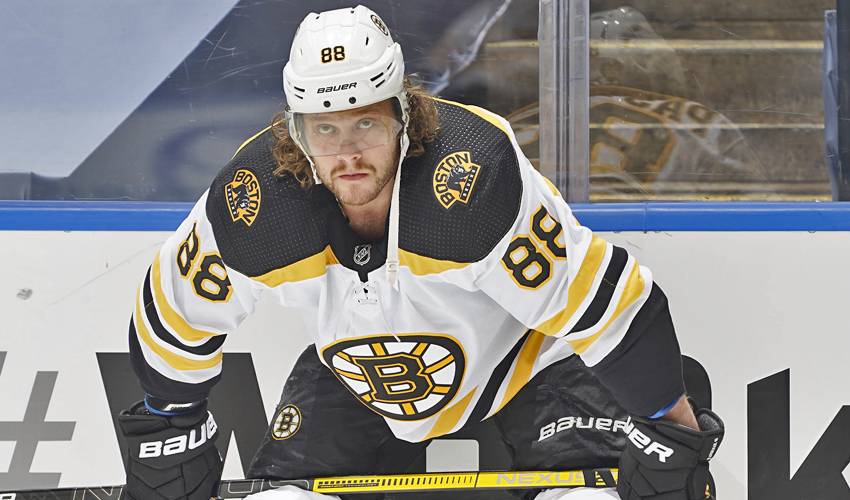 Feature photo: Getty Images
David Pastrnak
FEB. 1–7, 2021
5-2

–

7 OVER 3 GP
CO-LED LEAGUE IN POINTS
LED LEAGUE IN GOALS
FOUR-GAME POINT STREAK CURRENTLY
---
David Pastrnak showed no signs of rust in his return to NHL action by leading the league with five goals and co-leading overall scoring with seven points in three games, including two multi-goal games last week.
The 24-year-old missed the first seven games of the Boston Bruins' season as he recovered from hip surgery. Pastrnak recorded his ninth career hat trick and has found himself in impressive company early on in his NHL career.
David Pastrnak is climbing this list in a hurry.

Just 393 games into his career, @pastrnak96 is tied for the sixth-most hat tricks among active NHL players – playing between 418 and 857 games fewer than every other active player with at least nine to their credit. #NHLStats pic.twitter.com/kU29kTxOSR

—

NHL Public Relations (@PR_NHL) February 4, 2021
Pastrnak's eagerness to getting back in shape and provide a boost to the Bruins offence has earned a lot of praise from his head coach who didn't see his winger getting off to this kind of start.
"I told him my experience is you lose your timing a bit, your hands and timing are a little out of sync,'' Bruins head coach Bruce Cassidy said. "He showed me. Obviously, he's on a mission. Good for him. We need it. He's a scorer and you need those guys to win hockey games. He clearly looks energized and ready to play. We're grateful and thankful for it.''

LOOKING BACK

FEB. 1
2-0

–

0, 7 SOG, 20:00 TOI, GAME'S FIRST STAR
---
BOS 5
WSH 3
Pastrnak netted a pair of goals to lead the Bruins to a 5-3 comeback victory over the Washington Capitals at Capital One Arena Monday night.
With Boston trailing 3-0 in the second period, Pastrnak scored his first goal of the season with teammate Brad Marchand setting him up on the powerplay.
In the third period, Pastrnak got the Bruins within a goal with his second of the night as he showed some patience to put his wrist shot in the perfect spot, beating Capitals goaltender Vitek Vanecek. It led to a four-goal third period for Boston and Pastrnak picking up the first star of the game for his efforts.
"We're happy to have him in the lineup," Cassidy said about Pastrnak after the game. "He's a threat every time he's on the ice. He just looks stronger on pucks, and that's just the physical maturity coming through. Nice weapon to have back in your mix."

FEB. 3
3-1

–

4, 7 SOG, 21:31 TOI, GAME'S SECOND STAR
---
BOS 4
PHI 3, F/OT
Pastrnak recorded his ninth career hat trick to help the Bruins earn another comeback win in overtime, 4-3 against the Philadelphia Flyers at Wells Fargo Center Wednesday night.
It didn't take long for Pastrnak to get onto the scoresheet, scoring his third goal of the season, 12 seconds into the game with a great individual effort.
With Boston trailing 3-1 in the third period, Pastrnak got his club within a goal with his second of the game by beating Flyers goaltender Carter Hart on the powerplay.
Later in the period, Pastrnak completed the hat trick and tied the game with 14.9 seconds left in regulation as he found the puck in a scramble in front of the net by swatting it out of mid-air.
In overtime, Pastrnak helped Boston earn their second comeback victory by setting up Patrice Bergeron with a great pass as the Bruins captain took a couple of whacks before scoring the game-winner.
With Pastrnak's three-goal performance, the charity of his choice will receive $1,000 as part of the Enterprise Hat Trick Challenge.

FEB. 5
0-1

–

1, 3 SOG, 17:09 TOI
---
BOS 2
PHI 1
Pastrnak extended his personal season-opening point streak to four games with an assist in the Bruins' 2-1 victory over the Flyers at Well Fargo Center Friday night.
With Boston down 1-0 in the third period, Pastrnak's shot was initially stopped by Flyers netminder Brian Elliott, but Marchand was able to get to the rebound in front to tie the game. The Bruins scored 27 seconds later and the team picked up their third straight win.overtime winners within a span of approximately 12 minutes.

LOOKING AHEAD
Pastrnak will look to keep his hot streak going as the Bruins continue their road trip with matchups against the New York Rangers February 10 and 12 before they face the New York Islanders February 13.