NHLPA and NHL celebrate Black History Month
The NHLPA and NHL will celebrate Black History Month with an array of original content and programming.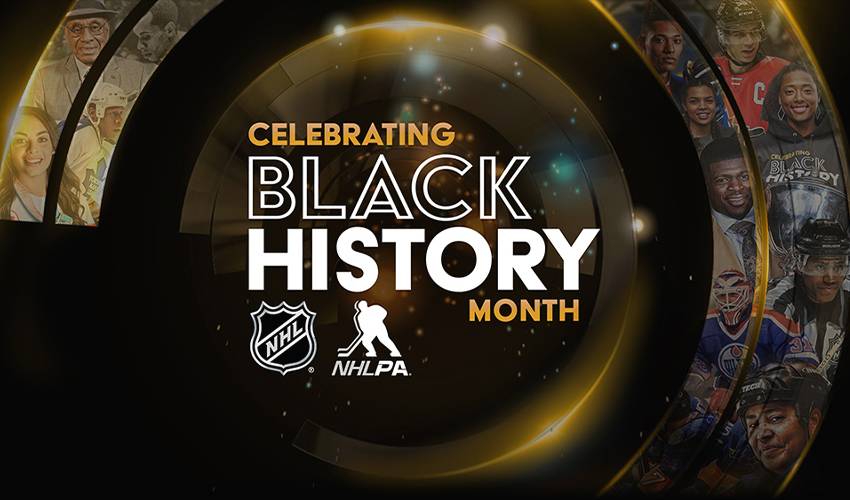 ---
NHL, NHLPA, and NHL Partners Canadian Tire and Dunkin'
Team Up with Classroom Champions to Honor Willie O'Ree
A Free Social Justice and Anti-Racism Digital Experience and Educators Guide
Based on WILLIE, Willie O'Ree's Life Documentary is Now Available

NEW YORK / TORONTO (Feb. 1, 2021) – This month, the National Hockey League Players' Association (NHLPA) and National Hockey League (NHL®) will celebrate Black History Month with an array of original content and programming exploring the contributions of NHL Players and pioneers. Content and programming will be featured daily online and on social media across NHL and NHLPA platforms, and through specialty programming on NHL Network. Black History Month efforts are part of Hockey Is For Everyone™, a year-round NHL and NHLPA initiative celebrating diversity and inclusion in hockey, which highlights the voices and experiences of Black, Indigenous, Asian, Hispanic, and LGBTQ+ individuals; women and girls; and other underrepresented groups in the game.
The creators of Willie, the critically acclaimed documentary about Willie O'Ree, in partnership with educational leader and global social emotional learning (SEL) provider Classroom Champions, through generous donations by NHL partners Dunkin' and Canadian Tire, have developed and today made available a comprehensive digital experience and educator's guide focused on social justice and combatting racism. The program honors Hockey Hall of Famer Willie O'Ree, and, through the distribution support of Safari Montage, will be made available to more than 15,000 schools and youth sports organizations in the United States and Canada. The new educators guide compliments the award-winning "Willie" documentary and is designed to enable teachers, students, families, coaches, fans and community organizations to learn more about social justice and racism by highlighting themes from the documentary such as representation, allyship, and the power of words, and share Willie O'Ree's history as the League's first Black player.
In an effort to share Willie O'Ree's story more broadly and celebrate the 63rd anniversary of his NHL debut, "Willie" is currently being syndicated across 90 million households and approximately 160 local broadcast stations in partnership with Gray Television in the United States, and in Canada the film will air nationally on TSN. The film is available to stream on NBC's Peacock and Crackle in the United States, and on Crave in Canada. The film is also being distributed internationally to more than 50 nations over the next two years in partnership with the U.S. State Department's American Film Showcase and Global Affairs Canada.
"Black players – male and female – have shaped hockey from the beginning and have an increasingly significant impact on the game, the way it is played, the communities it reaches and the relationships with our fanbase," said Kim Davis, NHL Senior Executive Vice President, Social Impact, Growth Initiatives & Legislative Affairs. "For the NHL, Black History Month is not only a time to recognize the magnitude of historic Black contributions, such as the formation of the Colored Hockey League of the Maritimes in 1895 and Willie's trailblazing debut in 1958, but also a time to amplify efforts that foster a greater sense of inclusion for the Black community throughout the sport – be it on the ice, in the stands or in the board room."
"The Players seek to continuously further an inclusive environment at all levels of hockey while we proudly highlight during Black History Month the impact that our current and former Black NHL Players have had on the sport. Following the example set by Willie O'Ree, we encourage young players and fans as we work towards a goal that we all share, which is a welcoming and diverse game," said Mathieu Schneider, NHLPA Special Assistant to the Executive Director.
Last month, the NHL announced its clubs would display a helmet decal starting Jan. 16, marking the weekend leading up to Martin Luther King, Jr. Day, through to the end of Black History Month. The decal pays tribute to O'Ree and Dr. King through the theme of celebrating equality, as MLK Day coincided with the day O'Ree made his NHL debut. To further honor O'Ree's legacy and impact on hockey, the Boston Bruins will formally retire O'Ree's number 22 jersey. The jersey retirement ceremony will take place prior to the Bruins vs. New Jersey Devils game on Feb. 18.
Throughout the month of February, the NHL will share stories from individuals and organizations within the hockey community who represent and champion Black achievement in the game, such as Grant Fuhr, Jarome Iginla, Blake Bolden, Sarah Nurse, Angela James and multiple Hockey Is For Everyone™ youth hockey organizations. These stories will highlight memorable moments from influential male and female Black players both on and off the ice, as well as feature the leaders of tomorrow, who explore ways to make hockey more inclusive. The NHL will distribute these stories on various platforms, including NHL.com, the Soul on Ice Podcast and @NHL on Twitter, using the hashtag #NHLBlackHistory. Hosted by award-winning filmmaker Kwame Damon Mason with Los Angeles Kings prospect Akil Thomas and Niagara IceDogs defenseman Elijah Roberts, the Soul on Ice podcast blends elements of culture and hockey, providing uncharted commentary and perspectives on the state of the game, defining moments in history and the future evolution of the sport. Mason will also join NHL Network's NHL Now™ each week in February to discuss the latest stories on the Soul on Ice Podcast.
For more details on the NHL and NHLPA's Black History Month initiatives, fans can visit NHL.com/BlackHistory.