After the Buzzer | Chris Tanev
What's it like for Chris Tanev to watch his beloved Buffalo Bills play? Let's just say that things can get quite loud at certain points during a game.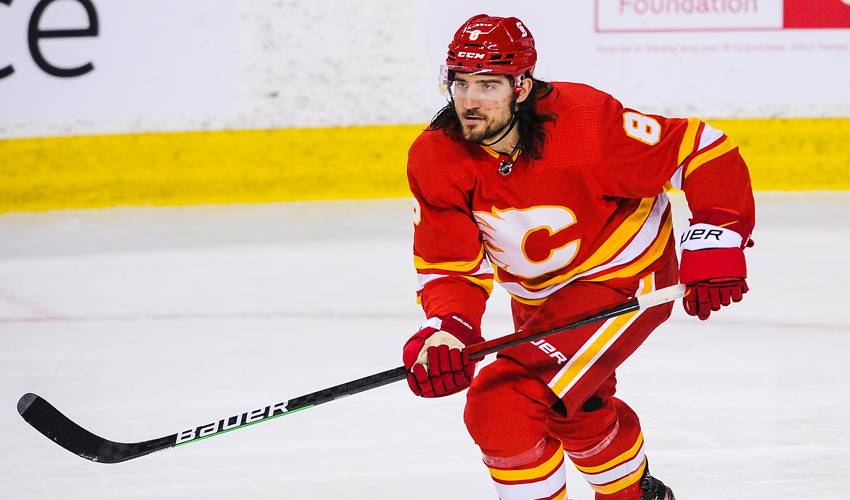 Feature photo: Getty Images
---

From their bond with fans to their efforts in the community – and everything in between – 'After the Buzzer' is a weekly series taking readers beyond the rink to shine a light and provide insight on players' lives away from the game.

What's it like for Chris Tanev to watch his beloved Buffalo Bills play? Let's just say that things can get quite loud at certain points during a game.
The 31-year-old defenceman, who signed as an unrestricted free agent with Calgary on October 9, 2020, spoke with NHLPA.com about football, some favourite things about his new NHL city, his new teammates, and the viral photo of his brother that's making the rounds on social media.
THE BILLS MAKE HIM WANT TO SHOUT
Tanev has been glued to the TV set throughout the NFL Playoffs, making sure he has a front-row seat, so to speak, whenever the Buffalo Bills are in action.
"Obviously, they're doing well. I didn't think they played that well against Indianapolis, but all that matters is winning at this time of the year."
"I'm a little bit of both [reserved and raucous] whenever I watch the Bills play. I got a little nervous when they were playing Indy and I might have yelled at the TV once or twice. But for the most part, I'm quiet and just focus on enjoying the game."
JUST JOSHING
If Tanev had the chance to chat with any player on his favourite NFL team, he'd jump at the opportunity to speak with quarterback Josh Allen.
What's one thing the blueliner would want to ask him about?
"I would go with Josh Allen just because of his transformation over the last few years. When he was drafted, people weren't that high on him, and he sort of proved everyone wrong. I'd just like to ask him what he did off and on the field to get where he's at now. The QB is the most important player on the team and to see how he's matured and become one of the top players in the game is amazing."
WELCOME WAGON
After years of heated games playing against the Flames, the former Canucks d-man didn't have to worry about any hard feelings when he signed with Calgary.
Tanev also has some familiar faces along for the ride with the Flames.
"I played against a lot of these guys for a number of years. So now, coming here with Marky [Jacob Markstrom], [Josh] Leivo, and Louis Domingue helps things, but everyone has been great. I've been having a great time so far getting to know the guys. When I signed, Gio [Mark Giordano] reached out. I know him from the Toronto area – we've skated together and worked out together. [Sean] Monahan, who is from Brampton, also called me. I met [Milan] Lucic last spring in Vancouver during the lockdown. He reached out right away as well. There's a great core group of guys here and everyone has been every welcoming. We've had a lot of fun so far. I knew some of these guys, but getting to know the ones I didn't has really been helpful."
THUMBS-UP FOR THE CITY
You can count Tanev as a big fan of Calgary, the city.
Although he hasn't had a great deal of time to soak up the sights, sounds and scenery, the veteran of over 500 NHL games is impressed by what he's seen so far.
"The first few weeks here we could go out for dinner before the lockdown happened, but there is a variety of great restaurants, which I was unaware of before I signed. The guys showed me some spots that I didn't know about.
"It's a beautiful place. You sort of don't realize that when you're coming in and out in one day. Canmore is an hour away, Banff is an hour and 20 minutes away, Lake Louise is an hour and 40 minutes away – the scenery is spectacular. It's definitely a place I didn't realize was this beautiful. You see different things each day, things that almost shock you. It's a privilege to be in such a beautiful place."
PICTURE TIME
This season's headshot of his brother, Brandon, who plays for the Pittsburgh Penguins, recently came into focus on social media.
The talented forward, who led the Penguins with 244 hits last year, sports a very interesting look on his face. It didn't take long for the picture to make its rounds on the internet.
"I've definitely teased him about that a bit. I think I got about 100 messages when it came out. I can only imagine how many messages he got and how many people called him about it."
PARTING SHOT
"We sort of look very similar, but he might be a little more photogenic than me. I'd give him the edge, but I don't know what was going on in that headshot. He was either shocked or something else was happening." – Chris Tanev, on which brother takes the better picture.