Callahan announces retirement
After a career that spanned 13 seasons in the NHL, Ryan Callahan has announced his retirement from professional hockey.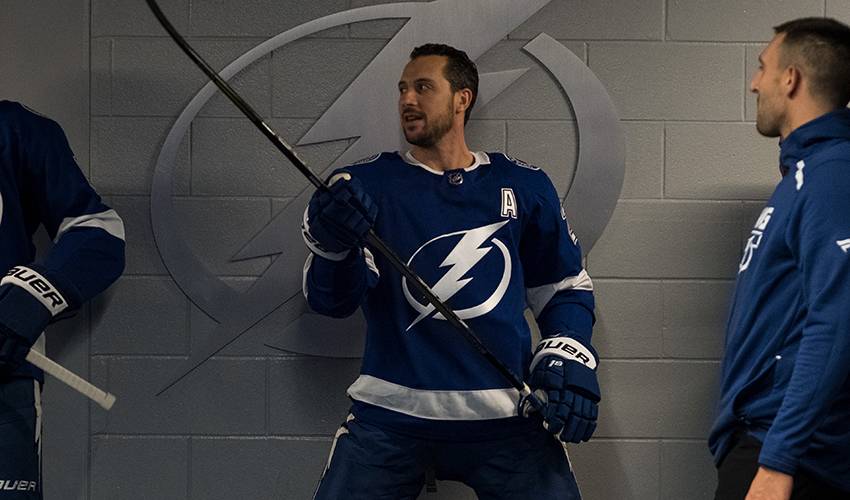 Feature photo: Getty Images
---
Ryan Callahan has announced his retirement from professional hockey after a career that spanned 13 seasons in the National Hockey League.
Over his 757 regular-season games, Callahan totaled 186 goals, 200 assists and 386 points. In 121 career postseason outings, he notched 20 goals and 39 points.
Selected in the fourth round of the 2004 NHL Draft by the New York Rangers, the five-foot-ten, 187-pound forward skated in 450 regular-season games with the club and went on to play 307 more games with the Tampa Bay Lightning.
"To have the career I did and the success I experienced – being able to play for the New York Rangers, to be captain there, and my great time in Tampa, where I fell in love with the city and the team – I'm very fortunate," Callahan told NHLPA.com. "I pride myself in the fact that I was able to contribute in different ways over my career and that I gave 100 percent of myself every game."
"I was under contract last year, but due to my back injury [a degenerative disc disease of the lumbar spine, diagnosed in 2019] I knew that I would no longer be playing. So, this is the official announcement that I'm retiring. I've had a lot of time before this day to wrap my head around and realize I was done playing. When I look back at my career, the first thing that comes to mind is that I feel blessed and extremely lucky to have played the game I love."
A two-time Olympian who earned silver with Team USA at the Vancouver 2010 Winter Olympics, Callahan worked diligently from the start to increase his odds of a fruitful and lengthy hockey career.
Chosen in the 15th and final round of the 2001 Ontario Hockey League Priority Selection, Callahan's grit, determination, physical play, leadership and offensive punch made him a valued member of the Guelph Storm. He captained the team in the last two seasons of four memorable campaigns. In 2005-06, his final junior year, he posted 52 goals and 84 points.
The next season, he joined the Hartford Wolf Pack, the Rangers American Hockey League affiliate. Callahan's first big league call-up came November 28, 2006 and he made his NHL debut on December 1, but was sent back down to the Wolf Pack after that one game. He was called up for a second time December 19 – again for only one NHL game. Near the end of the season, after scoring 35 goals in 60 AHL games, Callahan was called up for a third time on March 15, 2007.
Two days later, March 17, Callahan netted his first two NHL goals and notched his first career game-winning tally on April 1. He soon scored his first two NHL playoff goals in a 7–0 win of Game 3 of the Eastern Conference quarterfinal 16 days later.
Although a sprained knee temporarily rerouted his NHL ascent – he spent 11 games with the Wolf Pack and appeared in 52 games with the Rangers in 2007-08 – Callahan appeared in 81 games in 2008-09, recording 22 goals as part of 40 points, 265 hits and 32 blocked shots.
Despite the early setbacks, the native of Rochester, New York, didn't hang his head.
"To be honest, that mindset of never giving up came early on in my career. Being picked in the last round by Guelph – I didn't have any college offers at the time – I realized that you needed to work and work hard for any success that you'd have, and that nothing is given to you. It was the same way in New York.
"My first camp, it was myself and one other guy who didn't participate in the blue and white game, and I was a healthy scratch a couple of times in my first stint with Hartford. It put a chip on my shoulder and I wanted to prove to the Rangers that I could play and I deserved to be there. Throughout all of it, I understood that you have to earn everything you get."
It was a hallmark of Callahan's NHL days and the times he suited up with the American National Team.
Prior to the 2009-10 season, Callahan was selected an alternate captain by the Rangers. Two seasons later, he was named the 26th captain in Rangers history and the first New York-born player to serve in that role.
Wearing the "C" remains his most cherished hockey memory.
"I think what ultimately got me to be captain was when [head coach] John Tortorella took over the team and he gave me a real opportunity to hone my abilities and who I was as a player. My hard work, my dedication to the game and willingness to do whatever it took to win – when you do that, Torts rewards you with ice time and opportunity. Once I got that, I feel I became a better all-around player."
The honour and responsibilities didn't alter Callahan's approach on or off the ice.
"John taught me a lot about what it means to be a pro and I was named captain, some of the best advice came from him. He phoned me to tell me the news and he said that I was going to have make decisions that are not always best for you, not always best for the guys on the team, but what are ultimately the best for the team as a whole.
"The other thing he told me was not to change who I was. Just because you have that letter on your sweater doesn't mean you have to change your personality or what you do as a player. What I did before is what earned me that honour."
Callahan remained New York captain until March 5, 2014, when he was traded to Tampa Bay in a captain-for-captain trade for eventual Hockey Hall of Famer and 2003-04 Ted Lindsay Award Recipient, Martin St. Louis.
During the 2015 Stanley Cup Playoffs, in his first full season with the Lightning, Callahan underwent an emergency appendectomy the night before Game 6 of the Eastern Conference Second Round against the Montreal Canadiens. He was in the lineup five days later for Game 1 of the Eastern Conference Final against the Rangers.
"Nothing comes easy in this league," offered Callahan. "Having the opportunity to play against the best players in the world, rising up to that challenge, and playing in those big games, is something you always looked forward to."
Callahan's on-ice efforts were rivaled by significant contributions to the community in both New York and Tampa Bay.
Just over five years ago, he and his wife Kyla established the Ryan Callahan Foundation, which helps children and families affected by pediatric cancer. The couple will continue to assist others through their work with the foundation.
"We started it when I signed [a six-year contract extension in 2014 with Tampa], knowing that we were going to be there for a while. Dealing with pediatric cancer, it's something that's near and dear to us – my wife's family was affected by it – so we wanted to give back and make sure these kids and their families were taken care of. Starting this foundation, it's very meaningful to us. I'm just so happy that we started it and that we're carrying on with it. It's a real highlight of my career."
As for future plans, Callahan is hoping to stay connected to the hockey world.
"Last year, being under contract, I was lucky enough to still be able to do some work with the NHL Network, which I really enjoyed. I like doing it and I'll probably do it again this year. I've said previously to people that I'm not actively searching for an NHL job, but I would definitely like to stay in the game. If something came my way, I'll definitely be listening."