Montour, Kids Help Phone share message of hope and awareness
Brandon Montour wants First Nations, Inuit and Métis youth across Canada to know that help and hope is only a phone call, text, or message away.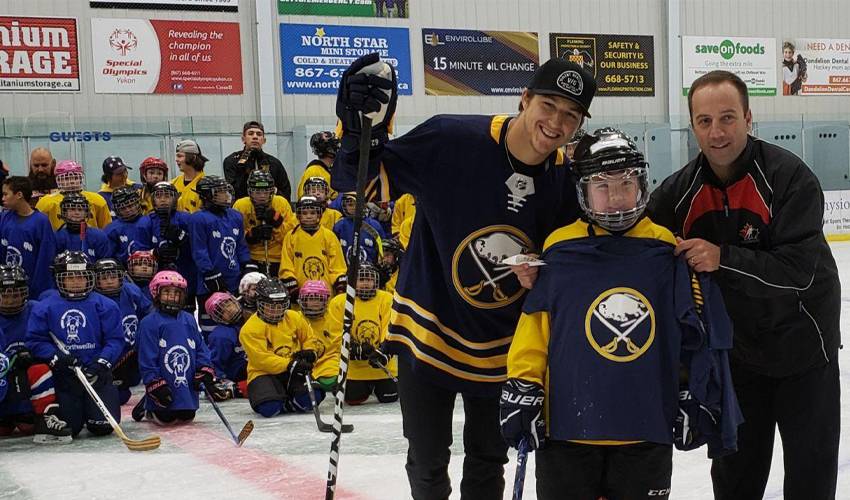 Feature photo: Buffalo news via Yukon First Nations Hockey Association
---
Brandon Montour and Deanna Dunham want First Nations, Inuit and Métis youth across Canada to know that help and hope is only a phone call, text, or message away.
Both are Mohawk members of Six Nations, one an NHL defenceman with the Buffalo Sabres, the other holding the title of Director of Indigenous Initiatives and Equity Programs with Kids Help Phone.
And while the words and experiences they share differ, their messages are very much the same.
Montour, who has played four NHL seasons, has been committed to helping Indigenous youth long before he skated in his first big league game in 2016-17 with the Anaheim Ducks.
"Indigenous kids and youth need as much guidance and help as they can get, so anything that is available to them is very useful," said the 26-year-old, who grew up in Ohsweken, a village inside the reserve of Six Nations of the Grand River. "With this pandemic, you can't even imagine what a lot of these kids are going through, how any unrest in their lives is heightened even more. It's good to know they have somewhere to turn."
The defenceman is buoyed by the efforts of Kids Help Phone and its commitment to strengthening support services available to Inuit, Métis and First Nations youth across Canada, and aiding in the mental, emotional, spiritual and physical well-being of Indigenous young people from coast-to-coast.
Created in 1989, Kids Help Phone is Canada's only 24/7 national service offering bilingual (English and French) professional counseling, information and referrals and volunteer-led, text-based support to young people.
After helping to raise $76,000 last year, the NHLPA is once again matching donations up to $20,000 made on Giving Tuesday – a national movement to rally people in Canada to give back to their favourite charities following Black Friday and Cyber Monday.​
"Players gladly share encouraging words, hoping to inspire people to reach out if they need help," said Devin Smith, NHLPA Senior Director of Marketing & Community Relations. "Kids Help Phone offers a full complement of important resources for youth across Canada, and the NHLPA is proud to be able to help support these services however they can."

One of those key resources can be found through Kids Help Phone's array of programs and initiatives that support First Nations, Inuit and Métis young people across Canada.
The Indigenous Advisory Council of Kids Help Phone has challenged the organization to seven goals through the implementation of Supporting First Nations, Inuit and Métis Young People. The Action Plan includes 37 specific activities that outline how Kids Help Phone will deliver those goals between 2019 and 2022.
"Finding Hope, that's what we hear a lot of from Indigenous youth," noted Dunham. "That [action plan] name came from comments of young people who use our services. It was actually a letter where a young person said, 'You helped me find hope and light in my darkest place...' It's something we hear continuously. Just having hope that tomorrow will be a brighter day is huge. It's impactful and it saves lives."
Suicide is the second leading cause of death in youth in Canada. The rate is five to six times higher among Indigenous youth.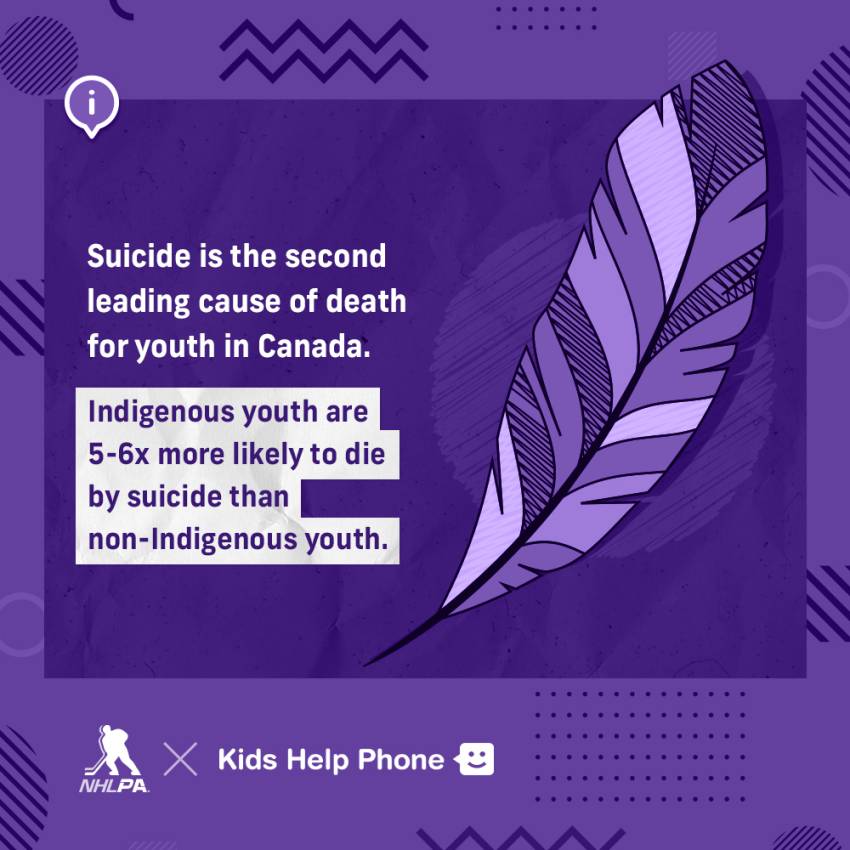 "From my experience, I was very fortunate to have parents that were able to provide what I needed," said Montour. "But that's not the case for everyone. For these kids, who might be good athletes, there might not be things available – like hockey rinks or baseball diamonds – and to see them struggle, it really hits home. Whenever I've spoken to Indigenous youth, whether it's sports or otherwise, I tell them that anything is possible. You have to be strong, stick with your dreams, and get out of your comfort zone. A lot of these kids don't leave their community or they leave and come back in a split-second. One thing I would want to tell them is to believe in themselves.
"You also need to put things in place because a lot of these kids are so afraid or just not comfortable leaving wherever they came from. Whatever the issue may be, in a sense, it just might be that they aren't comfortable getting out of the situation they find themselves in, that there is no escape route. Those statistics show that once they face an issue or issues in their life, they can't seem to find a way to get out of it. These initiatives are pathways to help and will definitely decrease those stats."
Dunham echoes that same thought.
The words and support of Montour, she noted, can be a difference maker in the lives of Indigenous youth.
"It's critical that we have support in building awareness and it's important that the support comes from people youth know and trust. Brandon is someone that Indigenous youth can really identify with and trust. And when he encourages them to reach out, it has a strong impact. Brandon is somebody all Indigenous youth across Canada can identify with. When he says it's okay to reach out for help, they will listen."
It's something Kids Help Phone has done through their ever-expanding commitment to aid Indigenous youth and communities throughout Canada.
From hiring First Nations, Métis and Inuit wellness specialists who train staff on a permanent basis to visiting Indigenous communities to share the resources available to youth, to creating Indigenous-specific content on its website, the organization is working diligently to help build awareness and reach more people across the country.
As the Kids Help Phone website undergoes enhancements, it will reflect those efforts.
"We are translating select pieces of our website content into 10 Indigenous languages," said Dunham. "Five pieces will be translated into 10 Indigenous languages and we're developing a new interactive feature on the website that will be available in the 10 languages as well. It's being done to increase access to our services. The interactive feature is basic introductory language, where people will be able to toggle between all of the languages. The goal of that piece is to really help non-Indigenous people understand the distinctiveness of First Nations, Inuit and Métis communities.
"We're really trying to educate people with our voice, to educate young people about the issues that are affecting Indigenous people across Canada, and really highlight the skills and talents that these people have. We're hiring Indigenous artists whenever the opportunity arises and the interactive feature on the website will be created by an Indigenous firm."
Montour is hopeful that Indigenous youth will take advantage of Kids Help Phone's vast resources.
He also has a heartfelt message for them, one he shares with every Indigenous youth he meets.
"It's just the hope… even if it's a minute conversation I have with the kids. You listen to the issues that they are going through, and you make sure they understand hope does exist."
Words they will also hear when they reach out to Kids Help Phone.
---
Kids Help Phone's counsellors are available 24/7 at 1-800-668-6868 and kidshelpphone.ca