2020-2021 Upper Deck Series One continues legacy with a twist
While the hockey world eagerly awaits the return to NHL ice of its greatest players, it's almost business as usual at the Upper Deck Company.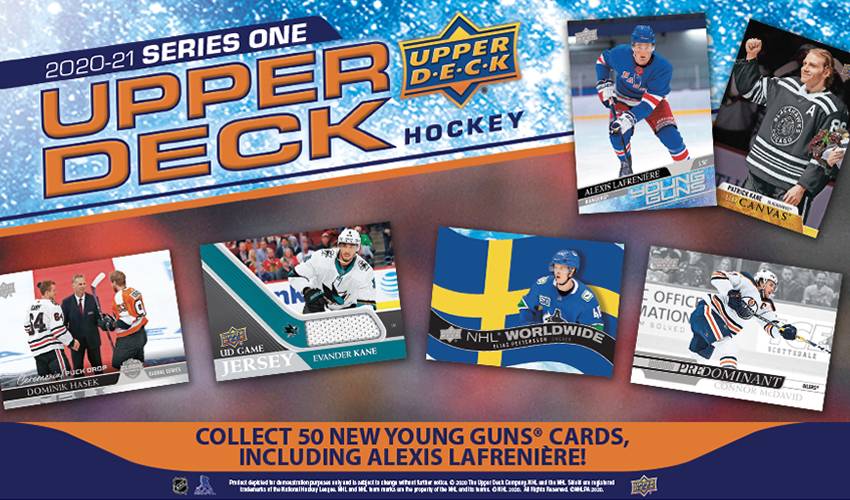 Feature photo: courtesy of Upper Deck
---
While the hockey world eagerly awaits the return to NHL ice of its greatest players, it's almost business as usual at the Upper Deck Company, official licensee of the NHLPA and NHL.
Throughout the many challenges brought on by the COVID-19 pandemic, Upper Deck has worked hard to keep a steady flow of NHL hockey cards coming to its hardcore collectors and to many who perhaps found more time for a new hobby – or renewed love for an old one.
This week, Upper Deck continues to get fans and collectors ready for 2021 with the release of the flagship Upper Deck Series One trading card set, arriving everywhere November 18. The release of Series One continues a 30-year legacy dating back to the inaugural Upper Deck set, released in the 1990-91 season. From the crisp photography, glossy fronts and backs and puck-shaped holograms, Upper Deck's base set was a game-changer then – and has become a staple for hockey collectors around the world every year since.
One of the hallmarks of the Upper Deck Series One and Series Two releases, is the annual Young Guns rookie card subset, highlighting collectively 100 NHL freshmen every season. As in most years, collectors can find an average of one Young Guns rookie card in approximately every four packs of 2020-21 Upper Deck Series One – Hobby Edition.
What's different about this year's release?
Upper Deck didn't have October's usual opening week NHL matchups, and 31 teams' worth of fresh faces to make up the Young Guns checklist. Instead, the 50-subject 2020-21 Series One Young Guns will be made up of players who debuted late in the 2019-20 season, including those who cracked their team's roster for the expanded 2020 Stanley Cup postseason tournament. Among rookies featured are many first round picks from the 2018 and 2019 NHL Drafts. Just so collectors don't have to wait, the checklist will also feature 2020 first overall draft pick, Alexis Lafrenière, who signed with the New York Rangers just before the checklist was finalized. The Young Guns card will be the first to feature Lafrenière in his Rangers colours. Other highlights of the Young Gun checklist are playoff standouts like Joel Kiviranta (Dallas Stars) and Pavel Francouz (Colorado Avalanche), and debutant brothers Nick and Jason Robertson (Toronto Maple Leafs and Dallas Stars, respectively).
Along with the rookies, Series One has a 200-card veteran base card checklist punctuated by some of the best photography hockey can offer at two-and-a-half by three-and-a-half inches. Among the subsets and inserts are rare, collectible game-worn jersey patches and certified player autographed cards, which are now a prominent inclusion among most of Upper Deck's annual sets.
You can learn more about this year's Series One release in this collecting guide through Upper Deck. They also have a map to where you can buy Upper Deck Series One at an authorized hobby dealer near you, or through many major national retailers.
---
Click here for more information on Upper Deck, the exclusive licensed manufacturer of NHLPA and NHL trading cards.