A man of few words, Shea Theodore has an important message
He may be a man of few words, but Shea Theodore can't say it loud enough – early detection saves lives.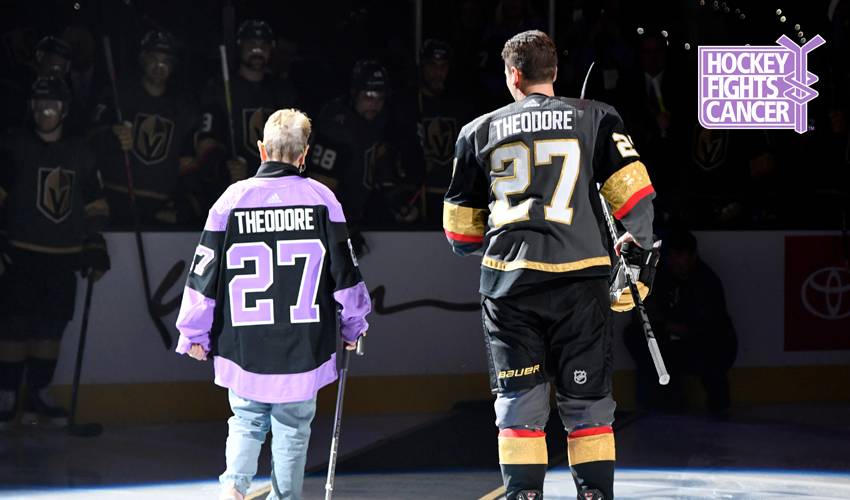 Feature photo: Getty Images
---
By nature, Shea Theodore is a man of few words. When it comes to talking cancer, however, he's quite the opposite.
He lets out a small laugh before the conversation takes a more serious tone.
"I'm not a really vocal guy," said the 25-year-old defenceman for the Vegas Golden Knights. "When it comes to this, though, I thought talking about it was the right thing to do."
It was last summer when Theodore was diagnosed with Stage 1 testicular cancer.
He received the diagnosis after he returned home from Slovakia where he earned a silver medal with Canada at the 2019 IIHF World Hockey Championship. A blood test at the annual international hockey event yielded high levels of the hormone hCG (human chorionic gonadotropin), which can be a sign of testicular cancer.
Not long after, Theodore had surgery to remove a small lump on his testicle, which turned out to be cancerous.
"It was scary, for sure," said the 26th overall draft pick of the Anaheim Ducks in 2013. "When you don't really know and you're doing all of the tests – blood work, scans, things like that – you're nervous. And then when you find out you have it, what it does is put a lot of things in perspective. You realize how important every day in your life is and you don't take things for granted. Obviously, I'm very grateful to play in the NHL and have that day-to-day life, but a lot of it flies by. You blink and times flies by so quickly. When something like this happens, you definitely soak up everything more and enjoy life."
He might not see himself as an inspirational figure, someone stepping up to help others in a similar situation, but in many ways it's exactly what the British Columbia native has done.
Now cancer-free, Theodore was reminded of the heartfelt, emotional story about his cancer journey that he wrote for The Players' Tribune last year.
"With everything that I went through and in putting that article out there, I received a lot of messages from fans, sharing their own story and what they went through. With what my article said, it resonated with them. It helped some people and that's what I was trying to do. It was nice to get that feedback."
One thing in particular that motivated the defenceman to open up and share his story in a very public way?
"The most important thing was bringing awareness to the early detection part of it because a lot of cases that go undetected over time, the cancer can spread and it can be devastating if you don't catch it. I was fortunate to find out as early as I did. If me talking about it means people will get tested early, that's what we're trying to do."
Although he knew he'd have the support of his fellow Golden Knights, Theodore still found it tough, at least initially, to share his health diagnosis with the players.
He released a statement, through the organization, that announced he had cancer.
"We put out a message through the team and we thought that was the best way for the guys to find out. For me to reach out to every guy, that wasn't going to happen. The support from the guys, whether it was [Max] Pacioretty sending a food delivery service or reaching out to offer support… that was big. I was on the couch hurting pretty good after the surgery. I couldn't really move for a good week and a half. So, for the guys to help out the way they did, it really did make a difference. We have such a close group here in Vegas that if anyone else was in my shoes it would have been the same thing."
His personal story and support of others hasn't gone unnoticed.
Not by the fans that have reached out to offer their well wishes, not by his teammates, and certainly not by those closest to him.
Alex Tuch, who came to the Golden Knights via a trade June 21, 2017, responded quickly to a text asking if he'd like to offer up a thought on his teammate.
"Shea's battle with cancer was a little surreal for me," said Tuch. "It caught me by surprise when he called me on the phone in the middle of summer. The part that was most surprising to me was how calm he was. We talked about the next steps and also how they found it. Right away, he talked about how grateful he was that he was tested during the world championship.
"It came as no surprise that he has been a big advocate of early detection. His recovery after surgery seemed painful, but he never complained and he did everything in his power to step on the ice for the opening game of the season. His battle with cancer has inspired others with cancer, that if they put their mind to it, nothing can hold them back from success."
A message from a player outside of the Golden Knights circle caught Theodore off-guard.
NHL veteran Phil Kessel, who experienced a similar diagnosis and procedure when he was 19, reached out to Shea through text message. He also called Theodore the night before his surgery to help calm his nerves.
"I mentioned Phil in my article. He's with my agency. For a guy like that to reach out, it's pretty cool. He went through the same thing, so to hear from him really meant a lot. It shows how tight-knit the hockey community is. It's special."
Special is the word Theodore uses when speaking about November, specifically, the efforts of many to raise money and awareness through Hockey Fights Cancer month – the annual joint initiative between the NHLPA and NHL.
"This month, what I went through definitely hits home. I think it's awesome in the money that's raised and in shining the spotlight on something that affects so many people."
Theodore knows that, first-hand. Not only what he has experienced, but also the cancer battle his grandmother, Kay Darlington, endured.
Darlington, diagnosed with breast cancer, was flown to Vegas by the Theodore family and team management for treatment at a specialized cancer centre.
Last November, she took part in the ceremonial puck drop for a Golden Knights home game, with Theodore and San Jose Sharks captain, Logan Couture, taking the faceoff.
"We recently lost her to breast cancer during the quarantine," said Theodore. "That was tough. It seems like everyone these days knows someone who is going through something like that. It's all about supporting one another and cherishing each day and every moment with each other.
"With what I went through and with what my grandmother went through, November, it's a special month and hopefully we can raise a lot of money and awareness. Myself and the team, we're doing a lot this month, donating money to the Susan G. Komen Foundation that's here in Vegas. Women with breast cancer, if they can't afford treatment, they can get treatment there."
Through his efforts, even if he may downplay the impact he's had, the man of few words has spoken volumes about fighting cancer.
It's something he'll continue to do, in his own way.
"I would tell people to stay strong. I think the most important thing is early detection. I'm trying to help as much as I can. Anyone out there that has cancer, stay strong. There is hope."
---
Since its inception in 1998, Hockey Fights Cancer – a joint initiative by the National Hockey League (NHL) and National Hockey League Players' Association (NHLPA) – has resulted in donations of more than $28 million to support national and local cancer research institutions, children's hospitals, player charities, and local charities. Hockey Fights Cancer unites the hockey community in support of people impacted by cancer and their families.