An anniversary the Allens won't soon forget
Continually checking your cell phone on your wedding anniversary might not seem appropriate, but Jake and Shannon Allen were perfectly fine with it.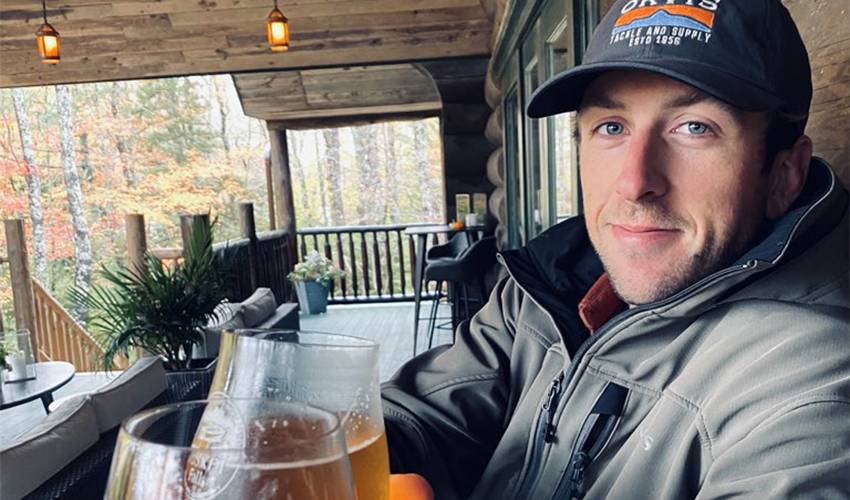 Feature photo: Twitter/@ShannonallyceA
---
Continually checking your cell phone on your wedding anniversary might not seem appropriate, but Jake and Shannon Allen were perfectly fine with it.
When the Allens finally had the opportunity to celebrate their second anniversary – the actual date was August 25 – they headed to a remote lodge in Nova Scotia to celebrate hte make-up date, not too far from their home base in New Brunswick.
"I planned something post-bubble because on our actual anniversary, I was still away playing hockey," said the 30-year-old goaltender. "So, we were able to finally celebrate for a couple of days. We have the Atlantic bubble, so we're sort of in our own little world here in the Maritimes now."
The only catch surrounding their getaway was that contract extension discussions between Allen, his agent, and the Montreal Canadiens were heating up.
"We had this trip on our schedule and we were looking forward to it, but then obviously, having contract talks happening at the same this was happening… actually, it was ironic because we were going to a place where there was no cell phone service. We were a little bit nervous because the talks are going on and there's no service. So we stopped and made sure we did all our work prior to getting there. We finally got on a call and finalized the [two-year] deal."
Shannon took to Twitter soon after and posted a photo of her smiling husband.
While you can only see the glass of red wine she's holding in the image, she assures she was sporting the very same look.
"I can definitely say it was stressful, but it was fun in the end," said Shannon. "It was pretty exciting. There were probably a few times where you thought, 'Okay, put your phone down,' but in this situation, it was completely understandable. You do you and figure it out. I'm just so proud of him… Montreal, here we come!"
It's an anniversary the Allens won't soon forget.
"We were lucky," said the New Brunswick native with a laugh. "The stars aligned on both sides and we were very fortunate."
Which is how the goaltender, dealt to Montreal from St. Louis September 2, views the opportunity to be part of one of hockey's most storied franchises.
"We're all very excited. It's a new start for all of us. I spent the last eight years in St. Louis. I think there's a little bit of nerves, but I think that always happens with a new location and a new team. We're close to home, only seven-and-a-half hours away. With a historic franchise like Montreal and the moves they made in the off-season, it makes it that much more exciting. We're really excited about this new challenge. We're just trying to tie-up all the off-ice things now, like housing, things like that. Those are the hurdles you face when you go to a new city and new team. And during the pandemic, it makes it that much tougher. Once we get all these things straightened away, we're looking forward to getting to Montreal."
Allen, who was part of the St. Louis team that won the 2019 Stanley Cup, is quite familiar with the Canadiens.
He's even worn the same colours as the Original Six club.
"My dad was a Habs fan. I would say about 75 per cent of the people where we come from are Montreal Canadiens fans, especially with the history in Fredericton, where the farm team for the Canadiens was there for quite a while. That gravitated a lot of people towards Montreal. The Fredericton minor hockey team when I was growing up, all the way through, was the Fredericton Canadiens too. That was the team I played for. It's funny how it's all come full circle. I was originally a Florida Panthers fan, but to put that Canadiens jersey on for the first time is going to be special."
The 34th overall selection of the Blues in 2008 has already received several calls from his new teammates.
It's one more reason he can't wait to strap on the pads when the 2020-21 season starts.
"Some of the boys have reached out and offered any help they can give with the off-ice things. My wife has talked to some of the girls as well. Things have been great and having so many people reach out to us is really appreciated. We're lucky to be going to an organization like that."
Shannon agrees.
"It means a lot. The hockey part, Jake has that under control. When it comes to finding a house, day care, child care, anything like that, it's just helpful to have somebody to talk to and bounce ideas off of. I don't know anyone personally yet, but I do know they have a really tight group and they've all been so helpful."
One thing the couple won't need help with is cell service.
They've shown the ability to answer the call, literally, in less-than-ideal circumstances.
"This was our second anniversary, so we'll see what the next one holds," said Shannon.
Added Jake, "It was funny how it all worked out, but it was a little nerve-wracking at the same time."