March & Mill Co a hit with even huger aspirations
Reality TV series everywhere, get ready for some serious competition. M&MCO TV, featuring "Marchy" and "Millsy," is live.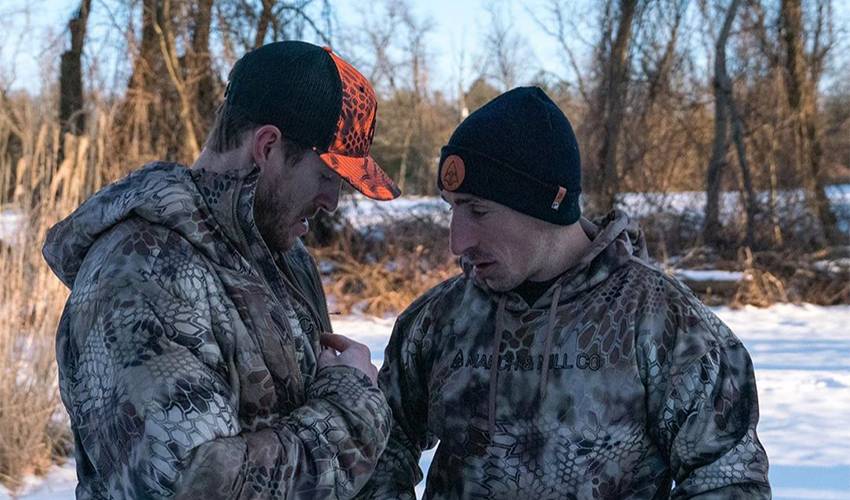 Feature photo: IG/@march_millco
---
Reality TV series everywhere, get ready for some serious competition. M&MCO TV, featuring "Marchy" and "Millsy," is live.
Teammates Brad Marchand and Kevan Miller are upping their off-season game awy from the ice with the Boston Bruins. Big time.
The close friends, who co-run the outdoor sports company March & Mill Co, have taken their love for hunting, fishing, hiking and exploring to a whole new level in 2020.
Their new web series on YouTube provides fans with a deeper look into their off-ice pursuits, while also offering a front-row seat for their competition challenges.
All of it adds up to must-see TV.
The first competition of the season came in the form of archery. Both players took their best shot, literally, with Marchand eventually claiming bragging rights.
There was plenty of trash talk in between aiming for the bull's eye, and lots more after the final tally.
Miller's punishment for the loss was whip cream in the face, courtesy of Marchand.

"He [Miller] still gets made fun of on a daily basis… lots of reasons to do that," chided Marchand. "We had a lot of fun with it. We're both competitive guys. One thing we've enjoyed doing so far is incorporating competitions into everything that we're doing. We're having fun with it. That's one of the biggest reasons we started this – we wanted to do something we love and enjoy, and it all goes hand-in-hand."
Miller, who recently re-signed a one-year contract with the Bruins, ended up getting revenge in the second competition, a fishing expedition that saw teammate Brandon Carlo come along for the boat ride.
"That was a blast," said the 32-year-old defenceman. "I think Marchy hit it on the head. We wanted to share our passion for our hobbies with people, and show the different experiences we have with our friends and families. At the same time, we add a little bit of competition to it, just to keep the blood pumping. Of course, things escalate pretty quickly. Taking a pie to the face and Marchy biting the head off a [dead] fish is a little bit different, but it was great to get some sweet revenge. It was really a crapshoot as to who was going to win, but fortunately for me, I was the one who dragged the bigger fish on the boat that day. We had a great time doing it. Having Brando along made it a lot of fun."

The number of people viewing the videos continues to rise, something that pushes both players to up their respective games, so to speak, as to what they share with fans.
Miller appreciates having a platform to show a different side of his personality.
"People love to engage with it and we love to share that side of us with fans."
Marchand, who has played 751 regular season NHL games, agrees.
"It took off faster than we expected. We're very happy with the support we've had so far. I think the biggest reason is that people want to see who we are off the ice. It's an opportunity to showcase what our passions are away from the ice, and who we are as people. It's great to show that to the world and to fans, and to everyone who likes to see what's going on behind-the-scenes, and how we like to have fun. We feel very blessed to have the support we do just over a year in to all of this."
"I think people a lot of people have an image of Marchy in particular, and he gets to share who he really is, and people take to that," added Miller.
They also feel quite fortunate to be on the same team.
Both could only imagine what it would be like to line up against the other on the ice.
"That's where this whole idea started," Miller started. "We were sitting on the bus and talking about this and that, what each of us were doing in the off-season. We started talking about things we get out and do. We've been able to share that. The competition side for us, even in practice we're ribbing one another, trying to one-up each other. It's translated well. But God forbid if we did ever have to play against one another at some point. Who knows?"
Added Marchand, "That could get interesting pretty fast."
For now, the teammates will stick to the great outdoors as their competition ground.
Most importantly for Marchand and Miller, what they're doing through their company and M&MCO TV has struck a chord with hockey fans.
"We have huge aspirations for the company," said Marchand. "We just took over an outfit (check out @march_millcooutfitters on Instagram) – a moose, black bear and caribou operation – in Newfoundland. We will be doing guided hunts there, starting next year. Not only will we be doing that, which will be incorporated into some of our videos moving forward, but we really enjoy doing what we are doing. It's been great that people have liked it. And we're having a ton of fun with it. That's the biggest thing… people get to see how much we really enjoy doing this. I think that's what draws everybody to it. It's genuine and it shows who we are. I think people appreciate that."
Miller, who was born in Los Angeles, is happy to see their following growing on a steady basis.
"It's a two-part thing for me when it comes to why we've connected with people. First and foremost, it's about sharing our passion for what we love to do in the off-season. Also, it's showing the value of spending time outdoors, whether it's hunting, fishing, camping, or whatever it may be. Especially nowadays, with what's going on around the world with COVID-19, people get cooped up inside and don't get to spend much time outside. We both grew up spending hours and hours outside. We want to share that with people and promote that because it's a healthy lifestyle.
"With the outfitter in Newfoundland, that was a lofty goal. We thought maybe it was something we would do down the road. Here we are a year in, and things have happened so quickly. We've been super-blessed to have the support of people watching, our friends, family, and the people that help us with the videos."
Fans can expect a new competition to air soon.
"We're working on that. I think we're going to try and do it in the next couple of weeks," offered Miller. "Most likely, it will be something to do with shooting, maybe rifle or skeet shooting. I think with that – compared to the other competitions we've done – there will be a clear winner. We're not too sure who will come and join us, but we have some cool ideas. We might get some Bruins alumni guys at some point."
Marchand has given some thought to what Miller will have to endure should the former come out on top in the next competition.
"I wasn't really happy how quickly that escalated," Marchand said of his fish-biting moment. "It went from zero to 100 in a matter of seconds. We've been debating on how we're going to top the last one, and it's going to be tough. But I'm going to really dive in to that one because I have to make him suffer the same way I did."
Does of it all mean that Marchand and Miller, who have given back to military members and first responders through March & Mill Co., are looking to become the kings of reality TV?
Should the Kardashians be concerned?
"We're trying to replace them," said Marchand with a laugh. "Really, the bottom line is that we're just having a lot of fun doing this."