Players stand in solidarity against racial injustice
Ryan Reaves picked up his phone to answer Kevin Shattenkirk's text. What he went on to hear from a group of players on the other end of the line quickly relieved a weight off his shoulders.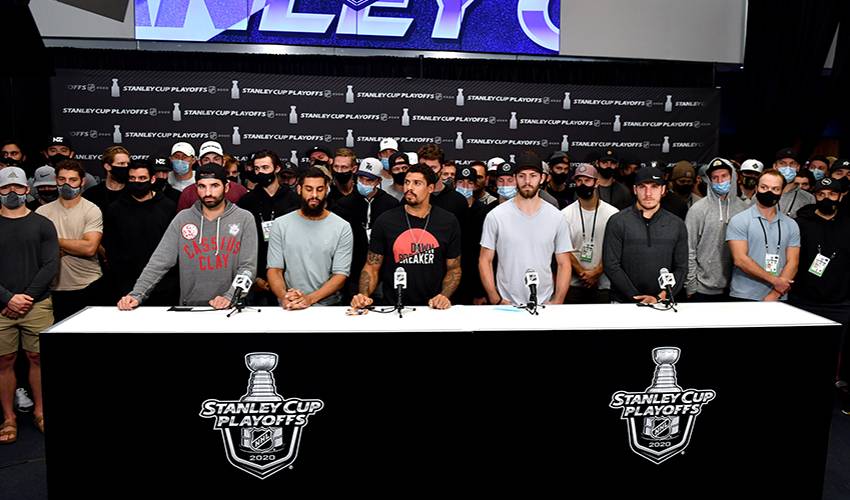 Feature photo: Getty Images
---
A two-word text between friends helped mobilize a much larger statement as the Stanley Cup Playoffs took a step back Thursday.
"Call me."
When Ryan Reaves woke up Thursday morning, the Vegas Golden Knights forward reached for his phone and saw a message from an old teammate and one of his best friends, Kevin Shattenkirk of the Tampa Bay Lightning.
The night before, Reaves had lay awake thinking about the NBA players who had boycotted playoff games in protest of systemic racism and racial injustice in the wake of Jacob Blake's shooting by a police officer that recently occurred in Kenosha, Wisconsin.
He was also aware that other leagues had joined in boycotting and postponement of games, including Major League Baseball, the WNBA and Major League Soccer.
With the Golden Knights, slated to face the Vancouver Canucks in Game 3 of their Western Conference Second Round series in Edmonton, several thoughts crossed Reaves' mind.
They stuck with him until the moment he opened his eyes that Thursday morning.
And then, Reaves, who was contemplating boycotting the game on his own, picked up his phone and dialed.
"Honestly, the text, I wasn't sure what it was about. When I called Kevin, he told me he had a bunch of players from the Eastern bubble on the phone. It was kind of like a weight was lifted off my shoulders. The players told me they wanted to listen to me and hear what I had to say.
"Right away, they said, 'If this is what you think is the best thing, then we stand behind you.' It was a weight off my shoulders. I didn't know how the league or team was going to respond, especially because this is a predominantly white league, so this isn't an issue that necessarily touches a lot of those guys. For them to jump on board like that, it was unbelievable."
Shattenkirk, one of Reaves' closest friends, didn't hesitate in taking action to help his former St. Louis Blues teammate.
"First and foremost, Ryan is someone who I consider to be one of my best friends," said the current Lightning defenceman. "I was in his wedding and he was at my bachelor party. He's someone I look to as a near and dear friend. I was really just checking in to see how he was doing throughout all of this. I wanted to make sure he was okay. He mentioned where his head was at, and what he was thinking of doing. He wasn't sure how it would be received by the outside world or by us. I told him if it [boycotting Game 3] was something he was considering, then he would have our support in Tampa."
And, as the two would quickly find out, the support would be widespread.
Soon after, more calls were made, conversations took place between numerous players on the eight teams vying for the Stanley Cup.
"We got on a call with Ryan and all of the other teams in each bubble – there were about five guys from each team – and everyone echoed that same sentiment… we were there for him. That was a very special and big moment to be part of. I think when guys listened to him and heard where he was coming from, we all knew we had to back him in this."
The show of unity has left a lasting impression on both players.
Shattenkirk, who came to the Lightning as a free agent last August, is still wrapping his head around the chats he had with a pair of players on the Boston Bruins, Tampa Bay's current playoff opponent.
"On Thursday morning, I woke up and had a meeting with Patrice Bergeron and Zdeno Chara, who I played against the night before. Anders Lee joined in, and then we had guys from the Flyers coming in. Especially as an American, to see players from other countries – maybe some who don't know all the issues that are going on in the States – all join in on this and realize how important it is… to me that meant a lot. I certainly know it meant a lot to Ryan."
Reaves, known for his tenacity and physicality on the ice, was taken aback by the show of unity.
When the six-foot-two, 225-pound right wing was told in the locker room that he had some people wanting to speak with him, he hadn't anticipated it would be several players from the Vancouver Canucks, his team's Second Round opponent.
"We've had two heated games against Vancouver, and there they were, standing outside of our locker room waiting to talk to me. It was just great. As much hatred as you can have for someone on the ice, to be able to get together for a bigger cause and support an issue that's going on in North America, it's just something you can't really describe."
The conversations, all of them, resulted in the players' decision, supported by the NHL, to not play the games that were scheduled for Thursday and Friday.
After the announcement was made Thursday, five players from Vancouver, Colorado, Dallas and Vegas – including Reaves – stood in front of microphones in Edmonton for their media availability. Players from all four remaining Western Conference playoff teams stood behind them.
Reaves is grateful for all of the support, including Shattenkirk's.
"He's one of those friends I'm going to cherish forever. The initial part of our conversation was him just asking me how I was doing. He wanted to listen to me. That's how 'Shatty' is. He's a guy that will be there for you. It was a little bit of a chance for me to exhale when I was talking to him and then we got down to business. For him to be the guy that organized that out east – I'm sure with a couple of other guys – it just speaks to his character."
Shattenkirk wasn't surprised by the reaction of his fellow players.
"It felt like a big moment at the time to a lot of us and it definitely was. I'm proud to have been part of it. With what happened to George Floyd, and a lot of athletes making statements about it, and pledging to change and take action, I think this is finally a moment where we felt we could do that and make some sort of impact."
The 31-year-old knows there's more work to be done. He also knows what to expect from the players he lines up with and against.
"Going forward, for us, being a predominantly white sport, I think this shows that everyone is willing to do it. That's a very heartwarming feeling for me."