Alex Tuch doing Thousand Islands fan club proud
Whenever Carl Tuch rolls out the projector for the Thousand Islands fan club, he sees more than a larger-than-life image of Alex, whose on- and off-ice actions are making him a proud dad.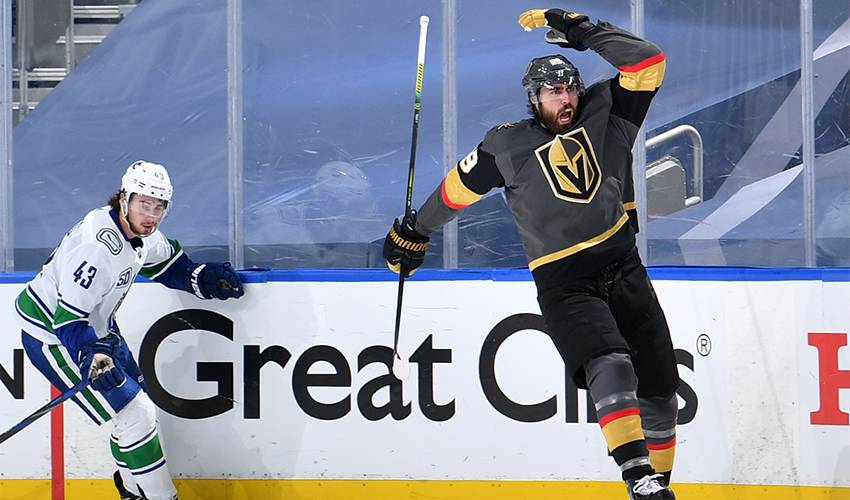 Feature photo: Getty Images
---
Which is more impressive – the on-ice Alex Tuch show in Edmonton, or the outdoor version on display in upstate New York?

It might be a tie.
While the 24-year-old is busy boosting the Vegas Golden Knights Stanley Cup chances in Edmonton, nearly 2,900 kilometers away on a cottage nestled in the Thousand Islands region of New York, No. 89's family, friends, and other fans can be found sitting by the water watching all the action on a big-screen projector.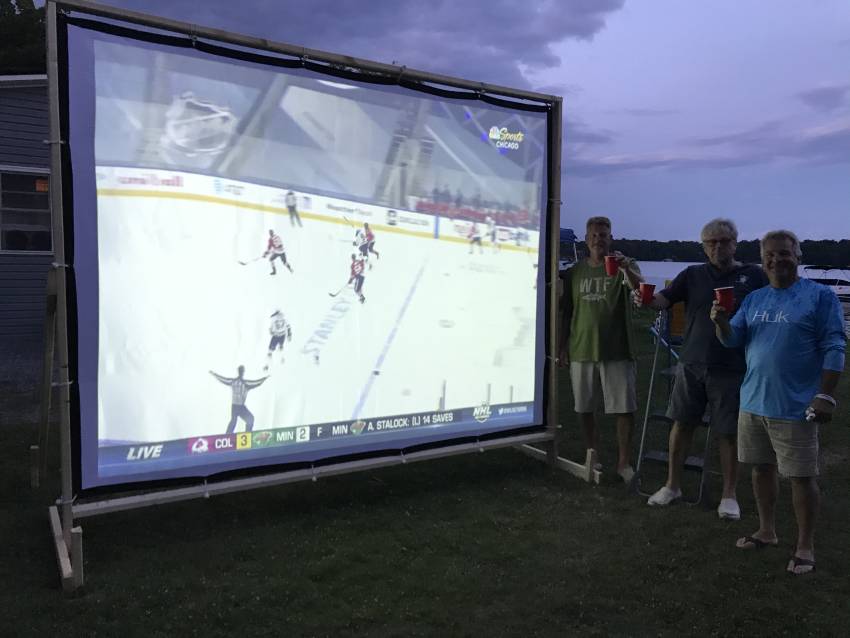 "On game days, my parents send me a text to let me know where they're watching the game, who they are watching the game with, and also wishing me luck," Tuch told NHLPA.com. "They spend a lot of time up at the cottage in Thousand Islands. They have a big group of friends up there who watch all of the games. They watch it by the beach or at the side of the cottage. I've seen the pictures and it's great. I have a lot of love and support from back home."
Those who take in the waterside action have had plenty of reasons to celebrate with Las Vegas in the midst of the team's Second Round series against the Vancouver Canucks.
The Golden Knights, who earned the Western Conference's No. 1 seed by wrapping up round-robin action of the Stanley Cup tournament with Tuch's 4-3 overtime game-winner against the Colorado Avalanche, went on to best the Chicago Blackhawks in five games in their First Round series.
Although that was more than enough to put smiles across the faces of the Thousand Islands fan club faithful, Alex's five goals so far – which tie for the team lead alongside Mark Stone and include two game-winners – has his following in a downright frenzy these days.
"It's a lot of fun," said Tuch's father, Carl. "It's always been that way since he was playing with the USA program. He's had lot of friends, fans and followers. Any time there's been an event or big game, everybody comes out. We make arrangements and people are loyal. It's because of him. He's such a good guy, and has a big heart. He makes a big difference."
And not just on the rink.
The 18th overall pick (of Minnesota) in the 2014 NHL Draft has been an impactful contributor in the community, both at home and in his NHL hockey home.
In December, Tuch launched his own foundation, The AT9 Foundation. Its goal is to help children with special needs and those battling cancer.
While the COVID-19 pandemic put some of the foundation's goals on hold, it hasn't stopped the winger from stepping up.
"One thing that I always talk about is that I wasn't put on this earth to play hockey, I was put on this earth to use my abilities as a hockey player and who I am as a person to help others. My parents have always been advocates in helping others. I'm really lucky and honoured that I was able to start my own foundation. Our focus is to be a feeder program, and to raise as much money as possible for children with special needs, and children battling cancer."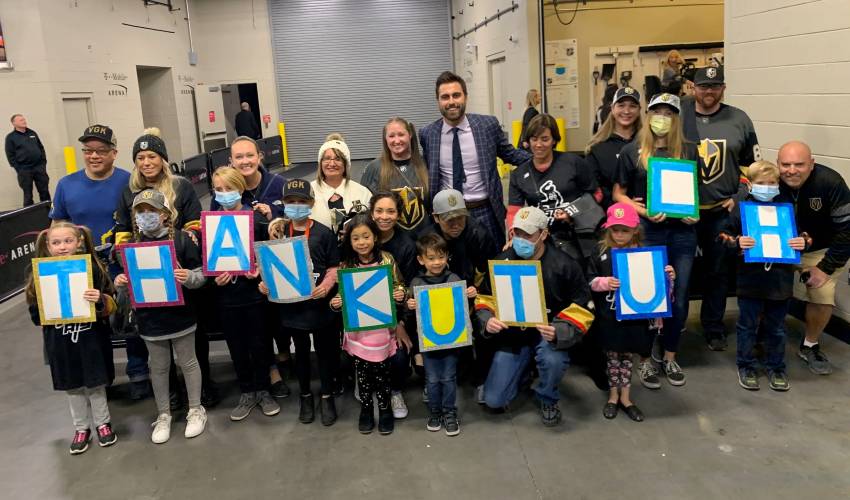 When Tuch told his parents he was starting up the foundation, the news didn't come as any great surprise.
The more the forward move up the hockey ranks, the more the Tuchs saw their son committing himself to helping others.
"Alex has a platform and he has a following because he's a hockey player," said Carl. "You have a choice to do something beyond just playing the game. He wants to do more, so I'm going to help him and support him like I always do. Hockey players are awesome. There are ton of them who do great things in the community. Alex has a passion for helping kids with special needs, and for kids dealing with cancer. He's already donated money to help with the addition of a special needs centre at Golisano Children's Hospital in Syracuse."
One of those rooms will bear Alex's name.
"I'm just super excited to be able to help," he said. "If I can put a smile on one kids face every day, then I've done my job. Those kids are unbelievable. If I wasn't doing it, I'd feel pretty selfish."
It's obvious the six-foot-four, 220-pounder is anything but self-centred.
Tuch, whose 18-year-old brother, Luke (a left wing), is eligible for the 2020 NHL Draft, has plans for initiatives in Vegas, too.
"Once everything gets back to normal, there are a couple of different programs in Vegas that I really want to look into. I'm trying to be involved as ever."
Which brings us back to his hockey life.
An injury-riddled 2019-20 regular season limited him to 42 games.
It was just as tough on the player who netted 52 points the season prior (despite missing eight games) as it was on his family.
Seeing him playing again – and playing well – has brought happiness to the Tuch household.
"It was a tough season," admitted Carl. "Just seeing him play again is nerve-wracking. Seeing him out there is a relief for us. We know what he's capable of. He's always had a high expectation for himself. If you have the bar low, that's where you'll end up. You have to keep the bar high, and he always has, whether that's in hockey, school or life. It's hard to explain, but I think people that are in the same shoes as I am understand it."
As do the people that gather to watch the forward and his teammates work towards delivering the franchise its first Stanley Cup.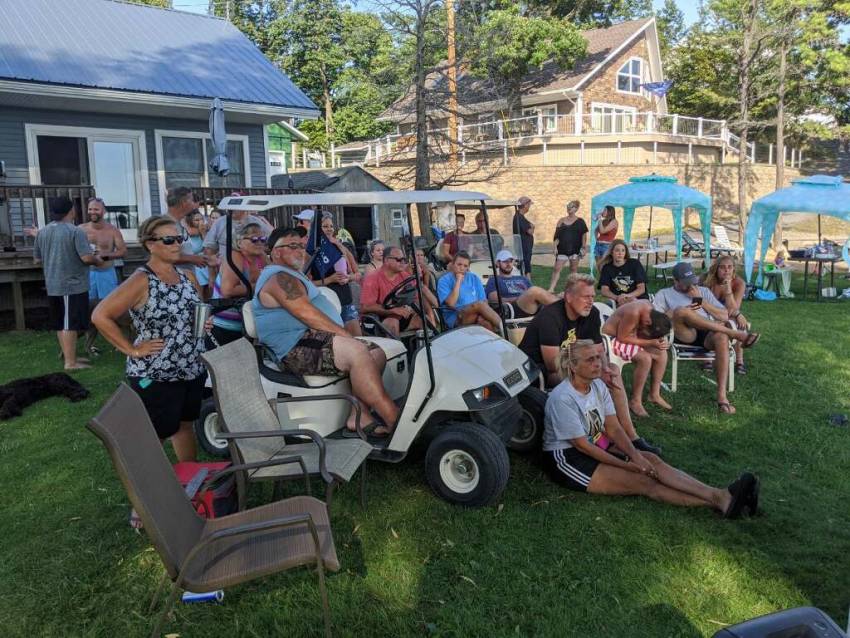 "I don't think it's any different than what a parent in that situation would feel," offered Carl. "I don't care if your kid is playing Mite hockey or NHL hockey, you just want your kid to do well and succeed. It hasn't really changed for me. I get anxious and I get nervous. I want him to do well. I think every parent is the same way. I don't think I'm unique in that regard. When you see him do well, everyone knows what I'm feeling. They know I'm proud."
Proud, in every sense of the word.
For the player, it's about being grateful.
Not just for the position he finds himself in, but in knowing he has a passionate fan base cheering him on with every shift he takes.
"It's been fun to see the pictures from back home during the playoffs," said Alex. "Everyone is decked out in Knights gear, people bring their own chairs, and they sit back and enjoy the game. They're having a lot of fun."
Whenever Carl Tuch rolls out the projector and turns it on, he sees more than a larger-than-life image of his son.
He sees the smiling kid that spent countless hours playing street hockey, dreaming of making it to hockey's biggest stage.
And make no mistake – Alex Tuch is very much that same kid.
"Every game, I try and think about my parents. They were behind me the day I first picked up a hockey stick. In a way, I play for them because I'm able to do what I love. But I wouldn't be where I am without family and all of the people who have supported me along the way."