Accountability and maturity make Makar 'wise beyond years'
Practicing against some of hockey's top talents provides learning experience for Cale Makar, but to teammate Erik Johnson, the Calder Trophy finalist is already wise beyond his years.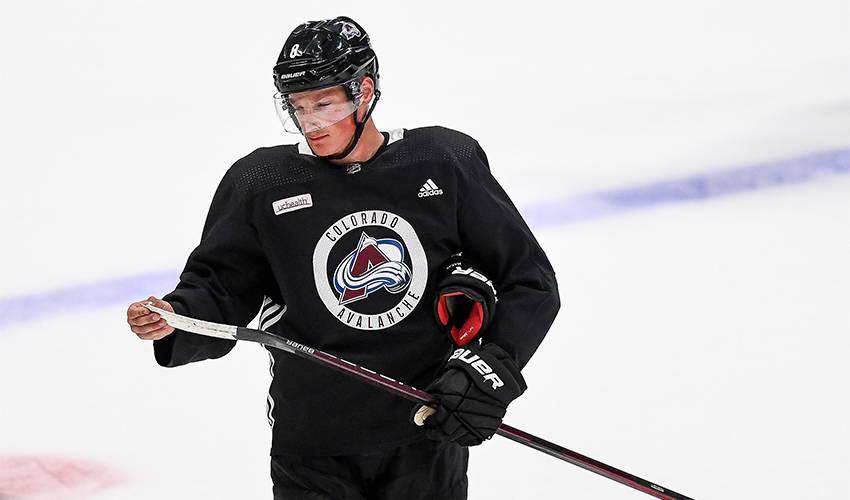 Feature photo: Getty Images
---
If Cale Makar were to win the Calder Trophy, he'd view the individual honour as a team effort.
Just days after he was named as one of the finalists for the NHL's top rookie award for his 2019-20 season, Makar was less interested in speaking about his own personal accomplishments, but far more content in heaping praise on his teammates.
"I've been fortunate to be on a team where coaches and teammates have trusted me to play my game," said the Colorado defenceman, who was joined by Quinn Hughes (Vancouver Canucks) and Dominik Kubalik (Chicago Blackhawks) on the Calder shortlist. "Being up for an award like this, that doesn't happen without having a strong support group."
Makar has an enviable one to lean on and learn from.
"A lot of guys made me feel comfortable right from the start. Nate [MacKinnon], Gabriel Landeskog, Erik Johnson, Matt Calvert – all the leaders on the team. Really, it's been everyone. We have a really good group of guys. I've leaned on multiple guys at different times and it's been a fun first year."
The 21-year-old didn't waste any time in impressing his teammates and Avs brass, scoring his first NHL goal on the first shot of his debut, Game 3 of the first round of the 2019 Stanley Cup Playoffs against the Calgary Flames.
MacKinnon was the set-up man.
Makar, born and raised in Calgary, couldn't have scripted the moment any better.
"Coming into the playoffs, it was just incredible walking into the room. Everyone said hello and introduced themselves within the first five minutes. That's when I knew the group here had a lot of high character.
"As a kid, I idolized a lot of players with the Flames, including [recent Hall of Fame inductee] Jarome Iginla. Just being able to be on the ice against that logo was pretty special."
Things only went up from there for the right-hand shot defenceman who played two years of collegiate hockey with the NCAA's UMass Minutemen.
He topped NHL rookie rearguards in goals (12), power-play tallies (four), and even-strength goals (eight). He finished second to Hughes among all rookies in assists (38), points (50) and power-play points (19).
Makar's magic didn't end there.
The fourth overall pick in 2017 potted four game-winning goals, fashioned a plus-12 rating, and averaged 21:01 in ice time over 57 games, third among rookies.
"I think it's [comfort level on and off the ice] a combination of a lot of things. Obviously, the coaches and teammates have really helped with that. The city – once you get familiar with your surroundings – it's very similar to Calgary, where I grew up. It's an awesome place for me here."
His teammates are happy to have him in a Colorado uniform.
"He's different than a lot of young star players you see come in to the league now," said Johnson. "There is no ego. What you see is what you get. He is very confident on the ice and he lets that do the talking for him. I've been impressed with how accountable he is with himself. He will take criticism and own up to his mistakes. He is wise beyond his years. I'll be very surprised if he doesn't have a few Norris trophies on his mantle at the end of his career."
Should he win the Calder, Makar, who set the Avalanche/Quebec Nordiques record for points by a rookie defenceman in a season, would be the sixth winner in franchise history and the first since MacKinnon won in 2013-14.
MacKinnon, the first overall pick of the Avalanche in 2013, is up for this year's Ted Lindsay Award – the MVP as voted by the Players – along with Leon Draisaitl and Artemi Panarin.
You can count Makar as a big fan of the 24-year-old centre.
"I watched quite a few of the Avs games on TV before I got here, and just watching him play, he's a very competitive guy, and he wants to win. It's pretty special to see up-close, and we're very fortunate that he's on our side."
Facing some of the hockey's top talents in practice provides a wealth of learning experience for Makar come game time.
"We challenge each other in practices. That's one thing I try to do. Our practices are very high tempo and that really makes a difference when it comes to game situations."
Colorado launches its Stanley Cup chase on August 2 in a round-robin game against last year's champion, St. Louis.
The Calder recipient will be named at some point during the Conference Finals.
But Makar isn't looking any further ahead than to the next time he's on the ice.
"I feel like for me it's never being satisfied. I just stay in the moment. I know I can always give more and it's something I strive to do every day. I think that's why our team has been so successful this year. Everyone comes to the rink and gets the work done every day. It's a real team effort."
Just like Makar views his rookie of the year recognition.