Versatile Acciari adjusts quickly off-ice too
The special meaning behind his son's middle name and more with Noel Acciari, the versatile Noel Acciari who already has one new off-ice skill perfected as a first-time father.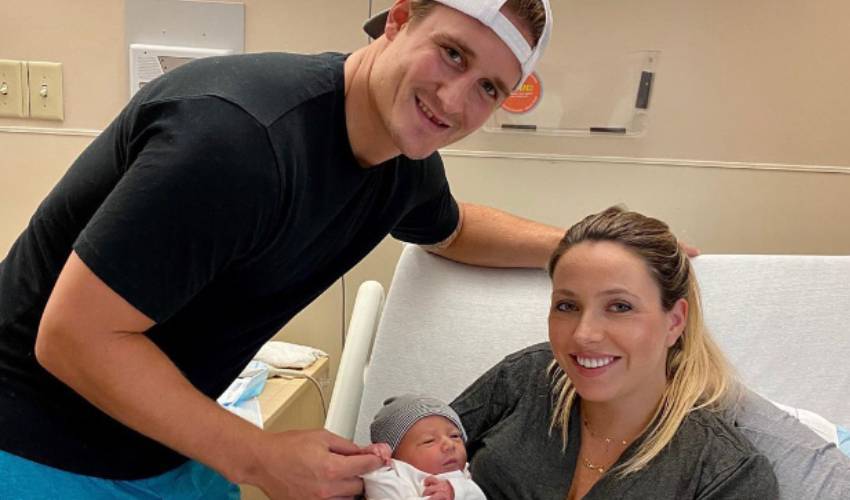 Noel Acciari's diaper-changing game is definitely on point.
It didn't exactly start out well, but a little patience, coupled with a lot of practice, have combined to help the 28-year-old Acciari perfect one particular must-have parenting skill.
"I can tell you it's [changing diapers] been much better over the last seven days," said the Florida Panthers centre. "It was a little suspect early on, but it's better… more efficient."
Acciari has been working away at it since July 7, the day he and his wife Kate welcomed their first child, a son, Greyson Drew, into the world.

The name Drew has special meaning to the couple, a way for them to honour a former Providence college teammate of Acciari's.
Drew Brown, who remained part of the Friars hockey team (captained by Acciari) that won the 2015 NCAA Championship, passed away from cancer in late 2017.
The pair had played with one another since prep school and roomed together in college.
"We were looking around at names, and we came across Greyson. We both kind of fell in love with it. But we had a bunch of other names we were considering as well. For his middle name, we chose Drew, for my college roommate. That's a special name for Kate and myself. We were both very close with him and we wanted to incorporate that in our son's name somehow. Greyson Drew has a good ring to it, so that's what we landed on."
The Acciaris have been getting plenty of help from Panthers players and their significant others since Greyson's arrival.
Multiple texts, calls and offers of help are a daily occurrence.
"The guys have been unbelievable. Even before we had Greyson, they were all excited, checking in to see how Kate was feeling, and asking if we needed anything. Everyone, including the wives, has been so supportive. If my wife had any questions, they were happy to answer them. That was big for us.
"My friends and family back home have also been amazing. This is both my parents and Kate's parents' first grandchild. That was extra special for us. We couldn't be happier."
They're also receiving a helping hand, or more specifically, paw, from Thor, their golden retriever.
"It took Thor all of 20 minutes to get his excitement out of the way after we introduced them. Now, they're best friends. He jumps on the bed and lays right beside Greyson, just watching him and checking in on him. He also gives him a few kisses on the head once in a while."
The only tough part so far? Netting a good night's sleep.
But the proud parents aren't complaining.
"Not too much sleep. It seems to be every other night that we all get a good sleep. The night before camp started it was tough, but last night was a good night. Hopefully, we can keep going with that. It is what it is."
The family will be spending as much time together as possible before Acciari and his Panthers teammates pack up and head to Toronto to ready for the 24-team Stanley Cup Playoffs.
On August 1, Florida begins its Cup quest when they meet the New York Islanders in the opener of the best-of-five series.
Acciari, who scored a career-best 20 goals and recorded seven assists in the 2019-20 regular season, is looking forward to the chance to play for hockey's most sought-after team prize.
"It's going to be very tough to leave Greyson and Kate. I might not see them for two months, maybe. Hopefully, we can win it all. That would be the ultimate."
Becoming a first-time parent hasn't been the only excitement for the undrafted NHLer.
The 5-foot-10, 203-pound native of Johnston, Rhode Island, was selected as the Panthers nominee for the 2019-20 Bill Masterton Trophy, awarded each year to the player who best exemplifies the qualities of perseverance, sportsmanship and dedication to hockey.
In 2019-20, Acciari, who signed a three-year deal with Florida on July 1, 2019, led all NHL forwards with 103 blocked shots. He topped the Panthers in game-winning goals (5) and hits (121), while averaging the club's sixth-most total ice time per game (15:58). His season was also marked with back-to-back hat tricks (Dec. 16, Dec. 20), joining Pavel Bure as the only players in Panthers franchise history to accomplish the feat.
"I was very fortunate to be nominated. It's a great honour. I didn't see that coming, but I'm really grateful. Just to be selected is very special, and to see all of the other guys who are nominated – I'm just very proud to be part of that. To share that nomination with all of those players is very cool."
If Greyson one day decides to follow in his father's footsteps and pursue an NHL career, he'll have a great source to draw inspiration from.
Acciari, now in his fifth big league year, has developed a reputation as a versatile contributor, someone who can do a little bit of everything on any given night.
"I think I'll try to teach him about versatility," Acciari said with a laugh. "To be a player that can do anything and everything you can. I'll let some other people work on the hands and the skating… that might not be my forte."
Mastering the art of changing diapers, however, is quite a different story.