Seabrook's latest donation continues commitment to Chicago students
One of the longest-serving players in Chicago Blackhawks' history keeps coming up with new ways to give back.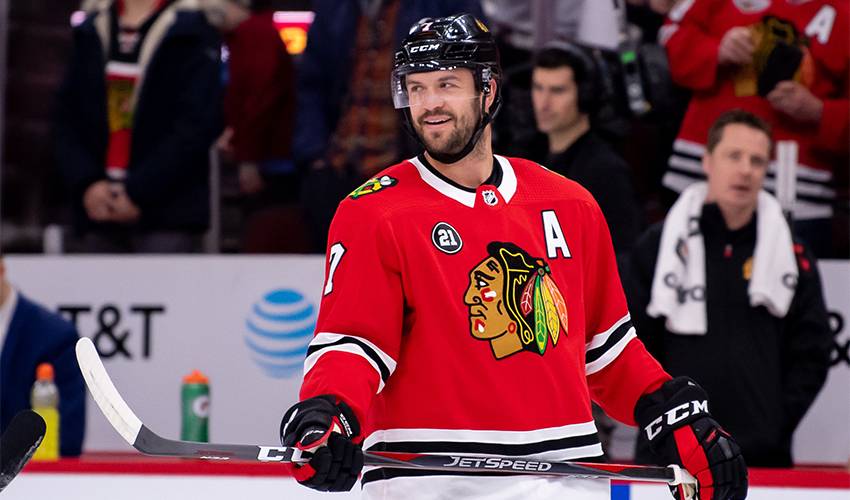 One of the longest-serving players in Chicago Blackhawks' history keeps coming up with new ways to give back.
It certainly wasn't his intention to bring a school principal close to tears, but Brent Seabrook's heartfelt gesture stirred a lot of emotion in many.
In a tweet dated June 15, the Children First Fund expressed its gratitude for the Blackhawks defenceman's donation of 200 laptops to Chicago Public Schools [CPS].
"I almost cried! THANK YOU!!" Principal Randle-Robbins of Mireles Elementary school was quoted in the tweet.
Seabrook, along with his wife, Dayna, landed on the idea of donating laptops after discussing ways they could help out others during the COVID-19 pandemic.
"It was definitely something my wife and I wanted to do, to try and help somewhere that we could," said the defenceman who has played all 1,114 of his NHL games with the Blackhawks. "We were talking with our Blackhawks' charity person, Ashley, and trying to find something we could do. I know there were a lot of donations to hospitals, so I asked her if we could donate some food. She told us there was a waiting list, so we were happy to know they were getting lots of help."
A Zoom call, arranged by the team, sparked the laptops idea.
Seabrook, who currently ranks third all-time for games played in a Blackhawks uniform, had a conversation with a hospital worker, a chat that proved to be memorable on many levels.
"The team did a cool thing. You could nominate a hospital worker to have a Zoom call with a Blackhawks player. There were 750 nominations – that number could be off – and one lady was nominated twice. It turns out that I am her favourite player. So, I had a Zoom call with her. We were talking, and she happened to be working at the hospital during our talk while her husband was at home helping their two kids with schoolwork. They had one computer, and she mentioned that it was tough on her husband when it came to the schooling – having to help one kid, while the other one had to wait."
Their conversation led to another one.
"I told my wife about it. Our [three] kids have iPads, and Dayna has been helping them with their homework. We were talking and realized the lady I spoke with, she might not be the only in that situation, and other kids might not have access at all to a computer to do their work. So, I talked again with Ashley, and we worked with a company – a group in Chicago – who helped us by cutting the cost so we could get more laptops to the kids. We talked to CPS – my son goes to a CPS school – and it was one of those things where it was an ideal way to help and to give back. It was also close to home for us. We could see how our kids having their computers was making a big difference, so that's how we wanted to help."
One of the city's most charitable athletes, Seabrook has hosted a charity bowling event for the past 12 years.
Known as the Celebrity ICE Bowl, the event benefits the Inner-City Education [ICE] program.
ICE helps children from underprivileged and underserved Chicago communities achieve their potential by providing access to educational opportunities and hockey that would otherwise be unattainable for them.
"In the position that we are in, it's nice to be able to help people. With the ICE Bowl and ICE Foundation, we started out very modestly and were lucky enough to build it up from there. In the first year, I went to the Blackhawks and told them I'd like to donate helmets and gloves to a good cause. It worked out where we found Brad Erickson [ICE founder and executive director], who was just starting the program at the time. He was doing a great job. We talked to him and how he was helping these kids grow their love of hockey, and it really resonated with us. About a year after that, Brad approached me about doing the bowling event, and all these years later, it's still great."
Seabrook continues to see familiar faces from past bowling events each year.
"I've met a lot of kids since we started this. I met the first scholarship kid way back when and now he's helping out with the foundation. It's a pretty cool thing to be part of. My teammates are incredible. They come out and really make the event great, as does everyone who supports us."
The three-time Stanley Cup winner and Olympic gold medalist is grateful to be in a position to help others.
Seabrook sees it as a team effort.
"For my wife and I, it's nice to give back. It's nice to help out, help our community, and help some very deserving people. We definitely want to pass that along to our children."