Eller donates Cleanse Portal, encourages support of homeless community
The Eller family has once again stepped up to help others in their community.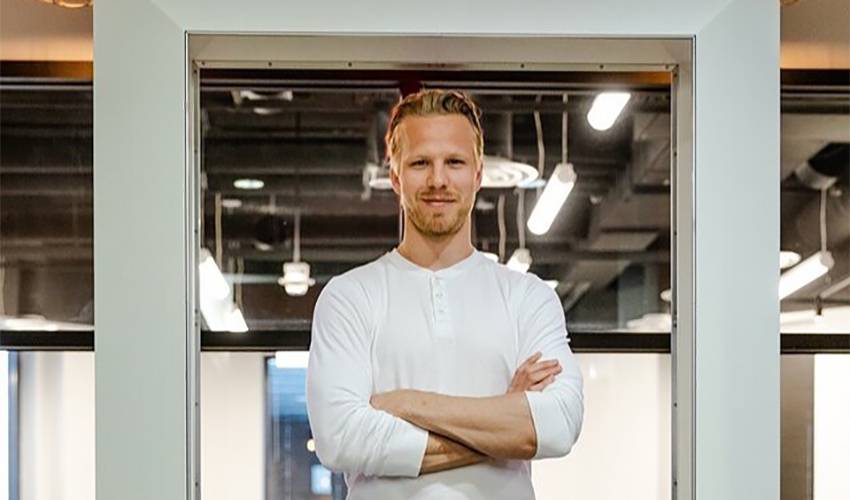 The Eller family has once again stepped up to help others in their community.
Looking at different ways they could lend an assist during the COVID-19 pandemic, Washington Capitals forward Lars Eller, and his wife, Julie, after several conversations, turned their focus to Washington's homeless population.
"My wife and I wanted to do something for the community," said the 31-year-old. "Through the team, or back home in Denmark, we try to help out in different ways. During the pandemic, there have been a lot of donations to frontline workers and first responders, and rightfully so. We thought that a part of the community that is also very vulnerable, who don't have the same access to health care, is the homeless."
The couple, who remained in Washington after the 2019-2020 season was temporarily halted, did some research and found about the work being done by the Central Union Mission.
In addition to its emergency shelter, the Mission, which provides over 62,000 bed-nights each year, operates a transformation and workforce development program for men, provides benefits for veterans, and helps people overcome addictions. It also operates a food and clothing distribution centre, which provides food for over 4,000 people each month, and runs a camp for underprivileged children.
"After looking into it, we thought the Central Union Mission would be perfect," said Eller, who scored the Stanley Cup game-winning goal for the Capitals in 2018. "It's been around since 1884, and when you realize they have been helping so many people for so long, we thought it was a great place to give back to."
The Ellers put a plan in place with the help others.
A friend floated the idea that a Cleanse Portal would be an ideal fit for the Mission.
According to what is shown on its website, the Cleanse Portal utilizes Far-UVC light frequency, and its Ultraviolet radiation band penetrates and inactivates surface pathogens, such as bacteria and viruses.
The free-standing entry gate [similar to walk-through metal detectors at airports and sports venues] is placed in a building entrance, or any high traffic entry area to help significantly reduce infection transmission rates.
The price tag comes in at just over $20,000.
Thanks to the Ellers, the Mission now has the portal up and running. The 13th overall pick of the St. Louis Blues in 2007 was there when it was installed.
"With Healthe, the company I've been involved with for a while, this is, in my eyes, a game-changing way of protecting and de-risking the spread of COVID-19 and every harmful pathogen, while at the same time being completely safe for people. We thought this would be a very good way to help out. Everyone who works at the Mission was grateful, which makes us very happy."
A self-confessed science and technology buff, a conversation with Healthe Inc. founder Fred Maxik immediately piqued the interest of the first Stanley Cup champion from Denmark.
"I've always been interested in science and technology, biohacking [do-it-yourself biology] and general wellness. Those are things that have always been intriguing to me. I always had an interest and a curiosity about that. I first came across Healthe because they make these circadian lights that are built to match our body's internal circadian clock, which is crucial for our sleep. That's how I became interested in the company, and then I met Fred, who is a brilliant human being. He's a former NASA scientist, and someone you don't come across very often. I invested in the company and use a lot of their products.
"I love when science and technology come together and something great comes of it. I like when we take steps forward like this for the betterment of everyone. It's a fun journey to be on the sidelines for."
Giving back, in any form, remains a focal point for the couple.
"As a family, we talk about being responsible and being good role models," said Julie. "It's something we value highly, and something we want to pass along to our kids. Whenever we engage in any of these things, we make it a family event."
Like they do every December during the Holiday season.
"For Christmas, we do bags, which have sanitary items, and take them with us in the car," shared Julie. "We also have some money that our daughter hands out of the car. As a family, we are very fortunate. There are many others who are not. We really try to educate our daughter (seven-year-old Sofia) why it is important to be a part of the community, and in giving back."
Those lessons will certainly be taught, in the years to come, to another member of the Eller family.
The couple is expecting their second child, a boy, in August.
And yes, the Ellers will be using sleep-related products from the company Lars invested in.
"We have some baby circadian lights for the baby's room, so that's going to help with the sleep, hopefully," he said, laughing. "I also have circadian lights in our room, too."