Miller raising funds for food banks through Steadfast Foundation auction
Just like the name of his charitable foundation, Ryan Miller is steadfast in his desire to make a difference.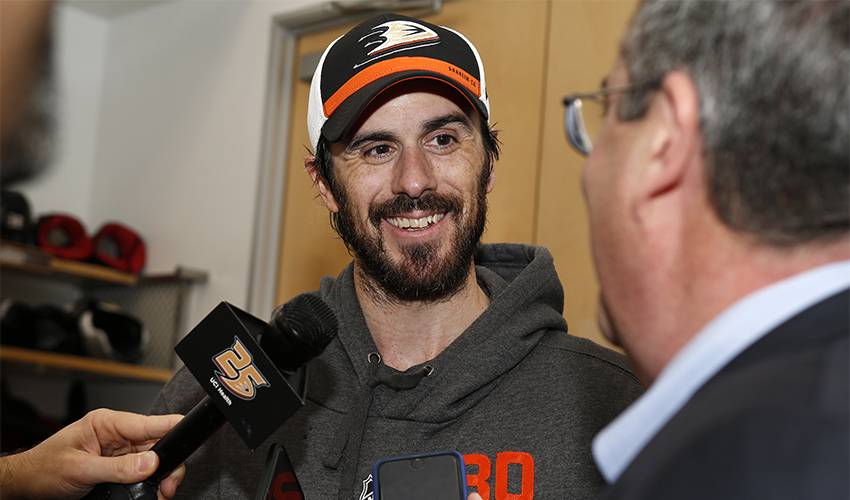 Just like the name of his charitable foundation, Ryan Miller is steadfast in his desire to make a difference.
The veteran backstopper recently announced on his Instagram account that through his Steadfast Foundation, he'll be auctioning off game-worn equipment from his 17-year NHL career to raise money during the COVID-19 pandemic for three worthy causes: Buffalo Police Athletic League, FeedMore WNY, and Second Harvest Food Bank of Orange County. Current and former players have also lent their support with various signed jerseys.
Miller launched his Steadfast Foundation in 2006 with the aim of assisting people battling cancer, especially those with childhood forms of the disease. Since then, Steadfast has broadened its scope and initiatives to adaptive mobility.
As noted on its website, Steadfast is "dedicated to assisting, inspiring, and empowering people who use adaptive solutions for mobility to gain more equality, accessibility, and inclusive opportunities."
Throughout its nearly 15 years in existence, the Steadfast Foundation has raised money and awareness for numerous causes, including Wigs for Kids, Carly's Club, MSU Ice Hockey, Sled Hockey America, FreeWheel Fund, and Sledge Hockey fund.
Miller settled on the auction idea for the foundation after earlier conversations with his fellow players on how they could support others.
"When all of this started, the Ducks organization and my teammates, they all did a nice job looking at ways to help others," Miller told NHLPA.com. "Our group chat was full of ideas on how we could help out. A lot of the guys wanted to do something to help out people around the arena at first, but then ownership stepped in and made sure that everyone who works at the arena would be paid until the end of June. So, we changed course.
"We talked about helping to get meals to essential workers at the hospitals, so we went ahead and did that as a group, which was great. I started thinking down the line, and it seemed like one of the biggest effects of all this would be on vulnerable families. A big thing would be the possibility that some families wouldn't have access to food. I just wanted to get the conversation started, and I always like to get the conversation started about a cause in a fun way. I was thinking, 'What could we do with this?' 'How could we get people to pay attention?' You want to get people to pay attention, and you try to do it in a fun way at first, to get people involved, and to also have teammates chip-in along the way."
The 39-year-old joined the Instagram universe after the 2019-20 NHL campaign was put on pause in mid-March in response to the worldwide coronavirus crisis.
One of his postings showed an image of game-worn goalie gear he stumbled across while cleaning out his attic.

Now, he'll be using some of the hockey equipment he unearthed to help a trio of worthy initiatives.
"I stashed a bunch of things away in the attic and storage," said the Michigan native, who has been taking some Harvard Business School online classes during the pandemic. "It's fun to peel it out and look at it. I noticed I have some stuff at my parents' house, some stuff with me, some stuff in Anaheim – I was really thinking about what I'm actually going to keep that I'm going to appreciate, and what's just going to sit in a bag and not get the proper attention. I got some stuff out, some things I would have kept, but I think would be more useful right now."
A fifth-round pick (1999) of the Sabres, Miller was between the pipes for 11 seasons with Buffalo, twice making a trip to the Eastern Conference finals.
Miller was dealt to St. Louis February 28, 2014, before signing with Vancouver in July of that year. Three years later, he signed as a free agent with Anaheim.
He's been texting his teammates, both past and present, to lend a helping hand (or stick, or sweater) with his auction.
"I messaged some of the Ducks boys and some alumni in Buffalo, and some other guys, so we're going to get a few little pieces, and I think we'll run the auction with the main items and we'll keep it running and rolling along with whatever items become available, and then promote it."
Miller, who has 387 career wins, is hoping Steadfast's latest contributions provide a helpful assist to the place he began his NHL career, and in the city he currently calls home.
"I thought with the auction, fans can still interact with players and with the game," said the goalie who won a silver medal and tournament MVP honours with the U.S. at the 2010 Winter Olympics, and was named the Vezina Trophy winner later that year. "They understand that what we raise is going to great causes and it has that effect of starting an important conversation looking at the months ahead and the economic impact the virus is going to have on the world. I'd like to make sure we chip-in and help out in any we can."
The auction is now up and running on the Steadfast Foundation website.
Items include signed sweaters by Justin Abdelkader, Jack Eichel, Nathan MacKinnon, Jeff Skinner, and Roberto Luongo along with three sets of autographed game-worn pads among other items courtesy of Miller.
"We'll open things up and see how it goes. And we'll look at finding more creative ways to start the conversation as we move along."
Perhaps Miller will uncover some more of his hockey memorabilia along the way.
"I think I cleared out everything here, but Michigan is a different story. My parents tucked things in different parts of the house. My dad thought he found everything, but it doesn't seem like it. I'll have to do some digging."