Reaves answers call for local youth through NHLPA G&D
Ryan Reaves doesn't need to be wearing his No. 75 Vegas Golden Knights sweater to be a difference-maker.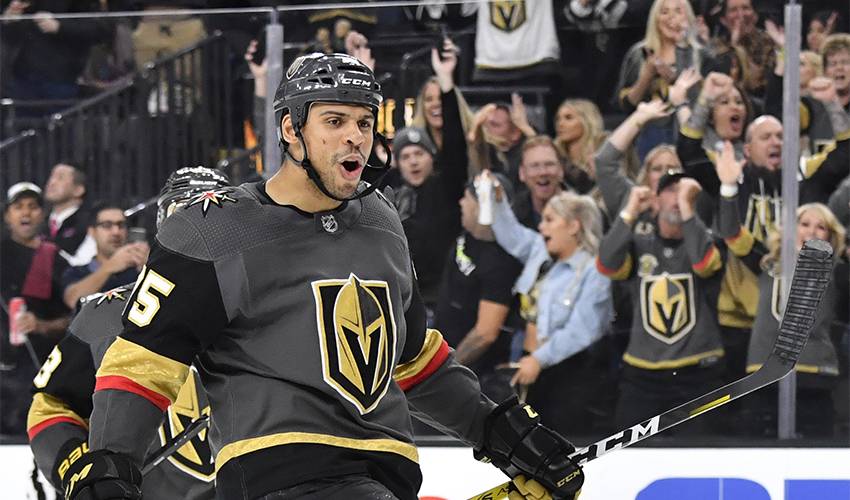 Ryan Reaves doesn't need to be wearing his No. 75 Vegas Golden Knights sweater to be a difference-maker.
May 7, Reaves, through the NHLPA Goals & Dreams (G&D) grassroots hockey program, participated in a video conference call with a group of local kids who are coached by members of the Las Vegas Police Hockey (LVPH) team.
Comprised of officers representing law enforcement agencies throughout southern Nevada, the LVPH, founded in 1994, holds several annual tournaments that benefit numerous charities.
In 2018, Pierre-Édouard Bellemare, then a member of the Golden Knights, presented hockey gear through G&D to 25 Las Vegas youth hockey participants who are coached by LVPH members.
Two years later, Reaves was more than game to step up with Goals & Dreams to help bring smiles to local kids who need it.
One game shy of 650 for his NHL career, Reaves appreciated the opportunity to talk hockey among other things with an undeniably enthusiastic audience.
"It was fun. The kids had a good time, and they had a lot of questions for me. They were supposed to be on mute, and at the end, there were about 30 kids off mute, screaming questions. I like being active in the community, but I definitely like doing anything that involves kids, especially underprivileged kids that don't have the advantages that other kids might have."
If you've ever wondered what type of cake Reaves prefers, you don't have to wait for the answer any longer.
"I had a lot of good questions, things like, 'Was it your dream to be an NHL player?' 'Where do you live?' When did you start playing hockey?' One kid asked me what kind of cake I like. I'm a vanilla-vanilla guy. I just like it plain."
Reaves, traded to Vegas from Pittsburgh February 23, 2018, has been a major contributor to the community since his arrival in Nevada.
Endearing himself to fans with his rugged and physical on-ice play, the 33-year-old, who scored the goal that put the Golden Knights in the 2018 Stanley Cup Final, has also become a popular off-ice figure.
Whether it's stepping up for a good cause, promoting youth hockey, or lending a helping hand during the COVID-19 crisis, Reaves is always at the ready.
"You don't think of a Vegas as a hockey town, but Vegas has definitely proved everyone wrong over the past three years. It's nice to see these kids who have probably never been exposed to the game before three years ago, all of a sudden they are enthusiastic about it. They're at the games, they're talking about it in the classrooms – it's just been fun to see how quickly hockey can grow in a community, and how kids are loving a sport that they probably had never heard of before."
The Winnipeg-born forward is particularly proud to be associated with NHLPA Goals & Dreams.
"That's really important to have, especially in places like this. Not everybody has the advantage of being exposed to hockey. Hockey is a very expensive sport. Equipment is not cheap and kids grow fast. When you have to buy a pair of skates every six months, it's tough. For the NHLPA to be doing a program like this, and allowing these kids who normally wouldn't have this opportunity to get out and enjoy the game with some equipment the way NHL players do… it's fantastic. That's the way you grow the game."
For over 20 years, NHLPA members, through the G&D program, have donated equipment to worthy programs in their NHL cities and hometowns around the world. More than 80,000 children have been provided the opportunity to play the game of hockey in 34 countries. Over that period, Goals & Dreams, which also supports numerous worthwhile programs, has donated more than $25 million to help grow the sport.
Each year, on top of donating equipment, NHLPA Goals & Dreams Ambassadors make visits to cities throughout North America and Europe to meet young hockey fans, distribute the gear, sign autographs and answer questions about their life inside and outside of the sport.
Goals & Dreams is grateful to have Reaves on board.
"From the start and throughout its history, the aim of the NHLPA Goals & Dreams program has remained the same – to help children around the world participate in the sport of hockey and enjoy all that it has to offer," said Devin Smith, NHLPA Goals & Dreams Chairman. "We are grateful to Ryan Reaves for helping to put smiles on the faces of the kids he spoke with, and sharing his love for the great game of hockey."

Reaves' kindness doesn't end there.
His brewing company is donating profits to several groups fighting the coronavirus pandemic in Las Vegas.
For a period of four weeks, all profits from Reaves' 7Five Brewing Co. merchandise sold online will go to charity, and the company will match the donation.
Reaves made the announcement on his Instagram account.
"I know right now it's not easy for a lot of people in the city I call home. I know a lot of people are struggling. Community is more important than ever, and that's why 7Five Brewing Co. is willing to help out a little bit with people that are struggling and people that are helping on the front lines."
Reaves and teammate Alex Tuch are also the Golden Knights representatives for the NHL Player Gaming Challenge.
Cronkite NewsThe four-week charity event, which started April 30, features players from all 31 teams (including NHL expansion franchise Seattle), competing on the EA Sports NHL20 video game. The Seattle franchise is represented by Canadian-born Seattle Seahawks tight end Luke Willson.
Whether it's teaming with Goals & Dreams, taking his best shot in a video game challenge, or supporting his city during the coronavirus, Reaves is always willing to answer the call.
"I find myself to be in a fortunate situation. There are people out there who are struggling, businesses are struggling and people are losing their jobs because of COVID-19. I love the Vegas community. I consider myself a Vegas local now. I don't go home in the summers any more because I love the city so much. When you are in a community like this, you have to give back when you can.
"Every little bit helps. I'm not the only one doing it. There are people doing great things in the Vegas community, and beyond. People should be applauded for that."
As should Reaves, who showed he has what it takes to make goals and dreams come true.