A return to rollerblades balancing out Suzuki's newfound talent amid pause
Nick Suzuki has a new set of wheels.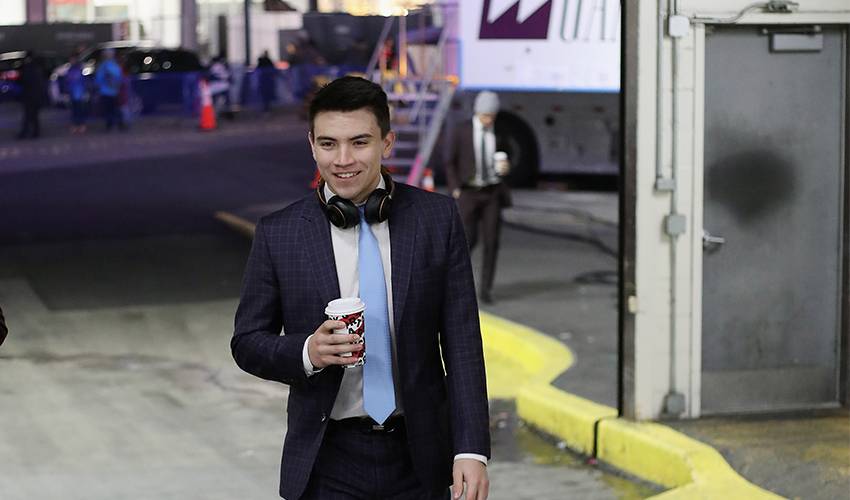 Nick Suzuki has a new set of wheels.
Back at his parents' home in London, Ontario, in between video game bragging rights with his brother, Ryan, and the latest offerings on Netflix, one of hockey's top rookies is adding something new into the mix during the temporary pause of the 2019-20 NHL season.
"It's been pretty good being home," said Suzuki, in his first big-league season with the Montreal Canadiens. "I've been doing some baking. It's not the healthiest stuff, brownies and fudge, things like that. I also just got some rollerblades, so I'm going to be doing that a lot more."
Several players around the league have strapped on rollerblades and hit the pavement during the COVID-19 pandemic.
David Pastrnak, Claude Giroux, Patrick Kane, Nikita Kucherov, Aleksander Barkov and the Hughes brothers – Jack, Luke and Quinn – are some of the NHL stars who have taken up rollerblading as a way to stay in shape.
Suzuki, who recorded 13 goals and 41 points in 71 games in 2019-2020 (placing him sixth in points among rookies league-wide), is looking forward to putting his blades to good use.
"My brother and I would rollerblade when we were younger," recalled the 13th overall pick of the Vegas Golden Knights in the 2017 Entry Draft. "We would use them to play road hockey and we'd also use them when we went to the rollerblade centre in north London. That was always fun."
The 20-year-old, who came to Montreal via a trade in September 2018, is once again ready to roll, so to speak.
"It's definitely a good way to get some exercise during these times."
Suzuki is also enjoying the comforts of home and quality family time, sitting down to home-cooked meals, watching movies, and hanging out with Ryan, the 28th overall pick of Carolina in 2019.
The former Ontario Hockey League standout has also been chatting with his teammates on an almost daily basis, catching up on each other's lives and talking a little hockey.
"A few of the guys have reached out to me and I've done the same," said Suzuki, who notched 16 goals and 42 points in 24 playoff games to help lead the Guelph Storm to the 2019 OHL championship title. "It's nice to be able to check in and see how everyone is doing. Obviously, there isn't a lot going on these days, but it's good to see what everyone is up to. I've been keeping in touch with the guys I usually talk to through social media."
Suzuki is looking forward to the day he can trade in his sweatshirt and rollerblades back in for a Canadiens sweater and hockey skates.
"It definitely feels like something is missing from your life. Being on the ice, being around the guys – that camaraderie you have – it's something you really enjoy. So, to not have that now, you really do miss it. It will be nice to have that back. When it's taken away from you, you realize how lucky you are to have your teammates. You really miss that and you miss being out on the ice, going after those two points."
In the meantime, he'll be able to represent himself and the Habs alongside teammate Victore Mete in the first-ever NHL Player Gaming Challenge. Beginning April 30, players from each club will be featured in one-time matchups against other players from around the league over the course of four weeks. All featured matches also will be streamed on the NHL's social platforms. The NHL and EA will donate a combined $100,000 in support of the CDC Foundation's COVID-19 efforts.
Aside from reconnecting with his teammates, there is a particular part of playing at the Bell Centre that Suzuki is pining to experience again.
It was something that left him at a loss for words in the first NHL game he played in Montreal.
To this day, it still does.
"You can see the history of the team everywhere you look around our practice rink and at the Bell Centre. Maybe the biggest thing for me is walking into the dressing room. I always walk by the Stanley Cup presentation, with all the trophies. I walk by that every time we play our home games. That's such a cool thing to have, and I always look at it when I'm walking in or when we play soccer, which we do near that area. You see all the faces and names that are in the Hockey Hall of Fame… I look it at every time I'm in the building."
For now, Montreal's talented young playmaker and budding two-way superstar will have to conjure up images of that historical display, perhaps when he's rollerblading near his parents' home in southwestern Ontario.
Rollerblading might also play a role in helping Suzuki shed some of the calories that come from enjoying his decadent dessert creations.
"I'm definitely planning a few longer skates," he said with a laugh. "Really, it's just nice to have that feeling of putting on skates again."