Cirelli sharpening his culinary skills amid league pause
Just like many of his fellow NHL players, Cirelli, the 22-year-old Tampa Bay Lightning forward, is using the pause in the 2019-20 season to learn a new skill or improve upon an existing one.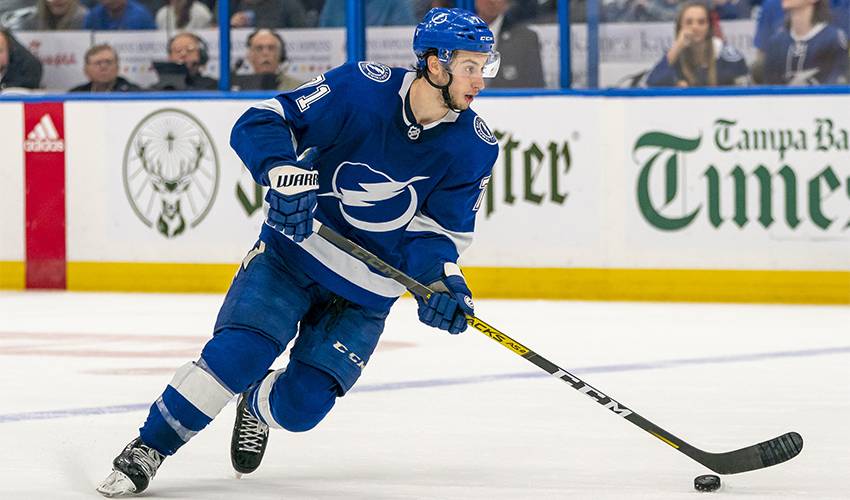 Anthony Cirelli has a lot on his plate these days.
Just like many of his fellow NHL players, Cirelli, the 22-year-old Tampa Bay Lightning forward, is using the pause in the 2019-20 season to learn a new skill or improve upon an existing one.
With a helping hand from The Taste of Home Cookbook, a book Cirelli's parents presented him with when he left his Ontario home for Florida, he's learning the ropes on how to create his own culinary masterpieces.
For the 72nd overall pick in the 2015 NHL Entry Draft, trying his hand at cooking has yielded both positive and negative personal reviews.
"I wouldn't say I'm a master chef," started Cirelli, who began his food adventure during the current hockey season. "I'd say I'm in phase one, maybe. I'm still learning. Some meals come out good, other ones not so good. I like the salmon and the chicken parmigiana – they've turned out well. The chicken teriyaki and the pork – pork is tougher to cook – didn't turn out that great."
The good news for Cirlelli is that he has some serious cooking pedigree to lean on.
He certainly knows a thing or two about a good meal.
"My parents (Maria and Rocco Cirelli) and grandparents want me to start to learn how to cook," said the player who scored the game-winning goal in overtime for the Oshawa Generals in the 2015 Memorial Cup. "My favourite dish growing up was the veal parmigiana my parents made. I love the tomato sauce they make too. It's excellent. I can never make it the way they do, so I like having a nice pasta dinner when I go home."
For now, he'll work on upping his own cooking game.
"I think it's great to learn and it will help me the future. Instead of doing takeout, I can create something through what I'm learning."
Cirelli hasn't been all his time in the kitchen. He's also been busy watching Netflix, specifically, tuning in to watch the popular crime drama series Money Heist.
He's taken a pass on Tiger King, the American true crime documentary series about big cat breeding, featuring a cast of controversial and colourful figures, including former zoo operator Joe Exotic.
"Money Heist is a really cool show. I've really been enjoying that. Ozark, season three, is another good one. I tuned into (dating reality series) Love Is Blind a bit. That was a different little experience. I started Tiger King. I wasn't really a fan of it. Maybe I wasn't paying attention enough, but I haven't finished it yet. I might go back to it. Seeing all the stuff on Twitter… it's pretty bizarre."
Cirelli has been in regular contact with his teammates and friends back home in Canada, keeping his video game skills sharp during the times they'll face-off in a game of Fortnite, Call of Duty, or sports-themed offerings, typically, football or soccer, along with some hockey.
What's he the best at, sports-wise?
"Probably FIFA Soccer. I'm not too bad at Madden Football. I have NHL and I'll play that once in a while. I play as Italy with the soccer. I grew up watching them and loved it when they won the World Cup [in 2006]. That's a pretty good memory I have from my childhood."
When Cirelli and his teammates aren't indulging in online video game action, they're catching up on what's going on in each other's lives.
Hockey talk, including the current situation, inevitably finds its way into the conversations.
"We talk about everyday stuff, just hanging out and seeing what's going on with everybody. We talk about the season a bit, what we think is going to happen, get some workout ideas from each other, and really just see what everyone is up to. There's not much going on in the world right now, so there's not a lot of interesting things to be talking about."
Cirelli, who has already set a personal NHL career-best mark in points (44), is craving the opportunity to get back on the ice.
It's a moment he often thinks about.
"I miss everything. Going to the rink every day, hanging out with your teammates, seeing the guys every day, practicing – I even miss the post-game workouts. Playing in front of the fans, being in the game, and soaking up all of that atmosphere… you don't know how much you miss it until it's gone. It's such an honour to play this game, and you never take playing in this league for granted, but it goes to show you how much you miss it when you can't play and you can't be at the rink every day."
When the time comes for the puck to drop again, Cirelli will be able to serve up a new side to his cooking game.
Just don't expect him to start a home delivery meal kit service for his teammates.
"I have a ways to go before that would ever happen, but I think I'll be happy doing it the way I am now."