From workouts to video games, the Thompsons are exercising their options
From weighted pilates and sauna workouts to taking his teammates suggestions on video games, Nate Thompson is exercising his options during self-isolation with his wife, Sydney.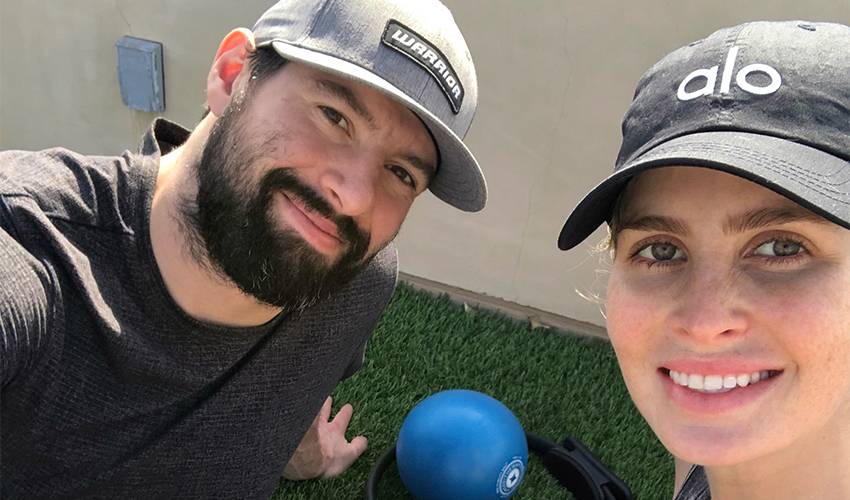 How are Nate and Sydney Thompson navigating life during the COVID-19 pandemic? By exercising their options.
When you have an accomplished Pilates instructor and an NHL player living under one roof, it's a good bet maintaining a healthy lifestyle is a top priority.
For a husband and wife team, it's still the norm even during the pause of the 2020-21 NHL season due to the COVID-19 pandemic.
"We have a Peloton in the house, and we've been doing that," started Sydney. "We've had some mat Pilates sessions that I'm running us through, and we're doing body weight and band exercises, and a little circuit stuff that Nate is running us through. We're trying to keep busy with any workouts that we can come up with."
Nate's message to hockey fans:

"I think the biggest thing is staying positive, and the other thing is we should all be taking this seriously. We should all be staying home, whether you're sick or not. It's all helping the cause and slowing down the spread. You have to treat this almost as though everyone has this virus. If you treat it that way, everyone will stay in and it will slow this thing down. Hopefully, when it does that, we'll come out on the other side and all be better for it after it's all done."
"Were trying to get as creative as we can since we're stuck at home," added Nate. "We don't have a lot of options."
Creativity comes in the form of little tweaks and additions to their usual exercise routine.
Some originality, offered Sydney, has helped offset the limitations caused by the coronavirus.
"Instead of doing a straight mat Pilates workout, we're adding in weights, and doing some other body weight exercises within our mat routine."
Nate has been turning up the heat, literally, when it comes to one part of his daily exercise ritual.
"We have a sauna in the house, so I've been trying to do some sauna workouts in there, to get a little bit more intense. Obviously, I don't last too long there, but it's all about trying to be as creative as possible now. I would tell people out there looking to do home workouts these days to go on YouTube, type in home workouts, and you'll get a lot to choose from, anything from easy to difficult. I've seen people being creative… putting a bunch of books in a backpack and using that as a weight vest."
When Sydney takes the lead in the workouts, Nate, who was traded to the Philadelphia Flyers from the Montreal Canadiens on February 24, endeavors to be a model student.
So far, he's earning top marks for participation from his wife.
"I think I'm pretty good, for the most part. I'm just trying to keep up with her, really. That's always the goal."
"He loves Pilates, which is good," noted Sydney. "I think for anyone looking to do workouts at home in these times, even 15 minutes a day, it can get your mind, your body, everything, in a positive space."
As one might expect, the competitive side in both manages to surface during their workout sessions.
Sydney, perhaps grudgingly, gives Nate the upper hand in one particular area.
"We do get competitive. He's very competitive… I don't last nearly as long as he does in the sauna. He's crazy with those sauna workouts. He'll go in there for 30 minutes, and I only last about 15."
Are they doing anything for the mind, as well as the body?
"Does PlayStation count?" asked Sydney.
"We're not gamers by any means, but when we left Philly to come back here, we were talking about how this situation could last awhile, and how my gaming career might have to start," offered Nate. "I was texting younger teammates I've played with and asking for them advice on which game system to buy, which games we should play – that's another way we've been making use of our time."
"I'm trying to get Nate to do Sudoku because I love that," said Sydney.
The couple, who has added puzzles to their recreational activities list, is also focused on maintaining their healthy eating habits.
Home cooking has recently been usurped, albeit temporarily, by food delivery from local restaurants.
"Before all of this happened, I usually cook five or six nights a week, and then we'll go out to dinner the other nights," said Sydney. "With the way things are now, I'm cooking almost every night, and now, we like to do what we can to help the local area restaurants. Once we ran out of food from the grocery stores, we turned our attention to supporting the restaurants. So, all of food is gone from the market, and we've had delivery from places in the area the past two weeks. We have a lot of nice healthy restaurants around us, which is good. We can do that until we wait for a shipment from the grocery store. Once the food comes, I'll be doing the cooking again."
While he's know for energy, versatility and stepping up in key moments on the ice, those talents, admittedly, have not transferred over to the culinary world for Nate.
His sous chef game isn't stellar.
"I'm hit or miss. I'm not the best cook. Sometimes, I'm decent help, and sometimes I'm no help at all. She's the boss in the kitchen."
"He made me a smoothie," Sydney interjected. "I need to tell you one thing. Nate has been saying he was going to make me chili since the day I met him. It's been about five years and I'm still waiting for the chili."
"Pressure's on," said Nate.
Don't expect the forward to create a "Nate in the Kitchen" YouTube channel any time soon.
"I would cross that one out," said Sydney.