Players staying mentally and physically sharp balancing routine and variety
At a time where the popular options during self-isolation include watching Netflix and grabbing a bag of chips, we asked players for tips on how to stay healthy while being stuck at home.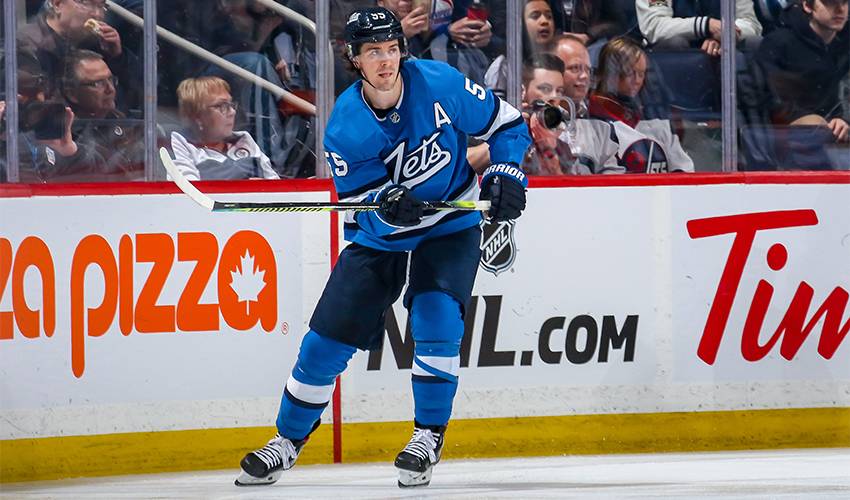 NHL players find themselves dealing with a unique challenge to stay in shape and eating healthy with the season on pause.
Practice facilities have been closed along with non-essential businesses like fitness centres, which means players have had to find creative ways to stay in shape and maintain their nutrition.
At a time where the popular options during self-isolation include watching Netflix and grabbing a bag of chips, we asked NHL players to offer up some tips on how to stay healthy while being stuck at home.
---
Spending time at his home in California, Mark Scheifele is doing his best to make sure he is staying in shape while soaking up some vitamin D.
When it comes to modifying his training, the Winnipeg Jets centre admits that players don't do anything during the season that's anywhere close to their ramped-up summer workouts. He believes that at a time like this it's important to maintain a routine as the mental battle to remain motivated is as big a part of it.
"I think the biggest thing is trying to keep busy," Scheifele told NHLPA.com. "Try to get yourself into a routine whether you're doing exercises, you can do that. But even just getting a mental sweat or reading a book, you're not just sitting on the couch and watching TV or watching Netflix. I know my girlfriend and I talked about, you know, trying to learn something new."
Scheifele says his daily routine consists of playing Settlers of Catan, an online video game, in the morning, and having a glass of grapefruit juice with breakfast. Then he does something different every day including going for a bike ride, a run, hike, swimming or doing yoga but the important thing has been getting to bed at a decent hour.
When it comes to his diet, Scheifele says that it's important to try new things, which is why he and his girlfriend use a meal kit delivery service.
"You place an order and it gives you four separate meals and it's convenient because it preps a lot of the food and you can change things up when you want," Scheifele said. "It helps since we're not going to the grocery stores as much to get food and there's a lot of fresh stuff here in California."
"I don't need as much protein and as many carbs, as I would during the season because we're not playing games, travelling and working out a lot but I've been able to maintain the same routine which is nice."
Grapefruit juice has been a big part of Scheifele's diet because he does have a bit of a sweet tooth and after doing some research, he's learned that grapefruit juice helps regulate sugar levels in your body.
Like most athletes, Scheifele will have a smoothie after his workouts and isn't afraid to mix things up and try different things.
"I tend to kind of wake up and see how I'm feeling that day and then it would all depend on my mood," he said. "I like to put a lot of greens in mine like spinach and kale and then add something to sweeten it up a little bit,"
"Sometimes I get bored with the same thing over and over so I like to change it up and go with different fruits like strawberries, blueberries, raspberries and blackberries.
---
Matt Martin knows the struggle people are going through to keep a healthy routine and the big change for him since he isn't playing or skating every day is that he has been eating less he normally would.
Like Scheifele, Martin is also finding different ways to do his daily workouts and believes it's important to mix things up which he believes people can do at home.
"The Peloton is a great machine. I don't love doing it that's for sure because it's hard, at the same time it's keeping my cardio up," Martin said. "On nice days I try to get outside using the Onnit kettlebells, clubs and maces. I am constantly just looking at online videos of workouts and do things I wouldn't normally be doing throughout the season."
"I think it's kind of kept me interested through all of this and it's important to do something a little different every day but also enjoy it."
On the nutrition side, Martin has been following the Bulletproof diet where he has a small breakfast which includes a coffee with grass-fed butter and MCT oil.
He also admits that it has been a benefit to have some help at home to make sure he isn't packing on the pounds eating the wrong foods.
"Sydney's mom Cheryl puts together some nice meals for us and has made life pretty easy on me," Martin said. "One thing that I've tried to remain pretty consistent on is eating the Keto-type foods which help keep the metabolism going so I haven't packed on the pounds yet."
While he has a pretty consistent diet, there are the odd times where he gets cravings but adds that if you want to avoid the temptation, the easiest thing to try do is not buy any of the things you're trying to avoid.
Martin admits that at times, it's easier said than done though.
"Well, I've got a pregnant wife in the house with me. So she likes her sweets and when she's got a craving for something, she needs it," Martin said. "So if there is some stuff laying around here. I will indulge a bit every once in a while but I try to stay away as much as possible."
Said this morning to Matt, "maybe I'll make banana bread" which was a huge mistake because he wouldn't let me forget that I said it for the rest of the day and then I had to commit so here we are it prob sucks pic.twitter.com/AlQ7dYeQnw

—

Sydney Esiason Martin (@sydneyemartin) March 31, 2020
When he does his workouts there are two things on Martin's list that he likes to have.
"I'll either have a glass of chocolate milk, which I don't have any in the house right now or I'll make a protein shake and I'm a big peanut butter person," said Martin. "So I'm on my grass-fed proteins then in my shake I'll have almond milk, peanut butter, some walnuts, banana and then you mix that together and it's pretty tasty since I don't go light on the peanut butter."