Player of the Week | Kevin Fiala
Kevin Fiala ended February strong by leading the NHL in scoring with nine points in four games, including four multi-point outings.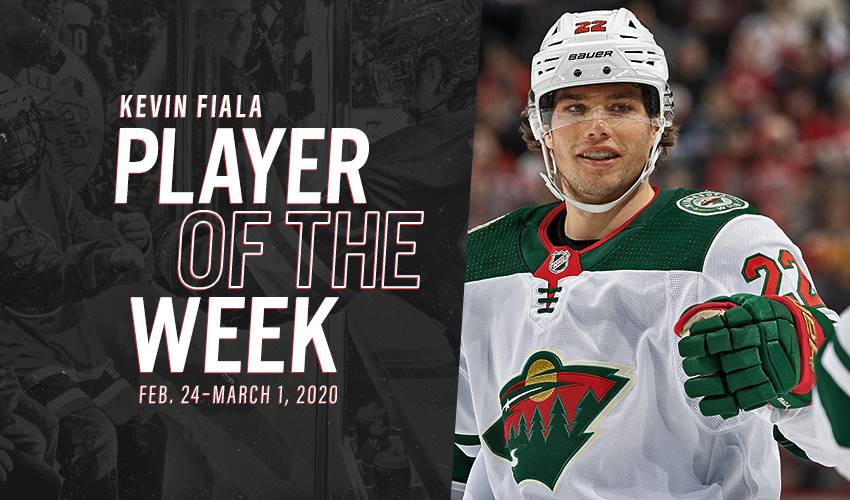 Feature photo: Getty Images
Kevin Fiala
FEB. 24–MARCH 1, 2020
4-5

–

9 OVER 4 GP
4 MULTI-POINT GAMES
CURRENT 4-GAME POINT STREAK
---
Kevin Fiala ended February strong by leading the NHL in scoring with nine points in four games, including four multi-point outings.
With the Minnesota Wild making a push for the playoffs, Fiala has taken his game to another level with 11 goals and 21 points over the last 14 games, including six goals over hispast seven games.
He also leads the Wild in scoring since Nov. 1 with 41 points in 49 games and is second on the team in goals (17) during that stretch. He is also the third player in franchise history to have four consecutive games with multi-point performances.
Kevin Fiala became the 3rd @mnwild player to post multiple points in 4 consecutive games, joining Marian Gaborik (2006-07 & 2007-08) and Brian Rolston (2005-06) who had equal runs.

Two players have had a longer run in 2019-20: Leon Draisaitl and Nikita Kucherov (5 GP). #NHLStats pic.twitter.com/CxehEud0sh

—

NHL Public Relations (@PR_NHL) March 2, 2020
"Every night, he's bringing it,'' said interim coach Dean Evason about Fiala's breakout. "We've talked a lot about his maturity level, and he's engaged in every game, in practices with teammates he's playing such good hockey and at a very crucial time.''
The 23-year-old recorded his second-straight 20 goal season of his career and is on pace to set a new career-high in goals. With 49 points this season, Fiala also passed the points mark he set during the 2017-18 season.

LOOKING BACK

FEB. 25
1-1

–

2, 5 SOG, GWG,15:15
---
MIN 5
CBJ 4
Fiala scored a goal and an assist to help the Wild beat the Columbus Blue Jackets 5-4 at Xcel Energy Center Tuesday night.
Fiala got the Wild on the board as he found Eric Staal for a wraparound attempt which deflected off of Blue Jackets defenceman Scott Harrington and past netminder Matiss Kivlenieks, snapping an 11-game goalless drought.
After the Blue Jackets tied the game at three apiece, Fiala got his 17th goal of the season as Staal returned the favour by setting him up with a perfect pass to the slot and his wrist shot made it past Kivlenieks.
For Fiala, he believes that still being in the playoff race has added some motivation for the Wild especially with the stress of the trade deadline now over.
''Right now, we're in a pretty good spot, so we know what we have to do,'' Fiala said. ''We believe. We know it's going to be us, especially now with the deadline. We're happy to stay with this group and just to continue with this group moving forward.''

FEB. 27
1-2

–

3, 2 SOG, 12:47 TOI, GAME'S SECOND STAR
---
MIN 7
DET 1
For the second straight game, Fiala recorded a multi-point game by scoring a goal and adding two assists leading the Wild to a 7-1 win over the Detroit Red Wings at Little Caesars Arena Thursday.
With Minnesota up 2-0, Fiala would help add to the lead after making a no-look pass to Matt Dumba who unloaded a one-timer past Jonathan Bernier.
Fiala added to the Wild's burst of scoring as he took a cross-ice pass from teammate Zach Parise and made a nifty move against Detroit's Madison Bowey before roofing a backhand shot past Jonathan Bernier for his 18th goal of the season.
In the third period, Fiala would show off his playmaking ability again finding Staal with a cross-ice pass that Staal would put into the net for his 19th goal of the season.
''Sometimes the hardest thing is to get motivated against these teams, but these points are huge for us, and we kept it going from start to finish. The fourth line (Hartman, Donato and Koivu) is leading us right now,'' Fiala said about his team's effort. ''We know the playoffs are right there, but we can't take any game for granted. We need to keep pushing.''

FEB. 28
1-1

–

2, 3 SOG, 16:53 TOI, GAME'S THIRD STAR
---
MIN 5
CBJ 0
Fiala extended his point streak to three games scoring a goal and an assist to help the Wild win their third straight game and their second victory against the Blue Jackets this week at Nationwide Arena Friday.
Up 1-0 in the first period, Fiala led the odd-man rush out of the zone then passed it back to Jared Spurgeon who wired his 11th goal of the season.
In the third period, Fiala would continue his goal streak, scoring for the third-straight game scoring his 19th goal of the season on the power play. Fiala would have to work hard for the goal as he had to dig the puck out of a crowd in front of the net after Jonas Korpisalo stopped Staal's initial shot.

MARCH 1
1-1

–

2, 4 SOG, 19:01 TOI, GAME'S SECOND STAR
---
MIN 3
WAS 4
Fiala extended his point and goal streak to four games as he scored a goal and added an assist as the Wild came up short losing 3-2 to the Washington Capitals at Xcel Energy Center Sunday.
With the Wild trailing 3-1 in the first period, Fiala would get his 20th goal of the season taking the Spurgeon pass and one-timing it past Braden Holtby. Fiala pushed his goal streak to four straight games and continued his strong month of February with 11 goals in 14 games.
Fiala would also add an assist on Parise's power-play goal as he blocked the Capitals clearing attempt then made a nice move around Tom Wilson before setting up Parise down low as he would bang in his 23rd goal of the season.

''I just try to make it, and right now it's going in,'' Fiala said about his recent scoring surge. ''I'm very happy about that. But it can go the other way, too, so I don't want that.''

LOOKING AHEAD
Fiala will try to keep his point streak going when the Wild host the Nashville Predators March 2, before they go on their California road trip starting off in San Jose March 5 and finishing up against the Los Angeles Kings March 7 and the Anaheim Ducks March 8.