After the Buzzer | Mike Green
Mike Green stopped by NHLPA.com to talk fatherhood, father-son bonding, 150 goals, and his decision to step into the social media world.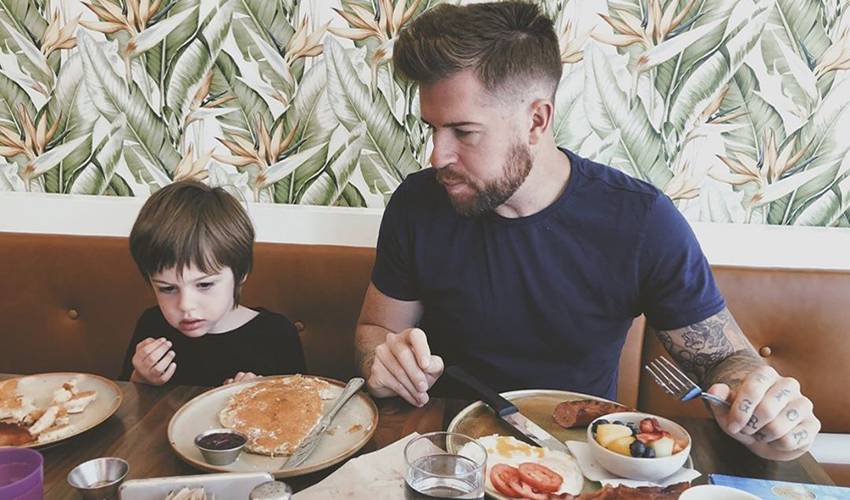 Feature photo: Mike Green (@mikegreen25/Instagram)
From their bond with fans to their efforts in the community – and everything in between – 'After the Buzzer' is a weekly series taking readers beyond the rink to shine a light and provide insight on players' lives away from the game.
---
Just before his trade to the Edmonton Oilers, Mike Green stopped by NHLPA.com to talk fatherhood, father-son bonding, 150 goals, and his decision to step into the social media world.
In a deal to help bolster the Oilers blue line, Green was dealt from Detroit to the Western Conference club February 23.
The veteran defenceman, whose 150th NHL goal represented his 500th point in the league, shared his thoughts on a variety of topics, including a special project he and his father worked on for over four years.
"I think you hope you are there game-to-game when you start out," said Green, in referencing his big-league career. "You really don't know how things will turn out. I was very fortunate that I was given the ability to play, stepping right into the league. You don't ever think you're going to hit these milestones, but after you start playing and you do play for a long time, they start to pop up. I have to say it, and every player does, but I would not have gotten there without all the players I've played with."
FUN WITH FATHERHOOD
Green, who launched his NHL life in 2005-06 with the Washington Capitals, has two young kids: four-year-old Axel, and three-month-old Lula.
"Seeing the world through a child's eyes is a whole experience in itself. The instant they're born, your priorities completely change, in the best way possible. I have two now. Having a daughter, that's a totally different experience too. I didn't think I could love anyone more, but a girl… your heart just explodes."
THE (HOCKEY) FUTURE IS… GREEN?
Could there be another NHL player with the name Green skating in the NHL one day? It's a bit early to tell, but Axel is starting to show signs of embracing the game.
"I didn't start playing hockey until I was about 10-years-old, so I'm in no rush to get him going. But I built a rink in the backyard for the first time this year, and he's slowly learning. He's doing well. He's able to spot the Red Wings wheel logo anywhere we go."
Aside from hockey – and playing on the backyard rink – the Green family appreciates any time spent outdoors.
"Axel's pretty active. Whether we're playing hockey in the house or outside, riding around his scooter – we do like to get out as much as we can. These days, it's tobogganing and building snowmen. Most importantly, it's just about spending time together as a family."
KEEP ON TRUCKIN'
Green purchased a sweet ride in 2010, more specifically, a 1951 Ford F1 truck. With the help of his father, Dave, and Chris Lange, the group designed and fixed up the truck, completing the project in early December of 2019.

"I'm not that handy, and I wasn't for sure, when we did this. But it was something I wanted to learn about, and my dad actually knew a lot of about trucks and vehicles – he was a mechanic when he was young. I figured it would be a great bonding experience with him. We started it and we finished it. It took about four-and-a-half years from when we started, and we're very happy with it. I think it's something we'll keep in the family forever, maybe even pass it down to Axel one day."
PROJECT PROJECTION
Green, drafted 29th overall in 2004 by the Capitals, isn't quite sure what the next father-son undertaking will be.
He is certain, however, that there will be another one.
"I'm really not sure. We haven't discussed it yet. I do have a 1966 Volkswagen bus, so maybe that will be it."
SOCIAL SUPERSTAR
While there was a time when Green didn't have much interest in joining the social media ranks, the 34-year-old defenceman eventually decided to take the plunge.
Whether it's his own website (mikegreen25.com), Twitter, (@GreenLife52) or Instagram (mikegreen25), Green has definitely embraced his social side, posting some cool pics and positive messages on his feeds.
"I was kind of skeptical about the whole social media thing, but when you really step back and realize that you do have a platform and you do have a voice, I think it's important to share your message and whatever that message is. I do see the importance in relaying it."
PARTING SHOT
"I took it upon myself to get the courage to do it, and I'm working with a branding and social media company. They're called Kompany39. They specifically work with hockey players. His name is Matt Fornataro, and I actually played hockey with him when I was around 11 or 12. It was perfect timing because I was feeling that I wanted to share a bit of myself and reveal myself through social media. We met this summer and it was perfect timing." – Green, on his social media presence.