Support for Special Olympics personal to Gardiner, Martinook
Jake Gardiner made a big splash for a worthy cause, even if it meant leaving some of his teammates out in the cold.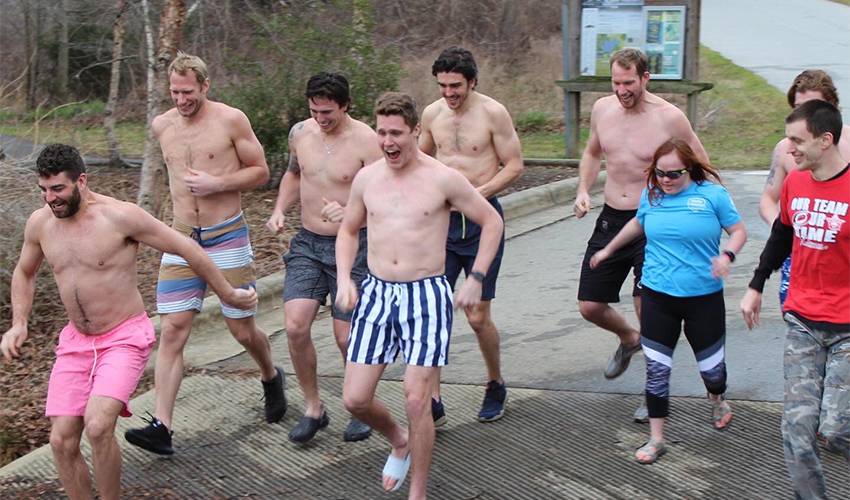 Jake Gardiner made a big splash for a worthy cause, even if it meant leaving some of his teammates out in the cold.
Earlier this month, Gardiner, along with other Carolina Hurricanes players, stripped down to swim shorts and water shoes in a show of support for Special Olympics.
The Polar Plunge is an annual winter fundraising event where individuals have the "honour" of jumping into the icy waters of a nearby lake, pool, bin or another cold body of water.
'Plungers' secure donations from friends, family members, co-workers, local business or their community.
With the temperature a shade above the freezing mark, the group stepped into Lake Raleigh, located on North Carolina State's Centennial Campus.
Jordan Martinook, Brock McGinn, Jordan Staal, Trevor van Riemsdyk, James Reimer and Haydn Fleury joined in the festivities.
"The one who was most hesitant to go in was probably Trevor," said Gardiner of his fellow defenceman. "His teeth were chattering right before we went in the water, so that was kind of funny. We sat outside in the cold for about 15 minutes with our shorts on, so everyone was pretty cold. But once we got out of the water, everyone was okay."
"I think we were all a little shocked with how cold it was," said Martinook. "I was first one in so I could be first one out."
Martinook had extra motivation to take part.
"I wanted to support Jake because my mom has worked with adults with development disabilities for over 20 years and it is something that means a lot to me. Any way to get the word out about Special Olympics, I'm going to do whatever I have to. We had fun with it and hopefully our platform can help more people understand how amazing these athletes are."
Fortunately for fans, the frigid dip was caught on video, something that could act as inspiration for one of Carolina's future Storm Surge celebration.
A longstanding supporter of the Special Olympics, Gardiner was glad to help raise awareness by lowering his body temperature for a few seconds.
His brother-in-law, Sam Cashin, started playing hockey at the age of two, but seizures made competing with an organized team a challenge.
Luckily, Cashin (whose sister, Lucy, is married to Gardiner) found an opportunity with Minnesota Special Hockey. His mother, Jane, is also president of the organization.
Gardiner looks forward to any opportunity to hang out with his brother-in-law. And yes, hockey does typically take up a large amount of their conversations.
"He plays hockey and all kinds of sports in Minnesota," said the veteran of over 600 NHL regular season games. "His best sport is either hockey or track. He's a really good runner, so he does a bunch of different events in track. But hockey is probably favourite. He wears No. 51 (Gardiner's number) and he plays defence in ice hockey. He plays centre in floor hockey because he's one of the fastest runners. You can imagine the fast guys are always the good ones."
Not surprisingly, Cashin is a huge fan of Gardiner and thereby the Hurricanes. It did, however, take him some time to look the part, so to speak.
"Sam really likes when the Hurricanes win, and he really hates when we lose. He's a competitive guy and he's one of our biggest fans. When I played for the Maple Leafs, he must have had well over 100 things of Leafs gear, and now, he's slowly accumulating 'Canes stuff. He has a new team to get some swag for."
You can count Gardiner as grateful for a crew that helps him in his support of Cashin and Special Olympics.
"Guys stepped up right away and it was a lot of fun," Gardiner said. "For us, to raise awareness and do a simple, little thing like this – hopefully it helps put the spotlight on Special Olympics and all of the great things they do."