Annual trips deepen both family and team bond
Which of his parents rocked the Winnipeg Jets jersey better? Kyle Connor is giving that one a tie.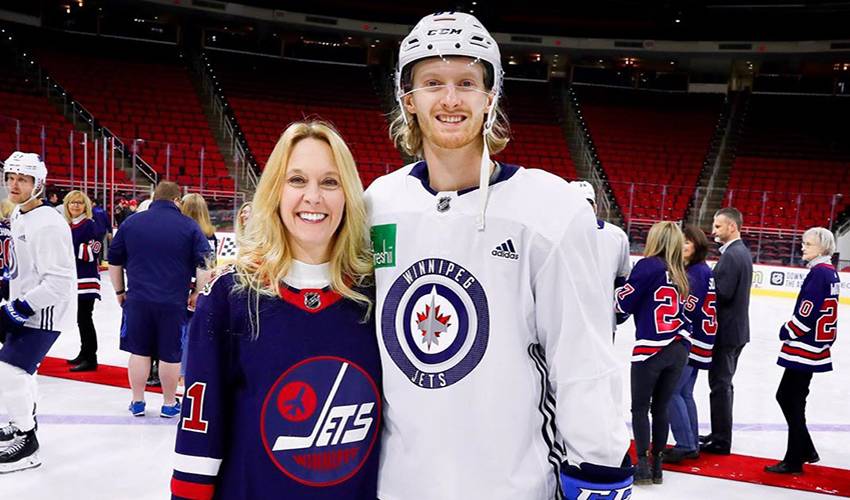 Which of his parents rocked the Winnipeg Jets jersey better? Kyle Connor is giving that one a tie.
"They both liked it and they both rocked it pretty well," said the 23-year-old Jets forward. "To see them both wearing the same jersey as you – that's pretty amazing and something you never could have imagined."
Nearly 250 games into his NHL career (all with the Jets), the left wing is enjoying the chance to share the journey with his parents, Joe and Kathy.
Last year, Connor brought his dad along for his team's fathers' trip. This year, it was mom's turn.
You can count the 17th overall pick of the Jets in 2015 as a huge fan of the annual parental events.
"The one this year, it was just before the bye week, and we went to Chicago, Carolina and Columbus," started Connor. "Last year, we had the dads come along for the trip. They were both great. I think the mothers were in a little bit more of a good mood, more lighthearted – as all mothers are after a loss. They're always making you smile. It's tough to be down on a loss with your mother on the trip."
It was somewhat of a different tone with the fathers.
"The fathers, they are more analytical, looking at the game and telling you what you need to do. That's the difference between the moms and the dads. Honestly, it's just so great to be able to do this with them. I wouldn't trade it for the world."
It's easy to understand why he feels that way.
---
Growing up in Michigan, hockey was a staple at the local rinks and the family home.
At times, it was also a work of art, so to speak.
Joe Connor created an indoor rink that showcased painted ice, a mural of boards and images of a hockey crowd looking on, giving his young son a unique spot to hone his skills.
Kyle would strap on his rollerblades and then play for hours in his own personal arena. He'd also spend time on the outdoor rink – also constructed by his father – for just as long.
That show of support has continued throughout every stage of Connor's career.
"The big thing from my dad – he coached me a lot growing up – is that he always preached hard work," he said. "That's the one thing you can control as a player and in your every day life. It's one very key thing I've taken away from listening to my dad. Whether you're having a good game or a bad game, that work ethic has got to be there no matter what. I apply that every single day. With my mom, she's always in a great mood and her positive attitude always shines bright."
It was something Connor was reminded of during both parents' trips.
He's grateful to get such opportunities.
"They made some good friends and got to know the guys and their parents – it made them feel more a part of the team. For me, and them, that's a big thing. It makes everyone feel like they are part of the team. Every time my parents come up to Winnipeg now, they see another mom or dad they know, and they have that connection and bond. It just brings the whole team closer.
Just as it does with the players.
"It brings us a lot closer too, in being able to share that experience with us. It's really cool. You never envision being able to bring your parents along for an NHL road trip, so for this to be a reality is something very special, having them there watching you. I think it's great."