After the Buzzer | Jakob Chychrun
We caught up after the buzzer with the young blueliner, who is currently having a career-year with the Arizona Coyotes on the ice.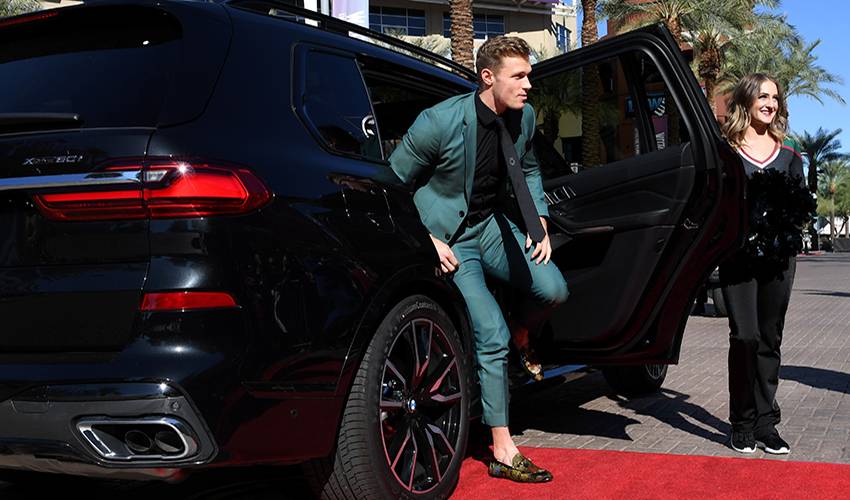 Feature photo: Getty Images
From their bond with fans to their efforts in the community – and everything in between – 'After the Buzzer' is a weekly series taking readers beyond the rink to shine a light and provide insight on players' lives away from the game.
---
Jakob Chychrun shopped around some interesting thoughts on his life away from the rink, including a newfound enjoyment of homemade meals, fun times had by all on Arizona's recent road trip with moms, and the one arena he plays in that gives him goosebumps every time.
In the midst of another strong season, Chychrun, who has already established NHL career-best marks in goals and points, offered up his personal recipe selections for certain games throughout the year, his love of shopping, and his affinity for country music.
SHOP TALK
During his junior hockey days with the Ontario Hockey League's Sarnia Sting, a then 16-year-old Chychrun mentioned in an interview that shopping is one of his favourite off-ice pursuits.
That hasn't changed at all.
"I definitely like to do some shopping. I find that we shop quite a bit more when we're on the road. Whatever city we're in, we'll find some good places. We have guys on the team that are really into fashion and like to shop as well. It'll be me, Clayton Keller, Christian Dvorak, Vinnie Hinostroza, Nick Schmaltz – we all go together. We go together to the malls and check out the stores."
ROAD SHOW
A recent trip that saw the players bring along their moms to San Jose wasn't just about bonding, sharing stories, and hockey.
Some of the players, Chychrun included, made a point of sharing their love of shopping.
"It's a pretty funny story. A bunch of us, we took our moms across the road after dinner to go shopping. That was hilarious. We told our dads about it. We thought, 'There's no chance we are ever going to a mall with our dads on a father's road trip.' Our dads were chirping us, telling us we better get the win tomorrow if we took the moms shopping."
WHAT'S ON THE MENU?
There are plenty of top-notch restaurants in Arizona, a food scene that gets an emphatic two thumbs-up from Chychrun. But more recently, the 21-year-old started coming up with his own culinary offerings.
"The food is really good here. There are a ton of restaurants we go to and really enjoy. I've started to cook a lot more. The last two years, this season and last season, I've really started to enjoy cooking. It's just a nice change for me. I find I really like it when I make a nice, simple meal at home. I tend to do it the night before games. I usually make the same thing – either salmon or chicken – and I'll bake some sweet potatoes and I'll sauté a whole bunch of different veggies. I'll also make a little salad as well. I enjoy doing that a lot. I just keep it simple."
SINGING THEIR PRAISES
Chychrun has a trio of spots that top his list of favourite places to play on the road.
One of his top picks is an arena where things can get very loud, very quickly.
"I have a few. There's some I really like to play in. A newer one is Vegas. It's a really fun building to play in. It's got really great energy, and they have really good fans who are loud every single night. It's nice to go in there and do our best to try and quiet them down.
"I think the national anthem in Chicago is probably my favourite thing ever. I get goosebumps every time we play when I hear that. Montreal is really cool too. There is so much history around the team, and it's always fun to go there and soak in that atmosphere."
PLEASE DON'T STOP THE MUSIC
Whether it's in the car, in the kitchen, or on the plane, country music fan Chychrun is all about the music.
"I really enjoy country. That's all I listen to away from the rink. Around the rink, before games or when I'm working out, I'll listen to rap and hip-hop – stuff like that. Away from the rink, I'm all country. I love a bunch of artists… Eric Church, Luke Combs, Jason Aldean, Kenny Chesney. There are so many artists I listen to. There aren't many country artists I don't like. I listen to it all. I always have "The Highway," channel 56, on in my car. It's all I listen to."
PARTING SHOT
"Definitely not. I keep my singing for when I'm in the shower. I wouldn't dare sing in front of anybody. Not a good look." Chychrun, on whether he has talent for singing.