After the Buzzer | Sam Reinhart
Sam Reinhart stopped by NHLPA.com to talk family road trips, Super Bowl food, the Buffalo sports scene, and who has better lederhosen game, himself or Jack Eichel.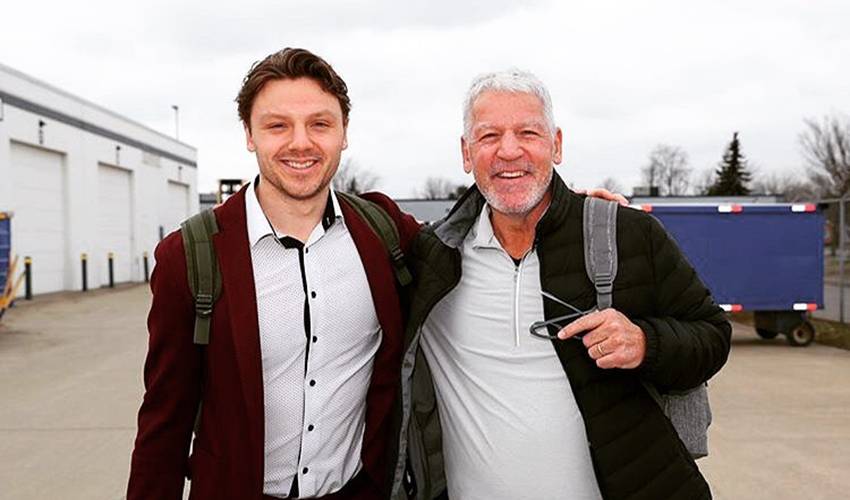 Feature photo courtesy of Sam Reinhart (IG: @samsonreinhart)
From their bond with fans to their efforts in the community – and everything in between – 'After the Buzzer' is a weekly series taking readers beyond the rink to shine a light and provide insight on players' lives away from the game.
---
Sam Reinhart stopped by NHLPA.com to talk family road trips, Super Bowl food, the Buffalo sports scene, and who has better lederhosen game, himself or Jack Eichel.
Well on pace to reach the 20-goal mark for the third consecutive season, Reinhart covered plenty of topics in this week's edition of After The Buzzer, including the one soccer match he has on his bucket list and what it's like to climb aboard ponies with a teammate.
ON THE ROAD AGAIN…
Reinhart certainly made the most of the Sabres' recent father-son road trip, getting to spend some quality time with his dad, former standout NHL defenceman Paul Reinhart.
"It's my fifth (full) year in the league, and this was the first time he was able to make it. My mom had come three times, so I think he was pretty excited. There were a lot of his old war stories from around the league that were brought up, and I enjoy hearing them whenever he brings them out. Every time he starts talking about them, I get to hear new ones as well, which I love. He really enjoyed it and met a lot of the dads from guys I've become close with, and he's been able to do that as well."
CHIP OFF THE OLD BLOCK
A veteran of 648 career NHL games, Paul Reinhart played a different position than his son, but Sam sees several similar qualities between the two.
"I still play 3-on-3 with him each summer. He gets on the ice quite a bit. He's still got the smarts – that hasn't faded in him at all. It's weird. When I've watched his games – it's usually the old ESPN Classics – there are a lot of similarities that I notice in myself, but I didn't pick those up from watching him.
"It's ingrained in me from a young age – whether it was his coaching, or genetics – so it's pretty cool to have that. Obviously, he coached me a lot growing up. I do see a lot of things we have in common. I think his composure out there – he was just so calm – is something that I try to implement in my game as well. I think lot of that is just not overthinking very much. It's going out there and reading and reacting. When I get away from that and start overthinking, I'm not nearly as effective."
GETTING HIS KICKS
A huge soccer fan, Reinhart has had the chance to see some memorable matches and superstar players over the years.
There is one match, however, that stands out above all others for him.
"It would have to be an El Clasico [Barcelona vs. Real Madrid]. Maybe not as much now that Ronaldo isn't there [Real Madrid] any more, but I'm a huge Lionel Messi and Barcelona fan. I think that's up there for me. Unfortunately, their season is always the same ours, so that makes it impossible to go over there. Hopefully, I can make it to Spain one day and get to see Messi while he's still playing at a high level."
WINGING IT
Super Bowl Sunday happened to be an off-day for the Buffalo Sabres, providing the chance for a lot of the players to take in the big game between the Kansas City Chiefs and the San Francisco 49ers.
And while the players would have preferred seeing their hometown Buffalo Bills vying for football supremacy, the day did offer the chance to indulge in some food they're usually not used to having during the NHL season.
"There weren't any big plans, just hanging out with the guys. Here, it has to be wings that you have. We didn't play on Monday, so we were able to have a few more wings than we usually would. In Buffalo, there are so many good spots for wings… it's a must-have for any gathering."
WHO'S GOT (BETTER) GAME?
Reinhart's Instagram page has some must-see photos, including two in particular of him and teammate Jack Eichel.
One shows the duo dressed up in their Okotoberfest best, each donning lederhosen for the popular September celebration.
The other photo of note has Reinhart and Eichel riding ponies. Yes, ponies.
Who wore it best? Who saddled up best?
"He was at a disadvantage, for sure," said Reinhart, of Eichel, who was on crutches for the Oktoberfest pic. "He had been on those for a while, so he was pretty mobile that night. As for the other photo, I don't know how you declare a winner. We both looked so natural on there – a couple of city boys on ponies."

PARTING SHOT
"I think it's their passion. Obviously, it hasn't gone the way we've wanted it to, but when things are going well, the vibe you get from the city makes it so enjoyable. They expect a lot from us, but that's just their passion. I wouldn't want it any other way." – Reinhart, on what makes Sabres fans special.