Player of the Week | J.T. Miller
J.T. Miller continues to make the most of his opportunity with the Vancouver Canucks.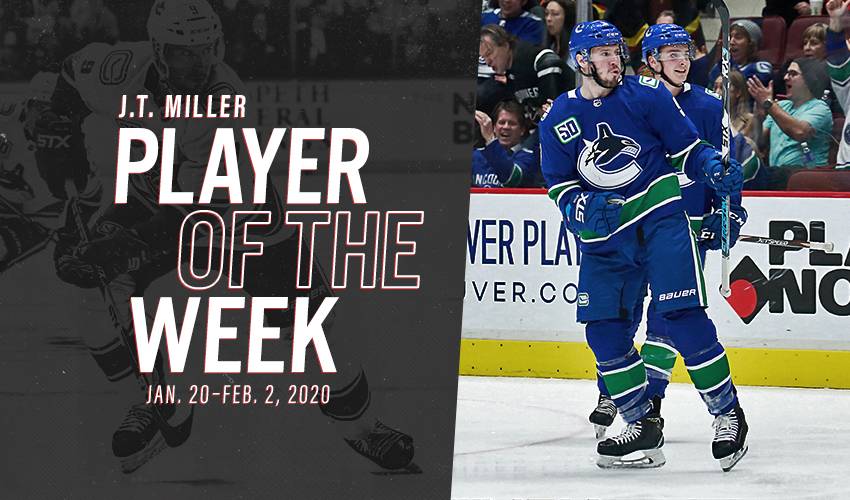 Feature photo: Getty Images.
J.T. Miller
JAN. 20–FEB. 2, 2020
3-4

–

7 OVER 4 GP
3 STRAIGHT MULTI-POINT GAMES
6-GAME POINT STREAK
---
J.T. Miller continues to make the most of his opportunity with the Vancouver Canucks after putting up seven points in four games this past week, including three multi-point performances.
Miller, in his first season with the Canucks after a June trade with the Tampa Bay Lightning, has 53 points (20 goals, 33 assists) in 53 games this season – improving on the 47 points he had in 75 games last season. He only needs five more points to match his career-high of 58 (2017-18).
Millers' teammates were excited to receive the news that the team was trading for him and like what he brings to the table.
"I was really excited when they made that trade," said Jay Beagle. "He's perfect for our style of hockey. It's hard to find guys like that who are gritty but have skill. "I was like, he should have cost more."
Not only is Miller having one of his best offensive seasons to date, but he has also taken on more of a leadership role in Vancouver.
"I think it's something I've embraced this year. I try to lead by example," Miller told reporters. "I think that's the most effective way."

LOOKING BACK

JAN. 27
2-0

–

2, GWG, 3 SOG, 19:00 TOI, GAME'S SECOND STAR
---
VAN 3
STL 1
J.T. Miller pushed his point streak to three games in the Canucks' 3-1 win over the St. Louis Blues Monday at Rogers Arena while helping extend his team's winning streak to three games.
With the Blues trailing 1-0, teammate Chris Tanev set up Miller in the slot as he turned and fired a shot past Blues netminder Jake Allen for his 18th goal of the season.
Later in the middle frame, Miller scored his second goal of the game and eventual game-winner by converting on a nice passing play as teammate Jake Virtanen set him up for the one-timer.
Miller said after the game that he did not expect the second goal to go in as he didn't get enough on the shot.
''I actually thought on the second one my stick was broken,'' Miller said. ''I didn't want to push too hard and I actually fanned on it. I got a little lucky.''
The Canucks forward has been impressed with his team's effort, and they blocked 23 shots against the reigning Stanley Cup Champions.
"This time of year is about finding ways to win," said Miller. "It says a lot about your team when you do whatever it takes, guys sliding all over the ice, blocking one-timers.
"I think it's part of our team's identity. I think that's what we need coming down the stretch."

JAN. 29
0-2

–

2, 1 SOG, 20:19 TOI, GAME'S THIRD STAR
---
VAN 5
SJS 2
Miller extended his point streak to four games as the Canucks' winning streak reached four games with a 5-2 victory over the San Jose Sharks at SAP Center Wednesday night.
With San Jose up 2-1, Vancouver scored four unanswered goals in the third period with Miller assisting on two.

FEB. 1
1-1

–

2, 3 SOG, 18:22 TOI, GAME'S SECOND STAR
---
VAN 4
NYI 3, F/OT
Miller extended his point streak to five games, as the Canucks' game-winning streak, with a 4-3 victory over the New York Islanders at Barclays Center Saturday afternoon.
After Tanev's shot went off the post, Miller grabbed the rebound to get the Canucks on the board for his 20th goal of the season. It's the first 20 goal season for Miller since he had 23 back in 2017-18.
Miller picked up his third-straight multi-point game after notching as assist on teammate Quinn Hughes' overtime winner as the defenceman passed Cale Makar of the Colorado Avalanche for the rookie scoring lead.
When asked about what has led to his breakout season, Miller said most of it has to do with the opportunity he's getting with the Canucks that he didn't have before.
''You like to think you get more wiser and learn stuff as you go on through your career,'' Miller said about his breakout season. ''I feel more comfortable. I know what my game is. I'm getting a great opportunity here. I'm just trying to make the most of it. When you play on a good team like this, surrounded by good players, obviously the stats will be there if you are doing the right things.''

FEB. 2
0-1

–

1, 1 SOG, 22:37 TOI
---
VAN 3
CAR 4, F/OT
Miller kept his point streak alive at six games as the Canucks came up short against the Carolina Hurricanes by losing 4-3 in the shootout Sunday at PNC Arena.
Down 3-2 in the third period, Miller set up teammate Elias Pettersson from behind the net for a one-timer to help send the game to overtime.
Unfortunately, Miller was not able to score in the shootout as Justin Williams scored the winner for the second time in four games since returning to the Hurricanes.

LOOKING AHEAD
Miller will look to keep his point streak going when the Canucks continue their five-game road trip against the Boston Bruins February 3. Vancouver will then take on the Minnesota Wild February 6 before returning home to play the Calgary Flames February 8 to end the week.