After the Buzzer | Michael Grabner
What's a good way to unwind during All-Star break? Michael Grabner and his family decided to go on a wild ride (or two).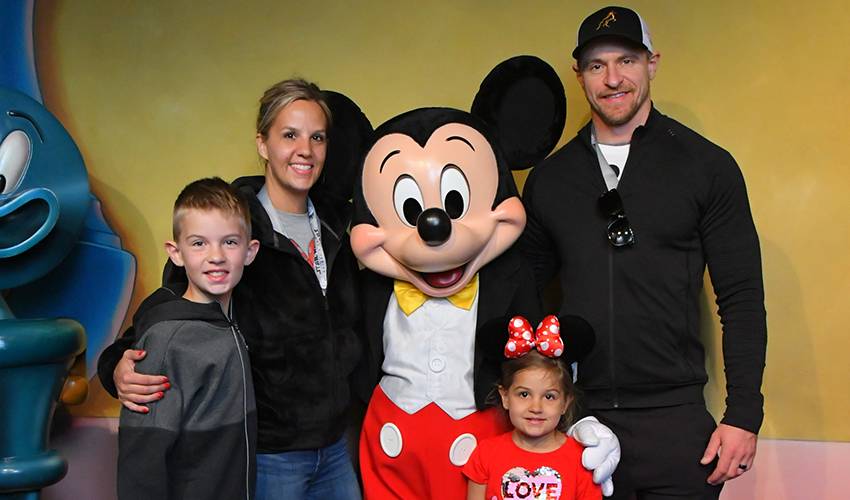 Feature photo courtesy of Michael Grabner
From their bond with fans to their efforts in the community – and everything in between – 'After the Buzzer' is a weekly series taking readers beyond the rink to shine a light and provide insight on players' lives away from the game.
---
What's a good way to unwind during All-Star break? Michael Grabner and his family decided to go on a wild ride (or two).
The 32-year-old centre, now in his 11th NHL year, recently went on a road trip with his family, travels that took them to Disney in Anaheim, California.
From rubbing elbows with Mickey Mouse, to going on some seriously cool rides, the Grabners made the most of their time in the "happiest place on earth".
The veteran winger offered up a reason as to why a few people managed to recognize him during his visit, discussed his love for tattoos and talked hockey in Austria.
THRILL RIDES
Grabner's children, eight-year-old son Aidan, and soon-to-be five-year-old daughter Olivia, had never been to Disney before.
So, while the league was on All-Star break, the father of two, along with his wife Heather, decided to trek to the Golden State for a little family fun.
"We went for a couple of days. I went there about 10 years ago, but we wanted to go as a family. My kids like the wild rides. My daughter, she was too small for maybe two or three of them, but all the other ones, they did. I loved the rides. I really liked the Incredicoaster. There was a Guardians of the Galaxy ride as well, which was cool, too. Another one, where you drop in an elevator – that was a lot of fun. There were a lot of good rides.
"We also went to Huntington Beach and walked around there with the kids. It was just a nice time to get away together. Our schedule has been crazy this year and we've been gone a lot, so I was happy that we got to spend some time with the kids, to get out and do something different."
IT'S A SMALL WORLD AFTER ALL
Grabner certainly wasn't expecting to be noticed when he was in California, but a few hockey fans happened to recognize the forward.
The Austrian native came up with a theory as to why people were able to pick him out of a crowd.
"A couple of people saw me there. I took a picture with one guy. I was surprised anyone recognized me, but I guess that happens when you play on so many teams (Vancouver, New York Islanders, Toronto, New York Rangers, New Jersey, and Arizona). Someone is going to know who you are."
INK IDEAS
Over the years, Grabner has received some big-time ink over his passion for ink.
The tattoo-clad former 14th overall pick of the Vancouver Canucks in 2006 has an impressive array of artwork to boast of.
What's the process for selecting tattoos?
"I'm not sure if I'll be adding anything in the near future. I kind of go about it on how I feel. Usually, most of mine are done in a very short-term way. If I decide to get one, it usually happens in two days. I don't think about it for a long time and then do it later on. It's a quick decision. I just say, 'Okay, I want one,' and then I go and do it. If I wait too long, then I think, 'No, I don't want to do it any more.'"
BETTER THAN HE EVER THOUGHT
Grabner, who began his NHL life in 2009-10, has 175 lifetime tallies and 21 career game-winning goals.
Less than 70 games shy of 700 for his career, he never anticipated playing as long as he has.
"Whatever league you play in, you want to say you won the championship. Coming from Austria, my goal was to make it to the NHL, and now, to be in the league for 11 years – if you had told me that when I was 15 that I would have played three years, I would have taken it. I'm definitely proud of how far I came and how long I've lasted. When you reflect on it, once your career is done, the memories will be very special. I don't think I could have dreamt it up any better, other than winning the Stanley Cup."
ROLE MODEL
One of two (Michael Raffl is the other) Austrian-born players currently skating in the NHL, Grabner is hoping to see more of his countrymen playing in the big league soon.
He's suited up several times for Austria, including at the 2014 Winter Olympics when he recorded five goals and an assist in four games.
"It's been a while since we've had another guy coming over to play in the NHL. My buddy, Michael Raffl, came over pretty quickly after I did. We also had Thomas Vanek. In this year's draft, we have a couple of good prospects. I don't know him personally, but I've looked at his stats, and Marco Rossi should be a high draft pick. Hopefully, he can be the next guy to take on that role of being a role model, and help get more exposure for Austrian hockey."
PARTING SHOT
"I know! I know! It's not a bad idea, but I wouldn't have any room left on my body for anything else." – Grabner, on possibly adding tattoos of all the teams he's played for in his NHL career.