McDonagh, NHLPA G&D give back to future State of Hockey generation
When it comes to helping grow the game of hockey in Minnesota, Ryan McDonagh is definitely all in.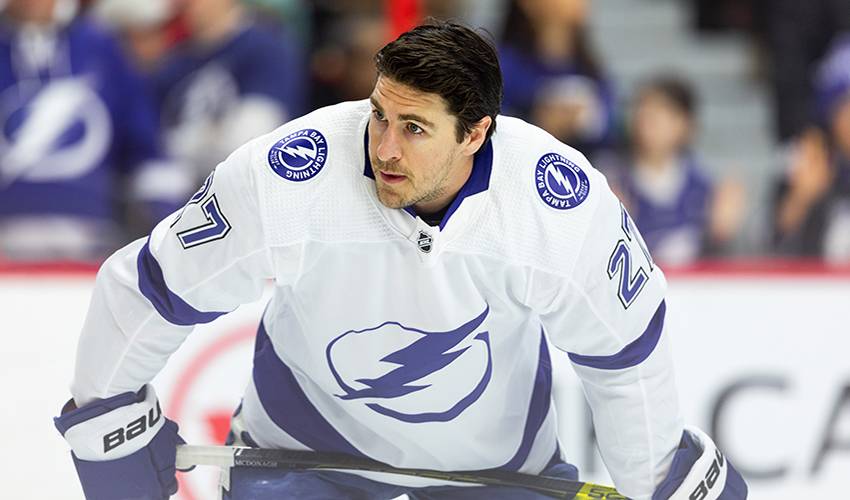 When it comes to helping grow the game of hockey in Minnesota, Ryan McDonagh is definitely all in.
It was a call the veteran of nearly 700 career NHL games was happy to take.
"My old high school coach – who is also a county sheriff for Ramsey County (Minnesota) – reached out to me," started McDonagh, who played the first 516 games of his big-league career with the New York Rangers before a trade to the Tampa Bay Lightning February 26, 2018.
"My coach, Tony Santoya, has always been great when it comes to giving back to the community, and trying to create opportunities for young kids. He said the Ramsey County sheriff was wanting to do a learn to play hockey program for young kids in a small area of the city."
The Lightning alternate captain loved the idea, but he recognized a major obstacle when it came to its execution.
"It's not easy for young kids to get provided with equipment," said McDonagh. "Tony reached out and asked if there was any way I could help. He was trying to raise money for donations of equipment. As soon as he said that, I thought of NHLPA Goals & Dreams. I thought it would be good opportunity for the program to help out."
And that's just what happened earlier this month on January 15.
McDonagh spoke with Devin Smith and Matt Langen of NHLPA Goals & Dreams (G&D). Soon after the conversation, the decision to donate 22 sets of equipment from the players' program was made.
Established in 1999, G&D is the player-driven charitable initiative that assists grassroots hockey programs in NHL cities and others around the world through equipment donations, arena upgrades, and more.
Part of the fund's mandate is to also deliver special moments through the select programs it has assisted.
"I was the middle child, so I kind of got the hand-me-downs from my oldest brother. We kept everything in the family. Hockey is an awesome sport, but it can be an expensive sport," said McDonagh. "It requires a lot to play it, but once you have the equipment, you get to go and skate and play with your friends. It's a great experience.
"I'm really happy that our Goals & Dreams program is able to help with something like this, providing kids – some who might not have ever had the opportunity – to experience hockey. Being a part of the PA, and everything that it provides for us, it's great that we have this set up to help young kids in our hometowns."
McDonagh is one of several Minnesota NHL success stories.
Current players Zach Parise, Blake Wheeler, Derek Stepan, Matt Niskanen, Anders Lee, Brock Nelson, Brock Boeser, Justin Faulk and Erik Johnson are all products of the Gopher State.
In 2006, McDonagh, also a standout baseball and football player, helped lead Cretin-Derham Hall High School to its first state championship, contributing 12 goals and 45 points. As a senior in 2007, he was named Mr. Hockey for the state of Minnesota when he scored 14 goals and notched 40 points in 26 games.
Drafted 12th overall by the Montreal Canadiens in 2007, McDonagh played three seasons at the University of Wisconsin (2007-10). In 2009-10, he played a key role in Wisconsin's trek to the Frozen Four championship game. He appeared in all 43 games as a junior for the Badgers and was named to the WCHA Second All-Star team.
Wherever has hockey travels have taken him, McDonagh hasn't forgotten his roots.
"I definitely remember a lot of hockey growing up in Minnesota," he recalled. "We lived on a cul-de-sac, and all the neighbourhood kids, we'd play roller hockey or just run around in our tennis shoes. That's where my first love of the game started.
"When winter rolled around and the rinks were able to freeze – we had a park right up the street where all of us kids would run up to after school was done – weather depending, we'd play a couple of hours, or if it was nice and it wasn't freezing, you could play a little longer. But hockey was definitely an everyday part of our life, whether it was winter or summer."
McDonagh's hopeful that he's been able to help a new generation of Minnesota kids that will have similar experiences.
Seeing them skate on NHL ice one day would put a big smile on the veteran blueliner's face.
"Minnesota's incredible. It's one of those nice hockey niches in North America where a lot of good players have grown up and started their career's there. The young talent just continues to pump out of there. There is just so much opportunity that you have in Minnesota, whether you want to stay close to home – you get so much exposure with the good youth programs there. It gives you a lot of opportunity to continue your career."
And for McDonagh, it also offers the chance for kids to chase their goals and dreams.