Player of the Week | Andrei Vasilevskiy
Andrei Vasilevskiy recorded back-to-back shutouts to cap off a near-perfect week between the pipes for the Tampa Bay Lightning.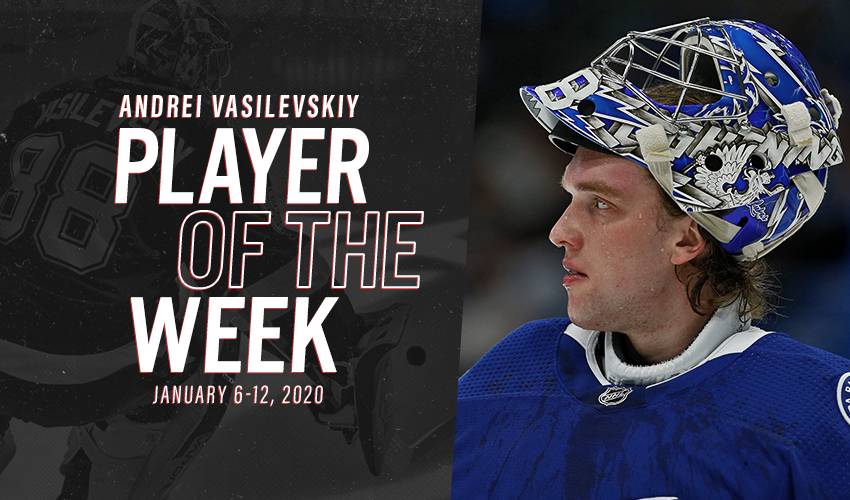 Feature photo: Getty Images.
Andrei Vasilevskiy
JAN. 6–12, 2020
3-0-0 over 3 GP
BACK-TO-BACK SHUTOUTS
.972 SV%, 0.67 GAA
71 SA, 69 SVS
---
Andrei Vasilevskiy recorded back-to-back shutouts to cap off a near-perfect week between the pipes for the Tampa Bay Lightning.
Vasilevskiy stopped 69 of 71 shots to go 3-0-0 over the week, improving his incredible run of winning eight consecutive starts and helping the Lightning to a team-high, 10-straight wins.
The 2019 Vezina Trophy winner is now tied with Jordan Binnington for the NHL lead in wins with 22.

LOOKING BACK

JAN. 7
W, 23 SA, 21 S, SIXTH STRAIGHT WIN
---
TBL 9
VAN 2
Vasilevskiy made 21 saves to pick up his sixth straight win in the Lightning's 9-2 victory over the Vancouver Canucks at Amalie Arena Tuesday night.
Both teams came into Tuesday's game riding seven-game win streaks as the Lightning matched their franchise record for goals in a period with six as they picked up their eighth consecutive victory.
It was also a milestone night for Lightning forward Carter Verhaeghe, who recorded his first NHL career hat trick in the win.
Victor Hedman also set a new franchise record for the fewest games (40) to reach the 40-point mark by a defenceman beating out Roman Hamrlik, who did it in 46 games back in the 1995-96 season.
Vasilevskiy's sixth straight win was also his league-leading 11th victory since Dec. 1, and he has not lost a game in regulation since Dec. 14 going 7-0-1 in that time.

JAN. 9
W, 25-SAVE SHUTOUT, SEVENTH STRAIGHT WIN, GAME'S FIRST STAR
---
TBL 4
ARI 0
Vasilevskiy stopped 25 shots for his first shutout of the season as the Lightning beat the Arizona Coyotes 4-0 at Amalie Arena Thursday night.
Teammate Nikita Kucherov had two goals as Tampa Bay picked up their ninth straight victory. Kucherov also had some high praise for his goaltender's performance.
Kucherov on Vasilevskiy's shutout performance tonight: "I think he's the best player in the league and he proved it tonight." #Bolts #ARIvsTBL

—

Bryan Burns (@BBurnsNHL) January 10, 2020
Vasilevskiy's shutout didn't come easily as he had to stretch his right pad just enough to keep Coyotes forward Taylor Hall off the scoresheet on a first-period breakaway.
The 25-year-old improved to 11-1-1 in his last 13 starts and recorded his first shutout since Feb. 16, 2019 with the 19th of his NHL career.
''It's been a while,'' Vasilevskiy said about ending a 48-game streak without a shutout. ''I thought we played very well, all 60 minutes. We had some games in the past when I could've had shutouts but we gave up a late goal. Tonight I thought we played perfectly and the whole team deserves this.''

JAN. 11
W, 23-SAVE SHUTOUT, EIGHTH STRAIGHT WIN, BACK-TO-BACK SHUTOUTS, GAME'S FIRST STAR
---
TBL 1
PHI 0
Vasilevskiy made 23 saves for back-to-back shutouts as the Lightning edged the Philadelphia Flyers 1-0 at Wells Fargo Center Saturday night.
It was an emotional night in the City of Brotherly Love as Flyers forward Oskar Lindblom received a standing ovation from the crowd after being shown on the jumbotron. It was Lindblom's first public appearance since being diagnosed with Ewing's sarcoma in December.
Both goalies had to be at their best in this game, but it was Vasilevskiy who would end up picking up his eighth consecutive win and 20th NHL career shutout. Vasilevskiy has also gone 144:55 seconds without giving up a goal.
With the victory, the Lightning's winning streak reached double digits as Tampa Bay tied a club record with their 10th straight win. During their winning streak, the Lightning has outscored opponents 43-17 and have not lost since Dec. 21 moving into second place in the Atlantic Division.
''I've said this before, a shutout is something the whole team deserves,'' Vasileskiy said after the game. ''The team played great defensively, all the D-men and forwards. Tonight, one goal was enough for us to win because we played good defensively.''

LOOKING AHEAD
While the Lightning saw their winning streak come to an end against the New Jersey Devils Sunday with Curtis McElhinney in net, Vasilevskiy will look to keep his streak alive when Tampa Bay hosts the Los Angeles Kings Jan. 14, before heading out on the road to take on the Minnesota Wild Jan. 16 and the Winnipeg Jets Jan. 17.