Most Valuable Teacher Voting Underway
Three monthly winners will vie for invitation to the NHL Awards in Las Vegas.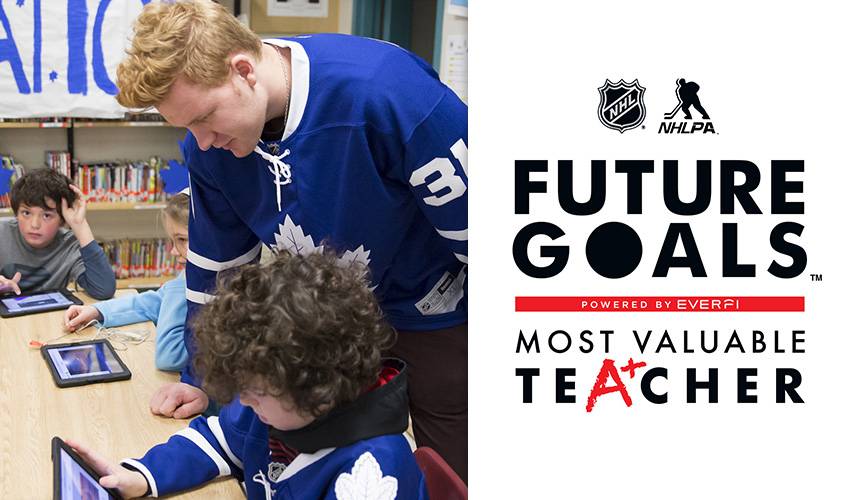 Voting for the NHL and NHLPA Future Goals Most Valuable Teacher program is open at NHL.com/MVT.
The program launched at the 2020 Bridgestone NHL Winter Classic on Jan. 1 by nominating 12 teachers. Another 6-12 teachers will be nominated on Feb. 1 and again on March 1. Throughout each month, fans, teachers, students and parents will be able to visit NHL.com/MVT and vote once a day, every day, for their favorite teacher.
"We all know how vital and important teachers are in the lives of all children, which is why we are thrilled to be able to celebrate them through the Most Valuable Teacher program," said Rob Zepp, manager of special projects for the NHLPA. "The opportunity to recognize teachers who, through their involvement in the NHL/NHLPA Future Goals program, go above and beyond is something we are extremely excited about."
Each month of voting will close at 12 a.m. ET, and the leading vote-getter will be recognized as the Most Valuable Teacher for that month. NHL.com/MVT will be updated on April 1 to show the winners from January, February and March. Voting for Most Valuable Teacher of the Year begins at 12 a.m. ET on May 8. The teacher who gets the highest number of votes will be invited to the 2020 NHL Awards in Las Vegas.
The Future Goals Program partners with EverFi, a leading critical skills education platform, to teach important skills with a STEM sports curriculum that helps prepare kids for success in life. The program uses hockey as a STEM learning vehicle to help students understand real-world applications of science and math principles.
"Our Future Goals program is so important because it uses hockey to teach students critical STEM skills, so students are prepared for future careers in STEM," said Aliya Meaney, the NHL's director of youth development and industry growth. "This Most Valuable Teacher program allows us to celebrate our everyday heroes in the classroom, our teachers, who do so much for our children every single day. Students, faculty, administrators and parents can all show support for their favorite teacher by going online and voting every day."