After the Buzzer | Jordan Eberle
There are two major things Jordan Eberle is looking forward to in 2020… one off the ice, and one on it.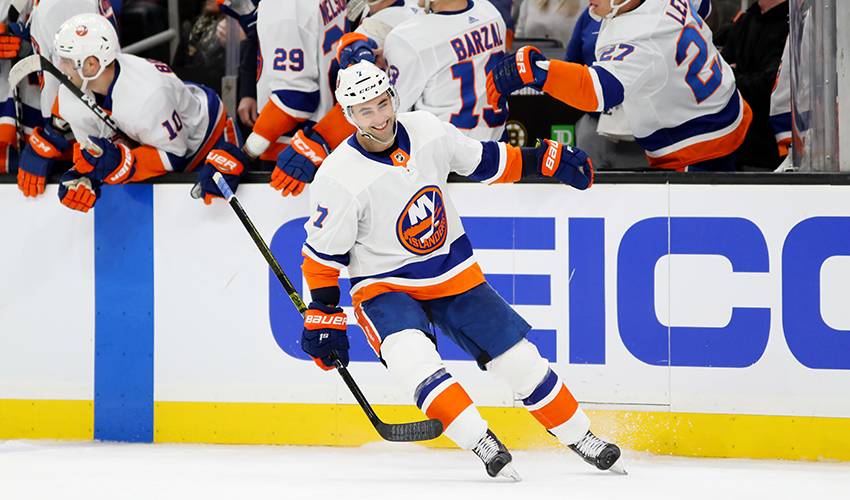 Feature photo: Getty Images
From their bond with fans to their efforts in the community – and everything in between – 'After the Buzzer' is a weekly series taking readers beyond the rink to shine a light and provide insight on players' lives away from the game.
---
There are two major things Jordan Eberle is looking forward to in 2020… one off the ice, and one on it.
The 29-year-old right wing and his wife Lauren, who will welcome their first child this March, is counting down the days until he becomes a dad.
He's also pumped at the prospect of having the chance to play for hockey's ultimate team prize this year.
NHLPA.com recently caught with Eberle for a little baby talk, why he'll be tuning in to watch the World Juniors, how he feels about closing in on 700 NHL games and playing his part in helping the New York Islanders make a Stanley Cup run.
LIFE CHANGING
With a baby on the way, the Eberles have a lot going on these days. As to the question of whether it's a boy or girl, there is no spoiler alert. There is, however, a certain outfit ready to go.
"When it comes to the New Year, the biggest thing I'm excited about is being a dad. I've been talking to a lot of guys on the team and friends – it's a pretty big change and it's something we're both looking forward to. We already have a little Islanders jersey waiting. We don't know the sex of the baby, so it's going to be a surprise. We have the baby's room set up here and it's ready to go. Also, in Calgary, where we live in the summer, there's a baby's room set up, too. My wife is very prepared – she's pretty much done everything. I'm as prepared as I can be."
GAME-CHANGING
It's not only the arrival of a child that has Eberle smiling these days. The 22nd overall pick of the Edmonton Oilers in 2008 is part of an Islanders squad that has its sights set on a serious bid for Stanley Cup glory.
"When it comes to hockey, I think the position that we are in going into the New Year – I think we've surprised people again. I'm hoping the word 'surprise' leaves after a while. I think we surprised everyone last year and this year. Eventually, I think everyone will tout us as a good team because that's kind of what we deserve. The playoffs last season, we swept the Pens and then lost in the second round, which left a bitter taste. Going into the New Year, the goal is solidifying a spot in the playoffs and then making a deep run. That's what I'm most looking forward to, for sure."
A WORLD OF MEMORIES
Often referred to as Canada's top world junior player of all-time, Eberle is tied with St. Louis Blues star forward Brayden Schenn for second spot on Canada's all-time scoring list with 26 points. Hall of Famer Eric Lindros (31 points in 21 games) holds down the the No. 1 slot.
Eberle has a number of golden memories from his days donning red and white, including the 2009 victory in Ottawa where he scored with 5.4 seconds left in regulation to tie Canada's semifinal game against Russia, then netted the shootout winner for a 6-5 win. He then helped his team take all the spoils with a 5-1 win over Sweden in the final.
"I think it's easy. The win in Ottawa is the fondest memory for me. I've said it a lot, but the way we went through it, coming back against the Americans, then coming back against the Russians, and finally beating Sweden – that was pretty amazing. It gave Canada five straight gold medals in the tournament. That was so much fun. At the time, it was the highlight of my career."
HELPING LEAD THE WAY
Less than 10 games away from the 700 games-played mark, Eberle, who came to the Islanders via a trade with the Oilers on June 22, 2017, is embracing his role as one of the team's veterans.
"On this team – it's my third year and I re-signed this summer – Lou (Islanders President of Hockey Operations, Lamoriello) challenged me a bit to be more of a leader. It's easier in the sense that I've been around longer and now I'm solidified here for a while. Leadership just kind of happens. It goes with doing the right things every day. I'm not going to be a guy to scream in the locker room, but if you're doing the right things every day, taking care of yourself, and you're respected … I think that's a leader in itself.
And obviously it comes with experience. I'm closing in on 700 games, which is pretty crazy, in my mind. It's gone pretty quickly. Moving forward into the playoffs, now that we've gone through it last year, and had a bit of success – just the experience I gained from that and the one year in Edmonton we made the playoffs – that's going to hopefully keep building. That's all part of being a leader."
#END BULLYING
Ever the team player on and off the ice, Eberle is also proud to have teamed up with Telus and Hockey Canada as part of their #EndBullying initiative. By signing The Code, players focus on building aspects of good sportsmanship such as character, integrity and respect in their lives both at and away from the rink to do their part to help end bullying.
PARTING SHOT
"That tournament, in general, it kind of catapulted me to make it to the NHL. I still have tons of fond memories and I still tune in to watch the games. It's always exciting. Every hit, the crowd is going crazy. Every shot, it has people on the edge of their seats. It's just great hockey to watch. I love that tournament." – Eberle, on why he always tunes in to catch the action from the world juniors.