Player of the Week | Victor Hedman
Victor Hedman led the NHL in scoring for the week with eight points, following two-multi point games including a career-high four assists against the Montreal Canadiens.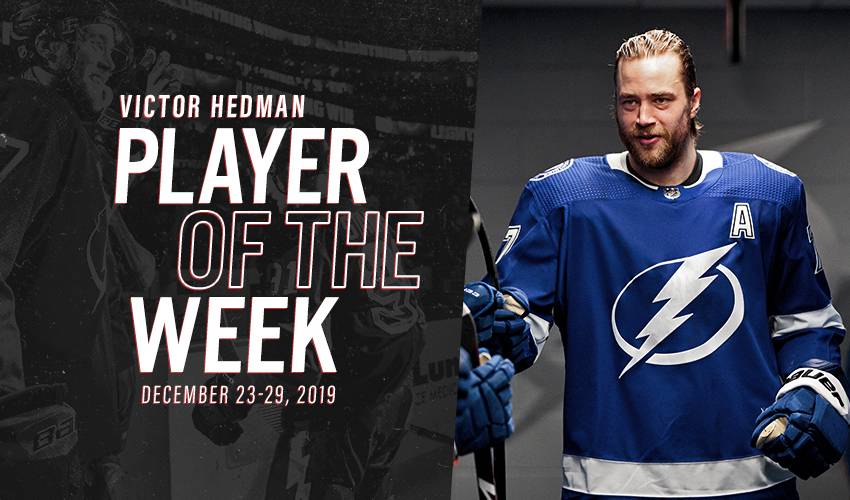 Feature photo: Getty Images.
Victor Hedman
DEC.23–29, 2019
2-6

–

8 OVER 3 GP
LED NHL IN POINTS (8) FOR THE WEEK

BACK-TO-BACK MULTI-POINT GAME
---
Victor Hedman led the NHL in scoring for the week with eight points, following two-multi point games including a career-high four assists against the Montreal Canadiens.
The 29-year-old now leads the Tampa Bay Lightning in assists (28) and sits three points back of Nikita Kucherov for the team lead in points. Hedman's recent surge also moved him into third in scoring among defenceman (37), behind Roman Josi (39) and John Carlson (50).
His efforts for the week put him on pace for a career-year while also helping the Lightning pick up three straight wins to get back into the Atlantic Division race. The 2018 Norris Trophy winner continued his strong month of December, scoring 15 points (5 goals, 10 assists) in 13 games.
The second overall pick from the 2009 NHL Draft was also recognized in the NHL's Decade in Review as the only Lightning defenceman to win a Norris Trophy and for being the franchise leader in goals, assists and points by a defenceman.

LOOKING BACK

DEC. 23
2-1

–

3, 5 SOG, 21:53 TOI, GAME'S FIRST STAR
---
TBL 6
FLA 1
Hedman scored two goals and added an assist Monday to help the Lightning win 6-1 over the Florida Panthers at Amalie Arena.
In the first of six straight games against an Atlantic Division opponent, Hedman put Tampa Bay ahead 2-0 with his eighth goal of the season on a rocket shot from the point.
After registering his second point of the game with an assist on Alex Killorn's power-play goal, Hedman added his second goal of the game and ninth of the season to give the Lightning a commanding 6-1 lead.
"We love these kinds of games, they are important games for the team, and we like to be in these situations," Hedman told reporters postgame. "We have to rise to the occasion. We did that today, and we have to do that in the upcoming games as well."

DEC. 28
0-4

–

4, 3 SOG, 21:59 TOI, GAME'S FIRST STAR
---
TBL 5
MTL 4
Hedman registered a career-high four assists Saturday as the Lightning beat the Montreal Canadiens 5-4 for their second straight win at Amalie Arena.
Hedman's first assist of the game was a notable one as he assisted on Steven Stamkos' 14th goal of the season and his 800th career point.
With the game tied at two, Hedman's breakout pass would take a fortunate deflection off a Canadiens player and onto the stick of Mitchell Stephens, who would drive to the net to score his first career NHL goal.
The Lightning defenceman would add two more assists to tie a franchise record for helpers in a game, becoming just the fourth defenceman in franchise history to do so.
While the Lightning got off to a less than ideal start falling behind 2-0 before registering their first shot on goal, Hedman credited his team for pushing forward and getting two crucial points that helped Tampa Bay move past Montreal in the standings.
"There was 50 minutes left in the game (after falling behind 2-0), so there was a whole lot of hockey left,'' Hedman said to reporters after the game. "It's not fun to go down like that, but it's going to happen sometimes, and it's how you respond as a group.''

DEC. 29
0-1

–

1, 4 SOG, 24:27 TOI
---
TBL 4
DET 2
Hedman extended his point streak to three games Sunday as the Lightning earned their third straight game with a 2-1 victory over the Detroit Red Wings at Amalie Arena.
With the game tied in the third period and Tampa Bay on the powerplay, Hedman assisted on Brayden Point's goal which would eventually be the game-winner. The assist on the man-advantage also helped Hedman add to his NHL lead in power-play points among defencemen (19).
Tampa Bay's victory was their 16th consecutively against Detroit, which is the longest winning streak against an opponent in franchise history and tied for the third-longest streak against one opponent in league history.

LOOKING AHEAD
Hedman will look to extend his point streak when the Lightning end 2019 against the Buffalo Sabres Dec. 31, followed by a three-game road trip to start the New Year, beginning with the Montreal Canadiens Jan. 2, before back-to-back games against the Ottawa Senators Jan. 4 and the Carolina Hurricanes Jan.5.