Vlasic reflects on journey with special milestone around the bend
It's a personal milestone that Marc-Edouard Vlasic hoped for, worked for, and is extremely grateful for.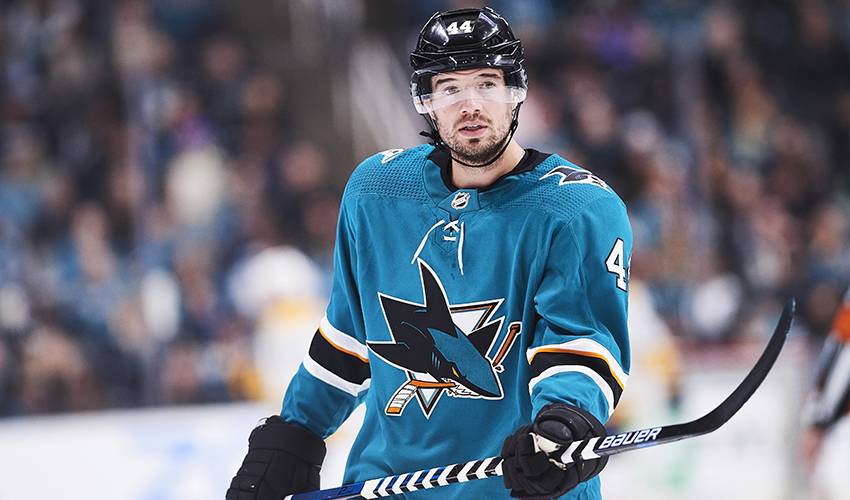 It's a personal milestone that Marc-Edouard Vlasic hoped for, worked for, and is extremely grateful for.
If all goes according to plan, the 32-year-old Vlasic will skate in his 1,000th regular season NHL game December 14 in a home tilt against the Vancouver Canucks.
He'll become the first defenceman selected by the Sharks to reach the mark with the team. Drafted 35th overall in 2005, the Montreal-born blueliner will be the 17th player in league history to reach the milestone with one team.
"When I first started out, I wanted to play in the NHL, and I wanted to play as long as I could," said Vlasic, who played three seasons of junior hockey with the Quebec Remparts, winning the Memorial Cup in 2006.
"Did I know long it was going to be? No. You want it to last as long as you can. Reaching 1,000 games is cool. Did I think I would do it? No. Was I hoping I would? Yes. I just wanted to play as long as I could."
Vlasic launched his NHL career in 2006-07, appearing in 81 games with the Sharks and contributing 26 points to go along with his excellent shutdown skills. He became an NHL regular at the age of 19 and led all NHL rookies in ice time (22:12) and was third on the Sharks. That season, he was named to the NHL All-Rookie Team along with teammate Matt Carle, becoming the first defenceman from the same team to sweep the all-rookie spots since Nicklas Lidstrom and Vladimir Konstantinov of the Detroit Red Wings achieved the feat in 1991-92.
At what point did he realize it was going to be a lengthy NHL life?
"Starting out, you want to make the team, then you sign a contract for three years and then I signed another one – but I knew I could play in this league for a very long time during my first year. I played a lot of games and a lot of minutes every game, big minutes against big players. That's when I realized I could play a long time if I put the work ethic into it and got better every year. That's what I've been doing."
Vlasic tied for the San Jose lead with a plus-21 rating in 2009-10 and led the team in blocked shots in 2010-11 with 147. He also led the Sharks with 171 blocked shots the following campaign. On March 20, 2013, against the Edmonton Oilers, he became the fourth blueliner to skate in 500 games with San Jose, following Mike Rathje, Marcus Ragnarsson and Scott Hannan.
Five years ago, Vlasic enjoyed one of his most memorable moments outside of NHL circles when he suited up for Team Canada at the 2014 Winter Olympics.
In the months leading up to the roster announcement, his wife, Martine, provided incentive in the form of something patriotic.
"My wife was a big hockey fan before we met," noted Vlasic, whose No. 44 jersey was retired by the Remparts in 2015. "Before the 2014 Olympics – I did the camp in August 2013 – in November of 2013, she bought me a Canadian ornament and something else and put it on my nightstand. She said, 'This will be your motivation every morning when you wake up to make the team.' In January, I got named to the team, so it shows how meaningful the support she has had for me over the years and the same dedication for hockey that I do."
Vlasic, who won gold with Canada at the World Cup of Hockey 2016, has had many backers during his time in the NHL – including those in the game, as well as family and friends.
"I get texts from my brothers and friends about certain games, wanting to know how everything is going. It's pretty cool having that support. It's a lot of fun having people on your side."
Vlasic has been the beneficiary of plenty of words of wisdom along his journey to 1,000 games. The one piece of advice that's stayed with him comes from a former defensive partner.
"The one thing that sticks out is that when I came into the league, I was playing with Scott Hannan. I played with him my first year and he said, 'Enjoy it because it goes by fast.' And now here we are talking about my 1,000th game. He's right – it does go by fast. It's not hockey advice about what to do on the ice, but it's important advice because if you can enjoy it and have fun, you realize it does go by fast. When he said it, I thought, 'Ah, come on. It goes by as fast as anything else. Time doesn't move faster because you are in the NHL.' But for some reason, it does fly by because we're here, 14 years later, talking about 1,000 games."
Asking Vlasic to single out a memorable player he went up against earlier on in his career is no easy ask.
The 6-foot-1, 205-pounder has a long list – a seemingly endless one – to share.
"There are a lot of guys. Obviously, there are a lot of great players I'm playing against now, but when I started out – there are quite a few great ones left, but not as many as you would think. Just playing against the guys I watched growing up comes to mind. I could name a whole bunch, but I'd know I'd be missing some. Joe Sakic, Peter Forsberg, Martin Brodeur, Jarome Iginla, Mike Modano, Brendan Shanahan, Bill Guerin, Keith Tkachcuk, Sergei Zubov, Nicklas Lidstrom – there's a whole bunch I'm missing as well.
"That was a really cool part – playing against the guys you watched growing up. As a kid, you think, 'I want to play in the NHL.' And there I am at 19, trying to shut these guys down, which is pretty neat."
Years later, that same task and the game itself is still pretty neat for Vlasic, a key player for the Sharks when they reached their first Stanley Cup Final in 2016.
"I have six years left on my contract, so I'll end up playing a long time in this league. And that's all I wanted to do when I first started."