Eddie Olczyk named ambassador for 21st annual Hockey Fights Cancer initiative
American Cancer Society, Canadian Cancer Society and Movember return as partners.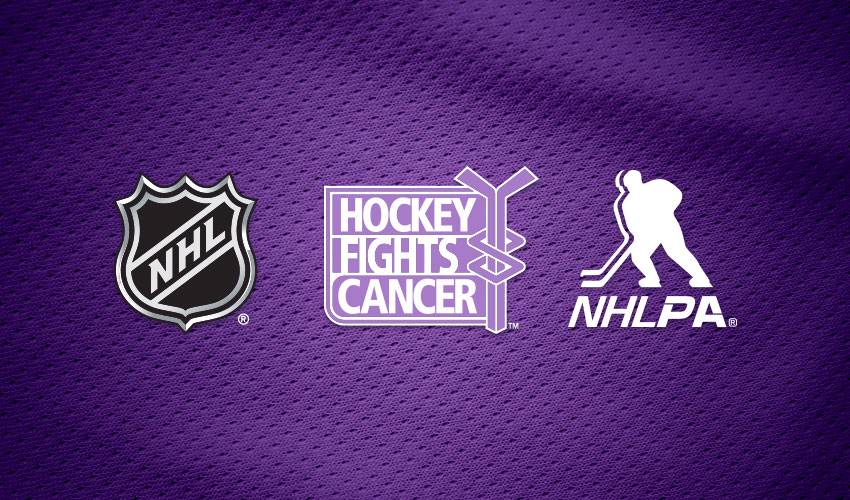 ---
EDDIE OLCZYK NAMED AMBASSADOR FOR 21ST ANNUAL HOCKEY FIGHTS CANCER INITIATIVE
American Cancer Society, Canadian Cancer Society and Movember Return as Partners
New Merchandise Offering Includes Hockey Fights Cancer-Themed Linings in Custom Suits and Apparel Provided by Tailor Brands Inc.
NEW YORK/TORONTO (November 1, 2019) – Hockey Fights Cancer™, a joint initiative between the National Hockey League Players' Association (NHLPA) and National Hockey League (NHL) begins today. Since 1998 the campaign has raised more than $25 million, uniting the hockey community in support of cancer patients and their families. As in previous years, all 31 NHL® Clubs will host a Hockey Fights Cancer in-game awareness night with special ceremonies, observances, and events.
This season, Eddie Olczyk has been named the ambassador for the 21st annual campaign. Prior to becoming an Emmy Award-winning television commentator, Olczyk played in the NHL for 16 seasons. During his hockey career he amassed 342 goals, 452 assists and 794 points in just over 1,000 games played, also winning a Stanley Cup® championship with the New York Rangers in 1994. This fall, Olczyk released his first book 'Eddie Olczyk: Beating the Odds in Hockey and in Life,' a memoir of his life experiences from being a teenager and getting drafted in the first round by his hometown Chicago Blackhawks, to present day becoming a Stage 3 colon cancer survivor.
"I have experienced a lot of wins and losses in my life, in hockey and away from the rink. My biggest challenge was fighting cancer and my biggest win was beating cancer, and it was a team effort," said Olczyk. "I'm honored to carry the torch as this year's Hockey Fights Cancer ambassador and to share my story to help millions of fans, like Nicholle Anderson and Lauren Boyle did as ambassadors before me."
The American Cancer Society and Canadian Cancer Society have partnered with the NHL and NHLPA for a third season. Donations raised will continue to support Lodges in the U.S. and Canada, assisting hundreds of people with cancer and their families every day with accommodations, meals, transportation, activities, and emotional support. Last year, donations provided more than 34,200 nights in Lodges, transportation equaling more than 106,500 rides, and funding to support a 24/7 helpline for patients and caregivers.
The 'HFC Assist' program also returns for a second season. Youth hockey teams across North America are encouraged to sign up at HockeyFightsCancer.com to receive a package that includes official helmet decals, lavender tape, 'I Fight For' downloadable cards, and tips on how to host a fundraiser in their community. Last year, more than 200 youth hockey teams hosted their own Hockey Fights Cancer community event with proceeds supporting the American and Canadian Cancer societies.
For the seventh season, Movember returns with a focus on men's health. Fans are encouraged to get involved at Monetwork.co/NHL to support their favorite NHL team or player, or to raise money with family and friends. Donations raised last year provided pre- and post-treatment support and care for more than 2,100 men battling prostate cancer.
Earlier this season, the NHL announced a license agreement with Tailored Brands, Inc. and its subsidiaries Men's Wearhouse, Moores Clothing for Men, and Jos. A. Bank. In support of Hockey Fights Cancer, the agreement includes lavender branded linings for custom suits, sport coats, formal jackets and vests. Fans can visit any Men's Wearhouse and Jos. A. Bank stores throughout the U.S. and Moores stores across Canada to purchase the custom offering.
Fans can purchase official Hockey Fights Cancer™ merchandise online at Shop.NHL.com or join the conversation online using the official hashtag #HockeyFightsCancer. Eddie Olczyk's book is also available for purchase at the NHL Store NYC, as well as major book retailers.
###