After the Buzzer | Torey Krug
Torey Krug has a lot more going on in his life than just making life miserable for the opposition.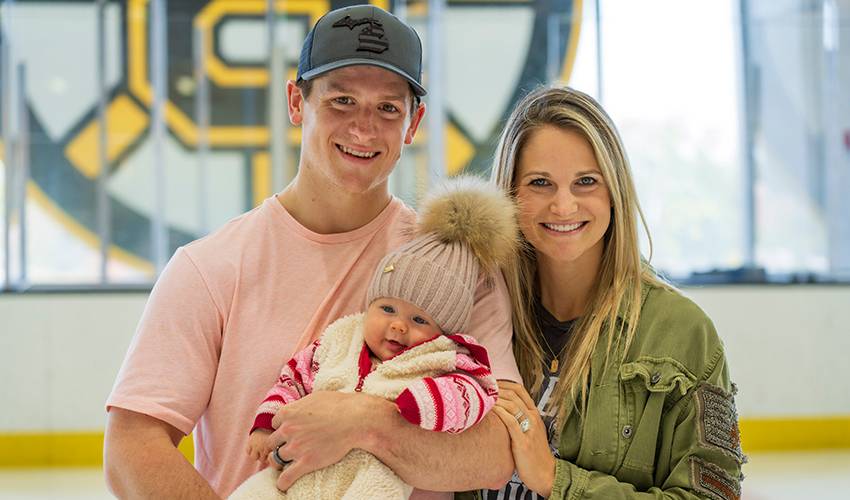 From their bond with fans to their efforts in the community – and everything in between – 'After the Buzzer' is a weekly series taking readers beyond the rink to shine a light and provide insight on players' lives away from the game.
---
He's played a huge part in his team's success story, a top-tier defenceman who has strung together three straight 50-point seasons for the Boston Bruins.
From being a proud family man, to his "feud" with teammate Brad Marchand, to finding ways to give back to the community, Torey Krug has a lot more going on in his life than just making life miserable for the opposition.
A NEW OUTLOOK
This June, Krug and his wife, Melanie, welcomed their first child in the world, a baby girl named Saylor. Skate around social media and you're bound to find plenty of heartwarming pictures and video of the defenceman and his adorable daughter.

"I think you realize the lifestyle we live as players – and it was something that was an eye-opening experience when I got married – is that everything revolves around us. What time we eat, what we eat, what time we go to bed, when we wake up, how tired we are – you realize how selfish you are until you have someone else in your life, and then when you have a child."
SNAPSHOTS & SLAP SHOTS
Skating with his daughter in his arms, or skating over before puck drop to spend a brief moment with his family at the glass, Krug is soaking up every minute he can with his two favourite ladies.
"It's special. These are memories I'll have for the rest of my life because we're able to capture them on camera and video. This is something I've been looking forward to for a long time. We decided to have kids because I wanted them to remember me playing, not to just tell them stories that, 'Your dad used to play hockey.' I want them to remember that in their own mind. It's an exciting time for us, and we're trying to embrace every moment."
47 STEPS UP FOR '47
Last winter, Krug teamed up with Operation Hat Trick (OHT) on a limited-edition collection of OHT x '47 gear designed by the player who wears No. 47.
Proceeds from the merchandise go to the recovery of America's wounded veterans, including those at the New England Center and Home for Veterans (NECHV). OHT generates awareness and support for the recovery of wounded service members and veterans through the sale of its merchandise.
"I played a round of golf at the Bruins' Foundation tournament with someone from '47, and we had a conversation about it being a great fit, with them being '47 and me wearing 47. Seeing what they do, it was an easy thing. I love supporting the military, and the NECHV. We were able to design hats and T-shirts. I had a lot of fun doing it. It turned out to be a great project… we were also able to spend some time at the NECHV, too."


SOCIAL SQUABBLE
Check out the social pages for Krug and teammate Brad Marchand, and you'll find some entertaining visual and verbal jabs being exchanged by the two players. The ongoing "feud" is a great source of amusement for two.


"It was a long time in the works. It dates back years to the first time he gave me a hard time on Twitter," recalled Krug. "We have a great friendship, we like to give each other a hard time – more than anything, I think it's a great platform to show the fans what personalities we have off the ice, and what goes on behind close doors. They don't get to see that every day."
PARTING SHOT
"It's a little bit of razzing, and hopefully I can come up with something good before Christmas that I can push back his way by then. I don't have anything planned right now, but I'm sure something will spark in my mind. Maybe when we go on a long road trip, and I have a little bit more time on my hands, I can come up with something. " – Krug, on the next chapter of Marchand vs. Krug.