Haula in fine form with Hurricanes
A serious injury, a trade to the Carolina Hurricanes, and the question if he could ever return to form could have gone one of two ways for Erik Haula.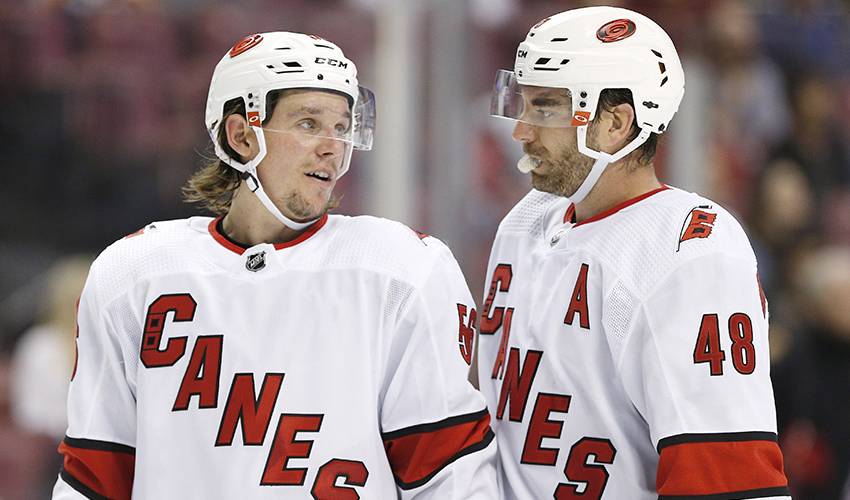 Feature photo: Getty Images.
From their bond with fans to their efforts in the community – and everything in between – 'After the Buzzer' is a weekly series taking readers beyond the rink to shine a light and provide insight on players' lives away from the game.
---
A serious injury, followed by months of painful rehab, a trade to the Carolina Hurricanes, and the question if he could ever return to form could have gone one of two ways for Erik Haula.
It was during a game almost one year ago when Haula, then a member of the Vegas Golden Knights, suffered a knee injury in a November 6 game against the Toronto Maple Leafs.
The end result was a dislocated patella with chipped bone and cartilage inside the knee. It also meant surgery, which was done in Vail, Colorado, and a tough road back to NHL ice.
The possibility existed that Haula could return to action for some of the 2019 Stanley Cup Playoffs, but Vegas' first-round exit at the hands of San Jose ended that hope.
On June 26 of this year, the Finnish native was on the move, dealt to Carolina.
"When I first went to meet with the trainers after the MRI, and I got the results, that was very tough for me," Haula told NHLPA.com. "I hadn't had a big injury before, and it was hard. It just wasn't easy to hear all those possibilities, of what could be, those worst-case scenarios. That was the hardest thing."
It didn't get any easier for Haula once he was released from the hospital.
"After the surgery, hearing what it was going to be like, what the recovery would be, all the obstacles lying ahead… those were tough days."
Fortunately for Haula, his wife Kristen helped him keep a positive state of mind, and was a constant source of support throughout his recovery.
He wasn't able to walk for 10 weeks, and couldn't drive for the first two months post-surgery.
Admittedly, he wasn't always fun to be around.
"Kristen was definitely a big part of helping me get through it," said the former 181st overall draft pick of the Minnesota Wild in 2009. "I first flew by myself to Vail because it was just supposed to be a second opinion, and then we decided to do the surgery. So she flew there, and there's no way I could have gotten through the first two weeks without her. It was going to be impossible. A lot of the credit goes to her, dealing with my crankiness when things weren't great. There are a lot of things she did for me. Big or small, they made a huge difference. Whatever it was, I owe her a lot."
Haula also deserves a great deal of credit for the work he put in to get back on the ice.
With eight points over nine games to start the 2019-2020 season, the left wing is playing the best hockey of his NHL career and is a big reason why Carolina has enjoyed a strong start to the campaign.
Haula, currently on pace to set career-best offensive numbers, has been a welcome addition to a Hurricanes squad looking to go further than its Eastern Conference Finals appearance last season.
"He's fit in well with our team from day one," said Carolina alternate captain Jordan Martinook. "We've added another player that has an extremely good work ethic. He loves to score goals and he's obviously good at it. As a smaller guy, to see him get to the dirty areas in front of the net, it's really impressed me and everyone else."
Haula's thrilled to be back in his happy place, and with the opportunity to be the same type of impact player he was with Vegas.
"They are a very hard-working group in Carolina, and the coaching staff goes right along with that. It's a put-in-the-work type of mentality, and that fits great with me. I definitely am not used to anything being handed to me, so I was ready to go work, and earn my ice time. The guys are great, and it's been a good start."