Player of the Week | John Carlson
John Carlson topped NHL scoring this week (1-7–8) and joined impressive company as he pushed his point streak to seven consecutive games.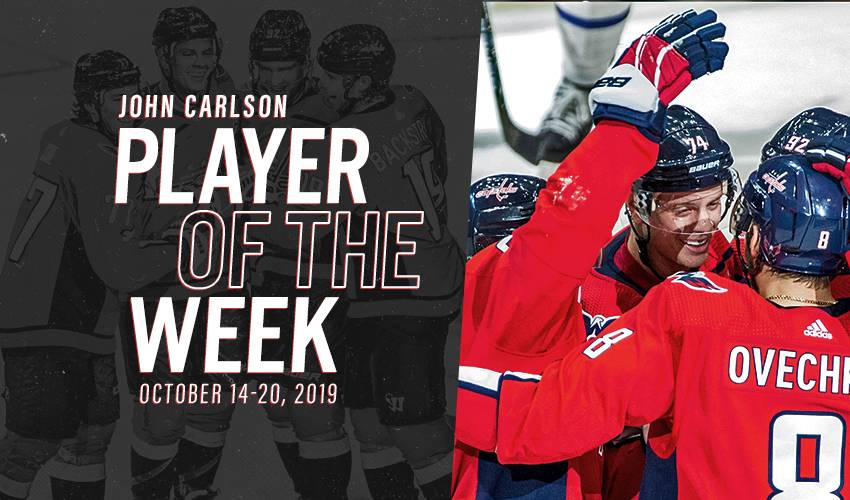 Feature photo: Getty Images.
John Carlson
OCT. 14-20, 2019
1-7

–

8 OVER 4 GP
RECORDED MOST ASSISTS (7) FOR THE WEEK
LEADS NHL IN POINTS (18), ASSISTS (15) THIS SEASON
CONTINUED POINT STREAK TO 7 GAMES; CONSECUTIVE THREE-POINT OUTINGS
---
John Carlson climbed to the top of the NHL scoring lead with eight points in four games (1-7–8), becoming the third different defenseman in NHL history to record 18 or more points through his team's first 10 games in a season.
He is the first defenceman in Washington Capitals history to record at least 15 points in the month of October and the most in a calendar month since Mike Green had 20 points back in 2009.
Carlson also put together consecutive three-point performances for the second time in his career (Dec. 5 and 7, 2011) and tied his career-high seven-game point streak.
Only two other blueliners in NHL history have posted 18 or more points in their first 10 games of the season – and they're certainly good company to be mentioned alongside.

John Carlson, Paul Coffey & Bobby Orr are the only defencemen in NHL history to record 18+ points in their first 10 games.

Carlson already leads the NHL in points. 🚨🏒 pic.twitter.com/QvfhgNG2W5

—

TSN (@TSN_Sports) October 21, 2019

LOOKING BACK

OCT. 14
0-1

–

1, 2 SOG, 25:32 TOI
---
WAS 3
COL 6
Carlson extended his point streak to four games with an assist in the Capitals' 6-3 loss to the Colorado Avalanche at Capital One Arena.
He set up team captain Alex Ovechkin, who scored his fifth goal of the season, to try and help the Capitals rally, but the club ultimately fell short in the end. Carlson had scored at least a point in six of the Capitals' seven games to start the season.

OCT. 16
1-2

–

3, 4 SOG, 28:05 TOI, GAME'S SECOND STAR
---
WAS 4
TOR 3
Carlson scored a goal and two assists in a 4-3 win over the Toronto Maple Leafs at Capital One Arena, ending the Capitals' three-game losing streak in the building.
The 29-year-old was named the game's first star after putting up his fifth multi-point performance of the season, while extending his point streak to five games. He also passed Sergei Gonchar for the fourth-most points in franchise history by a defenceman with the 417th point (93-324) of his career.
Carlson also became the first defenceman in franchise history to record 14 points in the team's first eight games and joined Alex Ovechkin and Alex Semin as the only Capitals players to achieve the feat.
He played a season-high 28:05 and has led the Capitals in ice time in every game this season. Carlson also joined Bobby Orr and Denis Potvin as the third defenceman in NHL history to have five multi-point games in his first eight games, for the second time in his career.

OCT. 18
0-3

–

3, 25:13 TOI, GAME'S SECOND STAR
---
WAS 5
NYR 2
For the second-straight game, Carlson had three points and led the Capitals to a win over the New York Rangers at Capital One Arena.
Carlson moved into a tie (at the time) with Connor McDavid for the NHL scoring lead while also adding his 14th assist of the season. He also extended his point streak to six games.
The 29-year-old also recorded three points for the third time this season, representing his sixth multi-point game so far. Carlson became one of 15 active defenceman to collect at least 15 points in a calendar month on multiple occasions.
Carlson's defensive partner who made his season debut in the win, Michal Kempny, believes that No. 74 has officially thrown his hat in the ring for the Norris Trophy with his strong performance to start the season.
''He's been amazing so far,'' said Kempny. ''He's a great guy, great teammate, obviously great defenseman. He's unreal. He's hot right now, and he's feeling it.''

OCT. 20
0-1

–

1, 25:04 TOI
---
WAS 5
CHI 3
Carlson and the Capitals went on the road to take on the Chicago Blackhawks Sunday night, and the defender recorded a point for the seventh-straight game while helping Washington win their third in a row.
With an assist on Ovechkin's goal in the third period, Carlson moved into the NHL scoring lead with 18 points (3-15–18).
His seven-game point and assist streaks tie his career bests in the categories. Carlson is just one helper shy of tying Mike Green and Scott Stevens for the longest assist streak by a Capitals defenceman at eight games.

LOOKING AHEAD
Carlson needs just two more points to become the fourth defenceman in league history to have 20 or more points in the month of October.
He can take the next step Tuesday when the Capitals' five-game road trip continues onto Calgary where they'll play against the Flames.