Strome gearing up for Prague puck drop
You get the feeling Dylan Strome has had this date circled on his calendar for a long time.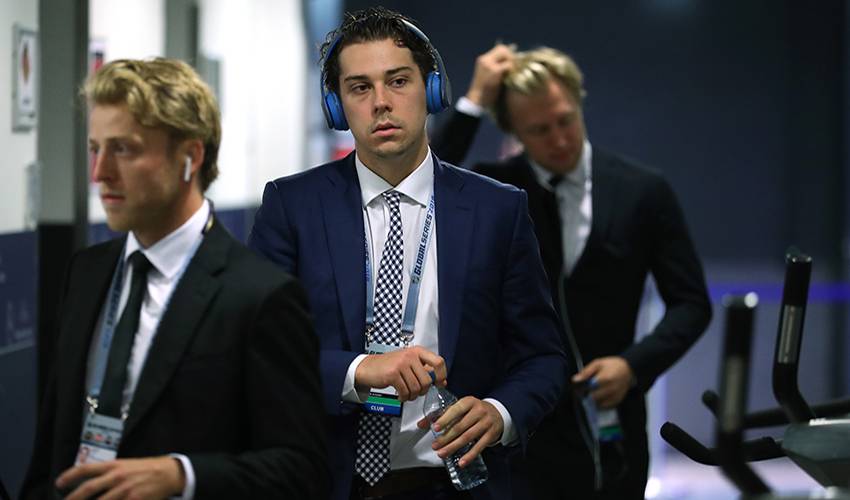 Feature photo: Getty Images.
---
You get the feeling Dylan Strome has had this date circled on his calendar for a long time.
Days ahead of Chicago's first game of the 2019-2020 campaign, an October 4 contest that takes place in the Czech Republic, the 22-year-old Strome is eagerly counting down the hours to puck drop.
Strome and his teammates will take on the Philadelphia Flyers at O2 Arena in Prague as part of the NHL Global Series. This year marks the third straight year and eighth season overall that the NHL has traveled to Europe to play regular-season games.
"It's been exciting, the time here," the centre told NHLPA.com from the team's training camp in Germany. "It's been a long off-season. I'm looking forward to finally getting the season started."
After what he achieved in 2018-19, it's easy to understand why he'd feel that way.
The six-foot-three forward was a major offensive force over 58 games with the Blackhawks. Strome recorded 17 goals and 51 points after his trade from the Arizona Coyotes last November.
Strome stayed in the Windy City over the summer to work with team trainer, Paul Goodman. The decision has paid off well for the forward, who points to more stamina throughout a game and more strength when the puck is on stick as two of the biggest benefits of the rigorous summer sessions.
The third overall pick at the 2015 NHL Draft is hoping it translates to a repeat performance of last season.
"What has me excited is just getting to play every night against the best players in the world," said Strome, whose older brother, Ryan, plays with the New York Rangers.
Strome first made the hockey world take notice of his skills during his time as captain of the Greater Toronto Hockey League champion Toronto Marlboros squad in 2012-13. He was named Player of the Year after netting 143 points in 60 games.
As a 16-year-old rookie for Erie of the Ontario Hockey League (OHL) in 2013-14, Strome scored 10 goals and 39 points. In his second OHL season, he won the league scoring title courtesy of 129 points, including 45 goals.
In 2014-15, he was awarded both the Eddie Powers Memorial Trophy (most points in the OHL regular season) and William Hanley Trophy (most sportsmanlike player in the OHL).
Over 219 career games with the Otters, where he played alongside current Blackhawks' teammate Alex DeBrincat, Strome posted 354 points, including 114 goals.
When Erie won the OHL title in 2017, DeBrincat recorded 65 goals and 62 assists in 63 games. Strome netted 22 goals and 53 assists in 35 games.
DeBrincat, who posted 76 points, including 41 goals with Chicago in 2018-19, is enjoying their hockey reunion.
"As a teammate, he's always there to have fun, he really enjoys playing hockey and being at the rink," DeBrincat told NHLPA.com. "As a player, he has great vision and has a lot of passion to win."
Which is precisely what's on Strome's mind these days.
"I think everyone misses that feeling of getting the two points for your team and then moving on to the next game."