Slater reflects on retirement, next chapter
Jim Slater, who recently announced his retirement and new role with the Washington Capitals, stopped by NHLPA.com to discuss his next chapter.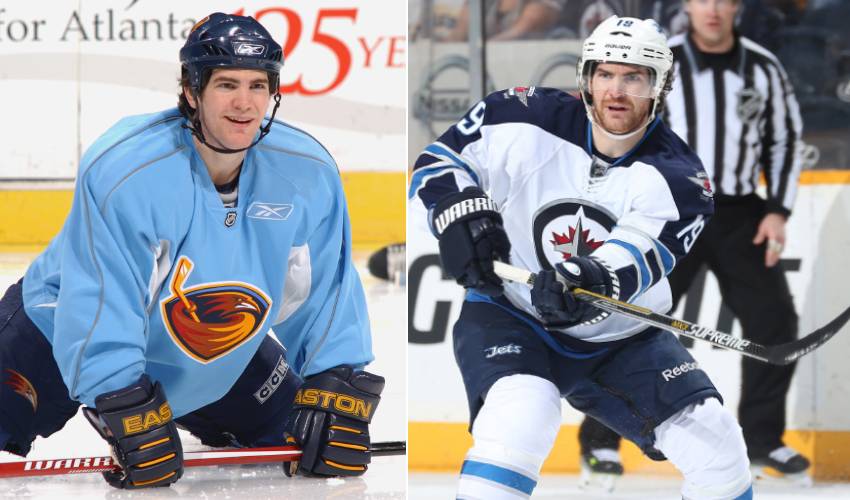 Jim Slater may have announced his retirement from playing hockey, but he's not stepping away from the game entirely.
The forward who played professional hockey for 14 seasons – the first 10 seasons in the NHL and the most recent four in Switzerland – earned himself a role with the Washington Capitals in player development.
"It's a great opportunity with a great organization. I'm looking forward to helping the prospects try and achieve their professional goals," said Slater, who is also volunteering his coaching services to his alma mater Michigan State University's hockey program.
Slater, who was honoured with the program's Distinguished Spartan Award in 2018, is thrilled with the chance to stay in the game and help mentor young players with aspirations of making it to the NHL.
"It's great," said the forward who captained Michigan State in his junior and senior years. "I used to come back in the summers and train with some really good guys. With retirement on my mind, it just felt like the right place to stay. Being able to go to all the great sporting events they have at Michigan State – there's always something going on. It's a fun place.
"I'm looking forward to being a part of this. I'm excited about helping the team and a phenomenal program. It's a great place to learn about coaching, to learn from Danton – and to see how it all works. The coaching staff has had great success, and this is a great opportunity for me to be a part of it."
The six-foot, 195-pound centre skated in 584 regular-season games during his NHL career, which began in his rookie 2005-06 season with the Atlanta Thrashers. Slater played for the organization throughout his entire NHL career, following the team through relocation to Winnipeg in 2011 and playing his final game in the league with the Jets April 11, 2015.

Slater, 36, appeared in 371 games with the Thrashers and 213 games with the Jets, closing out his career in 2014-15 when he appeared in all 82 contests and contributed 13 points to help the team make the Stanley Cup Playoffs.
"Playing against Mario Lemieux, playing on Hockey Night in Canada, those certainly stand out as big memories," Slater told NHLPA.com. "The first year in Winnipeg is another great memory. That whole year was awesome. The first playoffs we had back there, it was an amazing thing to be part of.
"To play 10 years in the league I dreamed of playing in, the friendships that you made over all those years, people that I still talk to – it's been a great ride."
Prior to being selected 30th overall by Atlanta in 2002, Slater was a consistent contributor to the Cleveland Barons of the North American Hockey League from 1998-2001, including a 35-goal season in 1999-2000.
Slater developed his all-round game at Michigan State over four seasons, averaging over a point per game with the Spartans. Throughout his collegiate career, which spanned 2001-05 and ended with back-to-back 48-point seasons, Slater earned CCHA All-Rookie Team honours in 2002; CCHA First All-Star Team selection in both 2003 and 2004; and NCAA West Second All-American Team recognition in 2004.
It was Slater's second NHL season when the forward was given more of an opportunity to utilize his talents in the face-off circle.
After a 54.4 percent win rate in the dot in 2006-07, Slater earned recognition as one of the most proficient faceoff players in the game.
He posted a career-best 61.46 percent win rate in 2010-11, and finished his NHL career with a 56.1 percent mark.
"I always knew how important that (faceoffs) was to the game," said Slater. "I just had a knack for it, just being able to read the other guys, and having some great wingers helping me over the years."
It was during Slater's second year in Atlanta when head coach Bob Hartley sat him down for a chat, a discussion that would shape the rest of the centre's NHL career.
"He brought me into this room, and he started telling me about [upcoming Hockey Hall of Fame inductee] Guy Carbonneau," recalled Slater. "How he was a big scorer in the Quebec Major Junior Hockey League, and changed his game to be a penalty-kill guy, a faceoff guy, and a shutdown guy. That really stuck with me. I knew I wasn't going to be a superstar in the league, so I had to change my game to be effective.
"One of those ways was to be good at faceoffs. It was a big part of my career. To be out there in the last minute of a game, trying to seal the win, on a penalty kill trying to win that first faceoff – I took a lot of pride in that part of my game."
Slater mentioned a few players that offered a big challenge when he lined up across from them in the faceoff circle.
"Bobby Holik, I used to go up against him in practice. He's a big, strong guy, and he had this all-wood stick. I always remember him. A guy that I used to struggle with was Jason Spezza. He always had that big, looping swing, and he's a big guy too. Another guy I remember was Joe Pavelski. He was very hard to go up against."
Slater spent the last four campaigns of his playing career in the Swiss National League, playing for Geneve Servette for two seasons (2015-17), and Fribourg-Gotteron HC (2017-19).
A major highlight for the native of Lapeer, Michigan, came when he earned a spot on the 2018 U.S. Olympic team.
Playing for his country in PyeongChang remains one of Slater's most memorable hockey moments.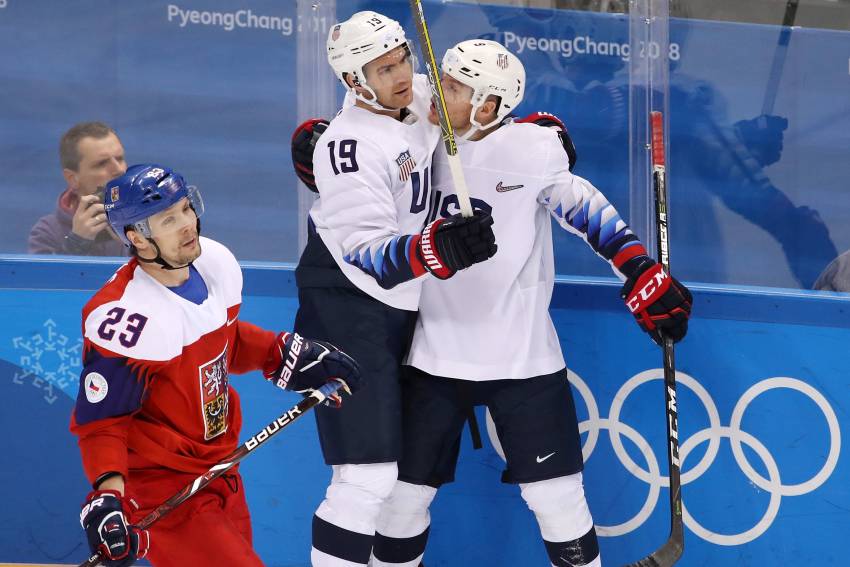 "It's something that you won't ever forget," said Slater who also played in the 1996 Quebec International Pee-Wee Hockey Tournament with Detroit Little Caesars. "That will always stand out as one of my most cherished hockey memories."
Over the course of his NHL career, Slater totaled 67 goals and 71 assists for 138 points. He also played in eight playoff games – four with Atlanta and four with Winnipeg.
September 3, Slater joined the Michigan State men's hockey staff as a volunteer coach.
"We're thrilled to have Jim Slater join the program as a volunteer assistant," head coach and former NHLPA member Danton Cole said in a statement. "Jim is coming off an extensive pro career that included 10 years in the NHL as well significant international competition, including the 2018 Olympics. He brings a wealth of knowledge and experience that makes him an asset for our program and our players are excited to be able to work with him every day."
Slater remains grateful to have had the opportunity to play with and against the game's top stars, and looks forward to helping shape the future of the sport. He's also happy to spend more time with his family: his wife, Andria, and kids, daughter Wyn, and son Cannon.
"When you're growing up, you always hope that you'll get the chance to play at that very top level, against such great talent. Looking back, I played with Atlanta and Winnipeg, which is one organization. I think had seven different coaches in 10 years, I had three GMs, and I had three ownerships. For me, to be able to stick with one organization, especially with all of the turnover, it's something I'm pretty proud of. I was a grinder, a third- and fourth-line guy who had to earn every minute of ice time I've got. I was able to hang around for a long time."