Phaneuf nets NHLPA G&D hat trick
When it comes to helping make hockey goals and dreams a reality, Dion Phaneuf, along with an assist from the NHLPA and its players, has the magic touch.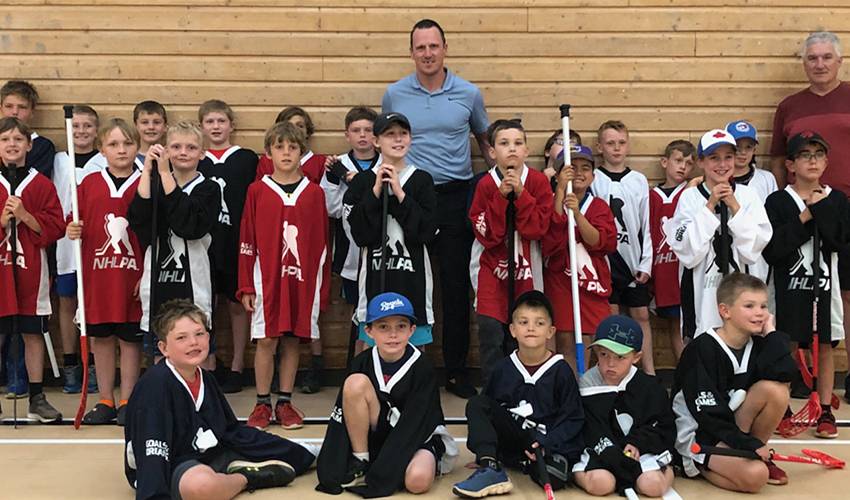 When it comes to helping make hockey goals and dreams a reality, Dion Phaneuf, along with an assist from the NHLPA and its players, has the magic touch.
August 26, Phaneuf and representatives from NHLPA Goals & Dreams (G&D) were on-hand in Charlottetown, Prince Edward Island, for a donation of 25 sets of equipment to benefit the Charlottetown Minor Hockey Association.
Small island, big hockey heart.
#NHLPAGnD strikes again with Dion Phaneuf, who helped present some very deserving kids in Charlottetown, PEI with some new hockey equipment. Full story to come tomorrow! pic.twitter.com/zDIwj63jFH

—

NHLPA (@NHLPA) August 27, 2019
Monday's festivities included the announcement of the brand new hockey gear, a Q&A session and an autograph signing with Phaneuf, and a ball hockey game.
Last summer, during G&D's stop in Summerside, Prince Edward Island, the veteran of nearly 1,050 NHL games promised he would do another equipment delivery this summer on the other side of the island.
He's thrilled to have kept his word.
"The event went really well," said Phaneuf, whose parents, Paul and Amber (nee MacArthur) are both Summerside natives. "I'm very grateful that I was able to do the Goals & Dreams program back-to-back years. Last year, I told the people from the NHLPA that I'd love to do it again because there are two cities on Prince Edward Island that I summer. It's a place that's very close to my heart… a lot of my family is there. I thought since we did it for Summerside last year that we could do it for Charlottetown this year. Thankfully, and luckily, we were able to do it again."
The players' charitable initiative is designed to assist grassroots hockey programs by helping economically disadvantaged youth play the game of hockey. Qualified programs receive complete sets of brand new hockey equipment from G&D, to be distributed to deserving youth in their community.
Since 1999, NHLPA members have been donating equipment to programs in their NHL cities and hometowns around the world. To date, more than 80,000 children have been afforded the chance to play the game of hockey in 34 countries. Over that time, G&D has donated more than $24 million to help grow the game hockey.
Each year, on top of donating equipment, NHLPA G&D Ambassadors make visits in cities throughout North America to meet young hockey fans, distribute the gear, sign autographs and answer hockey and life questions.
The stop in Charlottetown represented the third G&D event Phaneuf has been part of over the last 14 months. He also participated in an event in Hawthorne, California.
Phaneuf, who spends his summers in the Kensington area (15 kilometres northeast of Summerside), is humbled to be associated with G&D.
"I'm very proud of it. I think it's an amazing initiative, this program that was started by our association. The stats that you hear impressed me the most. Thirty-four countries… and that's around the world. This is something that allows players that may not have the means to get into hockey to have a chance to play our great game, a game that's given me everything. I love the idea of the program and I love what it brings, and when you go to see the children, and present the program, those smiles are pretty impressive."
So, too, is Phaneuf's G&D hat trick.
"I'm very, very thankful for Goals & Dreams allowing me to be part of three donations. It's such a great program and one that I'm passionate about. I really enjoyed the whole day on Monday. When I see those kids, I see the opportunity to play our great game. As NHL players, we're very fortunate to play the game we love, the one we played growing up. This gives kids the opportunity to play that game. Twenty-five sets of equipment – that means 25 kids playing."