Next generation of players headline 11th annual NHLPA Rookie Showcase
The 11th annual NHLPA Rookie Showcase brought together 27 of the top NHL rookies and prospects for an eventful weekend of firsts.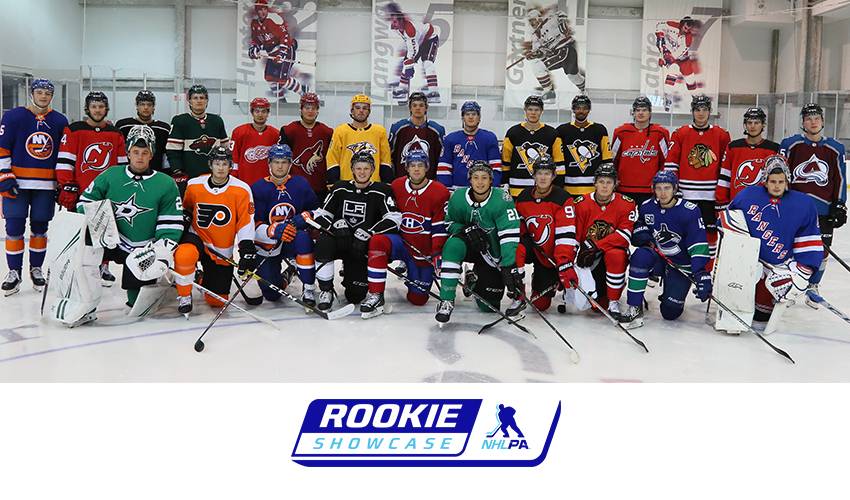 After holding the event in Toronto for the past 10 years, the 11th annual NHLPA Rookie Showcase moved to Washington this past weekend where it brought together 27 of the top NHL rookies and prospects for an eventful weekend of firsts.
The primary focus of the event was for Upper Deck to gather photo and video of the players in their NHL team jerseys to use for their first official rookie hockey cards. The players had some fun too, showing off their skills in bubble hockey and showcasing their soon-to-be trademark goal celebrations.
Saturday, many of the players spent some time at their Arlington, Virginia, hotel getting their pictures taken by Upper Deck and signing autographs for some limited-edition cards and memorabilia products before wrapping up the day by playing TopGolf Crush at Nationals Park.
Sunday at MedStar Capitals Iceplex, the group rotated through the event's on and off-ice stations. Several of the players in attendance – including 2019 first-overall pick Jack Hughes and the Capitals' 2018 first-round pick, Alexander Alexeyev – also spoke with media who covered the event. When the work for the day was completed, the players laced up the skates for a fun team scrimmage Sunday afternoon.
"The 2019 Rookie Showcase was a smashing success. The ability to incorporate a second rink – with dark ice images, no less – gave a new, cutting edge angle to the event, one that provided a great opportunity to capture photography and other assets for 27 of the top prospects in the game," said Josh Zusman, Director of Trading Card Brands for Upper Deck.
After a summer of training and preparing for the upcoming season, the young players got an opportunity to catch up with old friends and meet some new faces.
"It's great to see a lot of good friends here and obviously we're going through some exciting times in our lives," said Dylan Cozens, Buffalo Sabres 2019 first-round pick. "To be able to come together and enjoy the last weekend before rookie camp starts is a lot of fun."
Among the familiar faces in attendance for Cozens was fellow alternate captain for Team Canada, Bowen Byram, alongside who he won gold with at 2018 Hlinka-Gretzky Cup.
"I had a lot of cards when I was younger and you dream about being on a hockey card yourself and now that it's finally coming, it's pretty cool," continued Cozens. "It's exciting just looking up to other NHL players on cards as a kid and now that it's my turn it's, pretty surreal."
Another popular station for the rookies was with EA Sports, who were taking head scans in order to capture each player's facial features for the NHL20 video game.
"I was talking with my friends a little while ago about being in the actual NHL game, which is pretty crazy," said New York Rangers defenceman Adam Fox. "It's definitely cool to be getting the head scan and to see how it's all done."
For many of these young players, it's one of the last stops before each will report for training camp. This year's group includes some who have already gotten glimpse of what life in the NHL is like, while all are looking to leave a lasting impression when training camp opens. Dante Fabbro, Quinn Hughes, Ryan Poehling, Taro Hirose, and Nico Sturm have all suited up for their NHL clubs before the close of the 2018-19 season.
The players also got an introduction to Google Cameo, a video interaction app that allows fans to pose questions to celebrities who can answer back to them on Google.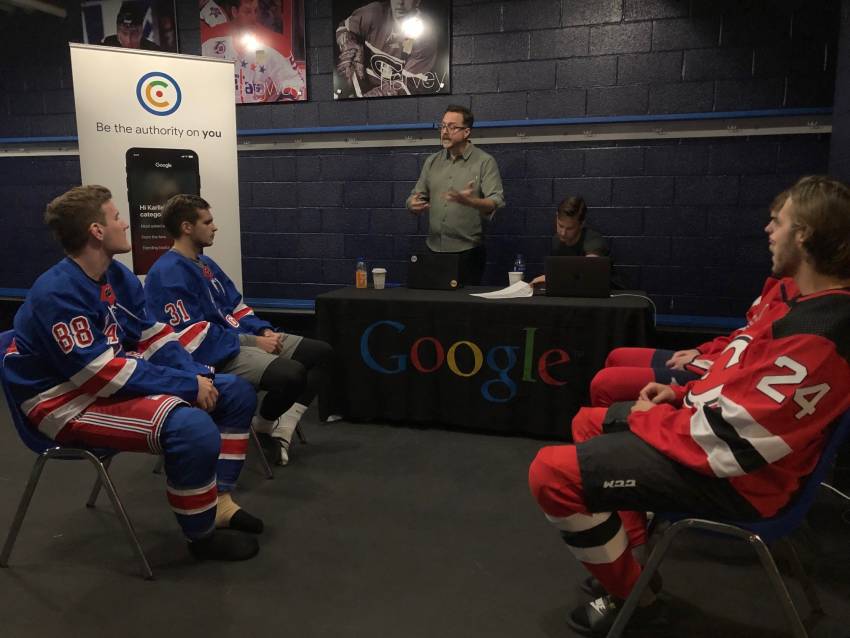 "I thought it was pretty cool," said Fox about Google Cameo. "It gives fans a new way to interact with the players, asking 'what got us into hockey?' and stuff like that. Definitely an interesting concept."
This year's group of NHL rookies and prospects included Alexander Alexeyev (Capitals), Mikey Anderson (Kings), Kasper Bjorkqvist (Penguins), Adam Boqvist (Blackhawks), Jesper Boqvist (Devils), Shane Bowers (Avalanche), Bowen Byram (Avalanche), Kale Clague (Kings), Dylan Cozens (Sabres), Kirby Dach (Blackhawks), Noah Dobson (Islanders), Dante Fabbro (Predators), Joel Farabee (Flyers), Adam Fox (Rangers), Barrett Hayton (Coyotes), Taro Hirose (Red Wings), Jack Hughes (Devils), Quinn Hughes (Canucks), Pierre-Olivier Joseph (Penguins), Ukko-Pekka Luukkonen (Sabres), Jake Oettinger (Stars), Ryan Poehling (Canadiens), Jason Robertson (Stars), Igor Shesterkin (Rangers), Ty Smith (Devils), Nico Sturm (Wild) and Oliver Wahlstrom (Islanders).