Fellow players rally for Foligno, pediatric care
"I learned from my parents… you try to leave the world a better place than when you came into it." Nick Foligno is doing precisely that.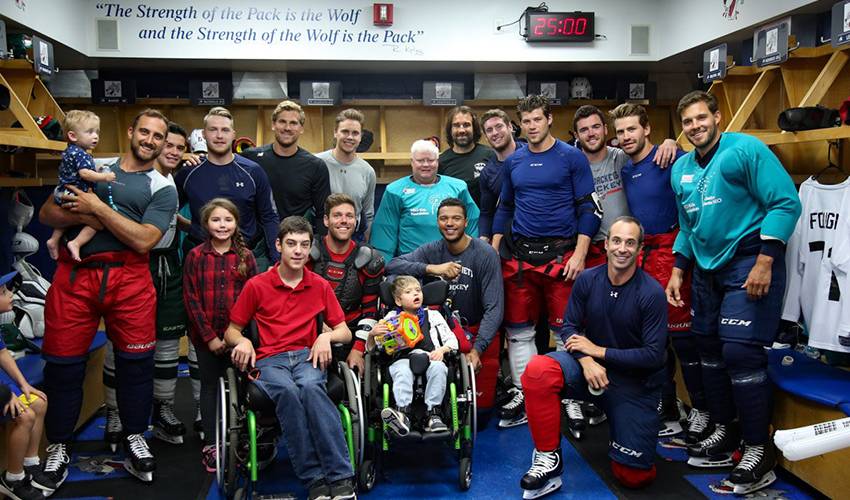 "I learned from my parents… you try to leave the world a better place than when you came into it." Nick Foligno is doing precisely that.
Hosted by Foligno, the NHL vs. Docs for NEO Kids fundraiser, which takes place August 11 at the Sudbury Community Arena, once again brings together a host of NHL players who will take to the ice in a hockey game against medical professionals from Health Sciences North.
Last year, the group was able to raise over $215,000.
The event, designed to raise funds and awareness for the expansion of the pediatric out-patient centre in Greater Sudbury, is the talk of the town. It's something Foligno has heard, first-hand, since he returned to the northern Ontario city after the end of the Columbus Blue Jackets' playoff run.
"I'll be walking around town and people will come up to me and say, 'Wow…what an awesome roster you have,'" said Foligno, who played three seasons with the Ontario Hockey League's Sudbury Wolves.
"It's really nice to see how much people appreciate that and how excited they are about it. But it's also great to see how excited they are about what we're trying to do. The facility that we are trying to get built is so important to everyone here. I've had some people say, 'We love what you are trying to do.' They share a story of when their child was ill and had to travel to a children's hospital in Ottawa or Toronto. You realize then how important all of this is."
Foligno will welcome several familiar NHL names to this year's event. Many of the players have been to past editions, but others, like Tavares, will be taking part for the first time.
The 31-year-old forward is grateful for the widespread support he's receiving from his fellow NHLPA members, including brother and fellow NHL forward Marcus, Cam Atkinson, Josh Anderson, Tyler Bertuzzi, Pierre-Luc Dubois, Matt Duchene, Seth Jones, Marc Staal, and John Tavares.
"I always say that hockey players are the most generous people in the world when it comes to charities and their time," offered Foligno.
"These guys don't really have a personal tie to what I'm doing, but they know the cause is near and dear to my heart. They know how much this means to kids too. They realize the importance of it all. A lot of these guys are from small communities as well, so they appreciate the importance of something like this and what it means to a place like Sudbury.
"On a whim, I made a phone call to John Tavares. He said, 'Hey, Nick. I have family in Sudbury and would love to support this.' That shows the kind of person he is and obviously the player he is, and what he stands for – to have a guy like him come up and want to help says a lot about him as a person. And then there are my teammates. Those are the guys that I go through the season with all year, the ones I lean on. I have so much respect for these guys and it means so much to me that they'd make the effort to come here. Seth Jones is coming all the way from Dallas. All of it humbles you. It's something that means more to me than they'll ever know and it means a lot to the people in this community."
So too, do the efforts of those tasked with providing medical care for the children and their families.
Foligno speaks glowingly of the doctors' contributions to Sudbury and his event.
"I don't want to forget the doctors, including the amazing Dr. Sean Murray, who talked to me four years ago and we came up the idea of this fundraiser. The doctors have really jumped on board to help us. When you see that many doctors in this community supporting this, it's obviously something that's very important and needed. They're busy, but they know how much of a difference it could make for all of us. I really appreciate their support. It's so important to get this done, to push the needle and get this started."
As Foligno earlier alluded to, seeing the expansion of the pediatric out-patient centre is also a deeply personal mission.
His daughter, Milana, was born with a congenital heart disease. During the past NHL season, his young son, Hudson, battled pneumonia so severe that his right lung collapsed at one point.
Foligno, who will take part in an autograph session outside the arena the day of the event, views the goal of getting a shovel in the ground as a win-win for everyone in northern Ontario.
"I've lived it," he said. "I started my hockey career in Sudbury and my wife (Janelle) is from here. They've embraced us tremendously. It's a place where we are happy to say we're from."
And it's a place they want to give back to.
"When I see the position that I'm in and the reach I can have with my platform, it feels like a waste not to try and make a difference. Whether it's a small difference or not, it's a difference. You do things for the right reasons. That's the way my wife and I look at this. It's a chance to give back to a community that has given so much to us."
To purchase tickets to the 2019 NHL vs. Docs for NEO kids fundraiser, click here.