Brooks Orpik announces retirement from NHL after 15 seasons
Brooks Orpik has announced his retirement today from the NHL after 15 seasons.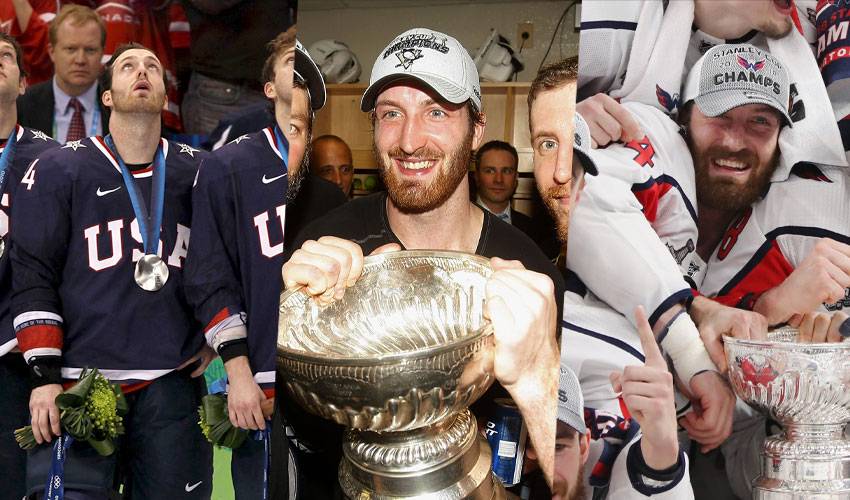 BROOKS ORPIK ANNOUNCES
RETIREMENT AFTER 15 NHL SEASONS
The two-time Stanley Cup Champion skated in 1,035 regular-season NHL games
…Retires as an Olympic silver medalist
---
TORONTO (June 25, 2019) – Brooks Orpik has announced his retirement today from the National Hockey League (NHL) after 15 seasons.
Born in San Francisco, California, but raised in Amherst, New York, the steady defenceman was a well-respected teammate and leader with the Pittsburgh Penguins and Washington Capitals over the course of his career – a journey that saw him total 194 points over his 1,035 regular-season games.
"I've been extremely lucky to have the best job in the world for many years, but my body is telling me it is time to move on to something new," said Orpik. "I'm excited for more family time and to experience a lot of the things that being a professional athlete forces you to miss out on. Thank you to the Washington Capitals and Pittsburgh Penguins for giving me the opportunity to play against the best athletes in the world. I'll be forever grateful for the memories and relationships that hockey has given me."
Orpik was selected 18th overall in the 2000 NHL Draft by the Pittsburgh Penguins before ending his successful collegiate career at Boston College in 2001 by helping his team to an NCAA Men's Ice Hockey Championship. He made his professional debut in Wilkes-Barre/Scranton, where he played two seasons with the Penguins' American Hockey League affiliate. In 2002-03, Orpik made his NHL debut on the road against Toronto Dec. 10, eventually suiting up for six games that season. He would become a regular on Pittsburgh's blue line the following season in 2003-04, playing in 79 games for the Penguins, during which he would score his first NHL goal.
The six-foot-three, 217-pound defenceman's leadership and defensive prowess were key contributors to a Penguins team that grew into one of the top teams in the NHL. Ultimately, Orpik would capture the first the Stanley Cup of his career in 2008-09 by playing in all 24 games of the postseason as the Penguins defeated the Detroit Red Wings in a seven-game final.
After 10 seasons in Pittsburgh that established him as a reliable, physical and efficient defender, Orpik signed a five-year deal with the Washington Capitals as an unrestricted free agent on July 1, 2014. Upon joining the Capitals to start the 2014-15 season, Orpik immediately became a focal point of their defence and brought veteran poise and leadership. The highlight of his five seasons in Washington would come in 2017-18, when the Capitals captured the first Stanley Cup in franchise history and the second of Orpik's career.
Internationally, Orpik proudly represented the United States on a number of occasions, including the IIHF World Junior Championship in 2000, the 2006 IIHF World Hockey Championship and the 2010 and 2014 Winter Olympic Games. He was a key member of the 2010 American team that brought home a silver medal from Vancouver.
---
Statement from the Washington Capitals:
"On behalf of the entire Washington Capitals organization, we would like to congratulate Brooks on a terrific NHL career. Throughout his tenure in the league, Brooks epitomized leadership and hard work. He had a tremendous influence on his teammates both on and off the ice and was instrumental in helping us capture our first Stanley Cup. We thank Brooks for the impact he had across the organization and the Washington, D.C., community over the course of five seasons and wish him, his wife Erin, and daughters Harlow and Brooklyn all the best."

Player Statements:
Alex Ovechkin
"Batya was a great leader in our locker room and was so important for us to win our first Stanley Cup. We will miss his presence in the room and on the ice. Not only was he a great leader and a player, but he was a better person. I'm so happy I had a chance to play with him and for our young guys to have had the chance to learn from him. I want to wish him, Erin and his kids the best. We will miss him and the Batya protein shakes!"
Nicklas Backstrom
"Brooks was one of the best leaders I've had the chance to play with in my career. It is difficult to find a better teammate, and a player who worked harder and enjoyed the game as much as Brooks. We all learned from Brooks and he made his teammates better every day. It was a pleasure playing with him and I wish him and his family all the best."
T.J. Oshie
"Brooks was a great player, leader, warrior and an Olympic silver medalist – the type of guy that would always stick up for his teammates, sacrifice his body and do whatever it takes to win. More importantly, he is a terrific person and a friend. Congrats, Batya, on a long and successful career!"
Tom Wilson
"Brooks was someone that I looked up to from the first day that he got to D.C. I don't think he ever took a shift off his entire career, nor did he ever take a day off being a great leader. Brooks is truly one of the best in the game of hockey and we will miss having him in our room. Congrats, Orps, and thanks for everything. I'm wishing you, Erin and the girls all the best in the next chapter."
John Carlson
"I had the great opportunity to see up close how impactful Brooks was for our team. Spending time as his defensive partner and playing alongside Brooks was something that I will always cherish. He showed his teammates the importance of hard work, accountability and always being there for your team every time he stepped on the ice. We all learned from Brooks; he was our role model and he made us better. I wish him and his family all the best!"