My Top 5 | Zdeno Chara
There are two things the hockey world knows about Zdeno Chara: he's big and he's tough.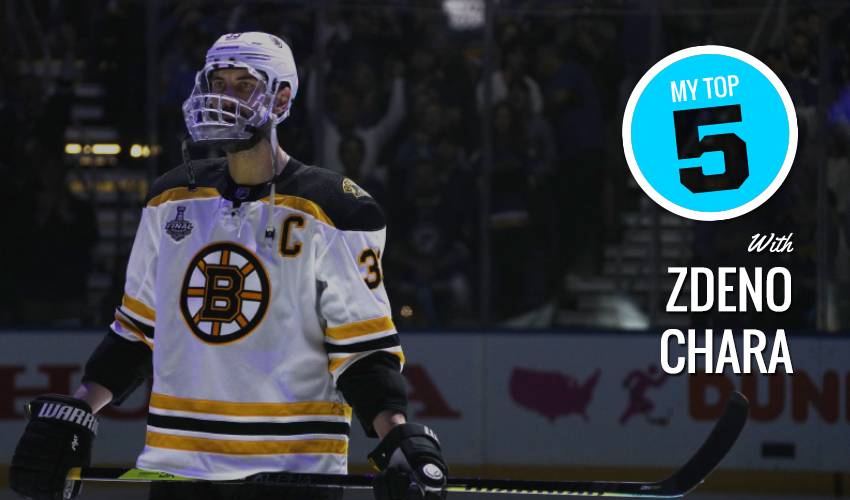 There are two things the hockey world knows about Zdeno Chara: he's big and he's tough.
The Boston Bruins captain, who stands six-foot-nine and weighs 250 pounds, didn't let a broken jaw keep him out of action in this year's Stanley Cup Playoffs.
In fact, the 42-year-old Slovakian is still as impactful as ever. In Game 6 of the final, he racked up 22:15 of ice time and recorded an empty-net tally (becoming the oldest defenceman in NHL history to score in the Stanley Cup Final) as the Bruins won 5-1 to set up a winner-takes-all Game 7 at TD Garden on Wednesday night.
Now it's time to find out more about "Big Z" in this week's edition of My Top 5.
Fast facts on Big Z
---
1. A bit of a stretch
Chara played a grand total of 49 games with the Prince George Cougars of the Western Hockey League. Despite his short time there, the blueliner managed to leave a lasting impression on the organization.
"I do remember he had a tough time stretching out on the bus," said former Cougars owner Rick Brodsky. "I can still vividly recall that."
2. Bad break, great attitude
"Obviously, the first thing you notice is his size, the sheer physical nature of him," said Brodsky. "He was very quiet when he came here, but the guys liked him. He wanted to make an impact. Unfortunately, he broke his arm and missed some games, but he worked hard to get back into the lineup. He also worked hard to become more at ease on the ice. And does he ever have the heart of a lion. He was a great teammate here, tough-as-nails and everyone really respected him."
3. Milestone man
Chara played in his 1,000th NHL game on March 24, 2012, a 4-2 Boston win against the Los Angeles Kings.
"I wanted to win this and no question I wanted to remember this game as a win," said Chara at the time. "I couldn't ask for anything more and I'm humbled to play with so many great guys on this team."
4. High praise
"He was even tall back when we were kids, very tall," countryman and former NHL star, Marian Hossa, told NHLPA.com. "You couldn't help but know where he was on the ice. But he's always been very talented."
5. Mountain man
In 2008, Chara, in support of Right to Play (an international humanitarian organization that uses sport and play programs to help communities around the world) spent two weeks in Africa, heading to Mozambique in support of the organization, and then climbing Mt. Kilimanjaro. The group made it to Gilman's Point at 18,650 feet.