Hockey IQ guiding Heinen through playoff surge
The moment Danton Heinen makes a big play in the Stanley Cup Playoffs, it kick-starts a group chat full of praise for the Boston Bruins forward.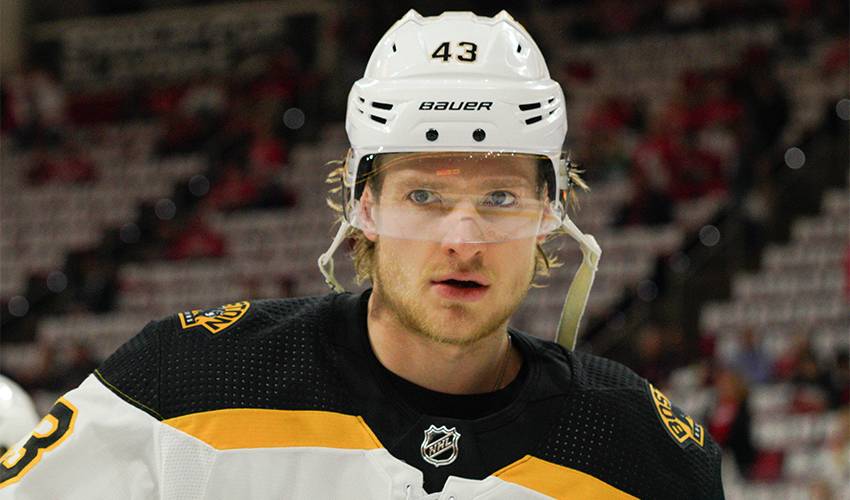 Did you see what he just did? Unbelievable!
The moment Danton Heinen makes a big play in the Stanley Cup Playoffs, it kick-starts a group chat full of praise for the Boston Bruins forward.
You can hear the excitement in Tavis MacMillan's voice the moment you mention the forward's name, the one who skated two seasons with the University of Denver men's hockey program.
Watching Heinen contribute to the Boston Bruins impressive 2018-19 Cup run has become a big deal for Pioneers assistant coach MacMillan, other members of the Denver coaching staff and a handful or so of former players.
Throughout a Bruins game, pinging cellphones are the norm for Heinen's Colorado fan club.
"It's fun," said MacMillan. "We're all cheering for him. We have group texts, just because we are so excited for Danton and seeing him do well. It's not always an offensive play that we're texting about. We get excited about some of the great defensive plays he makes. It's just nice to see."
Although MacMillan was only behind the bench for Heinen's 2015-16 sophomore season, the soft-spoken kid from Langley, British Columbia had a lasting impression on the coach who just completed his fourth campaign with the Pioneers.
In 81 career games with Denver, Heinen, who won a slew of trophies, both individual and team, with the Surrey Eagles of the British Columbia Hockey League, scored 36 goals and tallied 93 points.
"I only spent one year with Danton – my first year here was his sophomore year," started MacMillan. "That was the year we went to the Frozen Four in Tampa. The first thing that stood out to me was that this kid was a pro. It was the way he approached practice, the way he approached games, the way he approached everything. He was already a pro when he got here. He expected to do everything right and that's how he prepared every day. What evolves from that is hockey IQ. He has an intelligence that allows him to be successful."
It's something that's carried on to Heinen's NHL career.
After appearing in eight games with the Bruins in 2016-17, he scored 16 goals and recorded 47 points in 77 games in 2017-18. This season, the 23-year-old produced 34 points in 77 games.
But it's been his playoff contributions that have people talking, including in Denver.
"He can fit anywhere," offered MacMillan. "I bet he could play centre, left wing, right wing – up and down from the first line to the fourth. And he can also penalty kill and be on the power-play too. He has the ability to play in all types of situations because of his hockey IQ. He's just so consistent. He was always that way in his approach. And you knew that he was going to have success beyond here."
In 17 Stanley Cup Playoff games, Heinen, drafted 116th overall by the Bruins in 2014, has two goals, seven points and a plus-10 rating. He's earned rave reviews from head coach Bruce Cassidy and his Boston teammates for the ability to make an impact in any given situation.
His play continues to serve as texting points among his former coaches and players.
"Danton's as quality as they get," praised MacMillan. "He's quiet and reserved. But if you sit down and talk with him, he's so easy to talk to. He has an ability to put people at ease when they talk to him. He had the ability to communicate with anyone on our team and he treated everyone the same. I really admired that about him. It's so good to see good things happen to good people. And that's what Danton is, a good person."