Henrique honoured to don red and white again
Adam Henrique is three games into his first IIHF World Championship with Canada and he's loved every second of the thrill of playing for his country.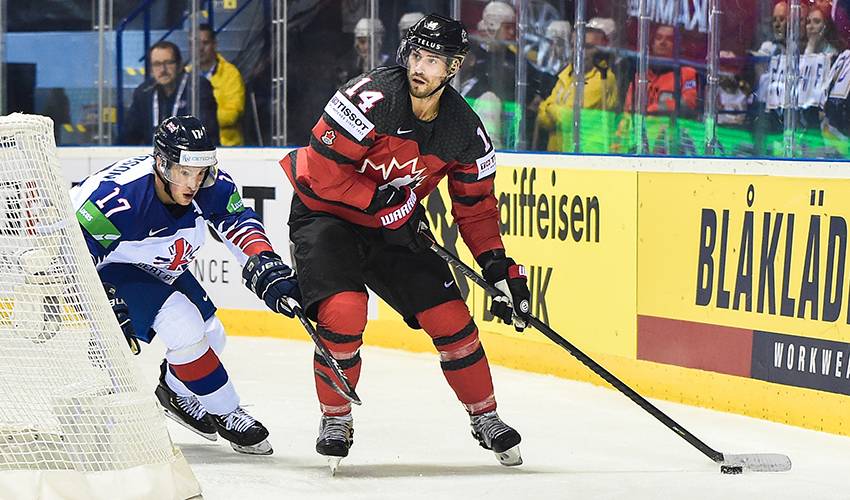 Adam Henrique is three games into his first IIHF World Championship with Canada and he's loved every second of the thrill of playing for his country.
But until two weeks ago, when he was named to the Canadian roster, the 29-year-old Anaheim Ducks centre wasn't sure he would ever get the opportunity to play for his country again.
"I've been fortunate enough to compete in a Memorial Cup, Stanley Cup and world junior championship," Henrique said. "Adding this tournament to the resume is pretty special for me and my family. I'm hoping we can bring home a gold medal for Canada once again."
After a tournament-opening loss to Finland, Henrique and Canada responded with victories over Great Britain and the host country, Slovakia, to get the 17-day tournament underway.
Henrique last played for Canada at the 2010 world juniors in Saskatoon when Canada took home a silver medal. The gold-medal final was a heartbreaker for Canada. Jordan Eberle scored two late goals to send the game into overtime against the United States. But U.S. defenceman John Carlson stunned the crowd with the game-winner early in overtime.
"It's been a long time since I've put on the Canadian sweater, but it's always certainly a huge honour," Henrique said. "I've also never played over in Europe anywhere in my career. It has been an adjustment.
"It's been a ton of fun experiencing everything over here with a special group of players and staff."
As he mentioned, Henrique would like nothing more than to add a gold medal to his impressive resume. In his rookie season with the Windsor Spitfires, he was named to Team Ontario for the 2007 Canada Winter Games in Whitehorse, Yukon, on a roster that included Steven Stamkos and Alex Pietrangelo.
Henrique fondly recalled his first experience in a big event. He also remembered how cold it was and how special it was to return home with a gold medal.
In 2008, the New Jersey Devils selected Henrique in the third round (82nd overall) at the draft. The Devils were pleased to watch their prospect further develop with back-to-back Memorial Cup championships with Taylor Hall and the Windsor Spitfires in 2008-09 and 2009-10.
Hall and Henrique would later play a season-and-a-half together in New Jersey before Henrique was traded to the Ducks November 30, 2017, and made a new hockey home for himself in Anaheim.
Devils fans, however, will never forget the contributions Henrique made in his rookie season. He not only played well enough to be named to the league's all-rookie team with 51 regular-season points, but he was also one of the three nominees for the Calder Memorial Trophy, given annually to the player selected as the league's top rookie . Colorado Avalanche's Gabriel Landeskog won the honours that spring, but Henrique went on to enjoy big-time playoff success.
He helped the Devils advance to the Stanley Cup Final against the Los Angeles Kings by becoming the first rookie to score two series-clinching goals in overtime. He eliminated the Florida Panthers with a double-overtime goal and finished off the New York Rangers with another OT winner in the Eastern Conference Final.
But Henrique wasn't done. In the final, with the Devils facing elimination in Game 4, he snapped a 1-1 tie with the game-winning goal with less than five minutes remaining in what turned out to be a 3-1 win. The Devils won the next game but lost the finale back in Los Angeles in Game 6.
Now, playing once again for Canada at the 2019 IIHF World Championship, is another example he made a good choice not to stay home in Burford, Ontario, (near Wayne Gretzky's hometown of Brantford) and work with his parents, Joe and Teresa, and his three brothers on the family tobacco and ginseng farm.
"I didn't want to be a farmer when I grew up," Henrique said. "I think working there in the summer and seeing how hard [his dad] had to work to put food on the table, it showed me that I wanted to play in the NHL for a long time."